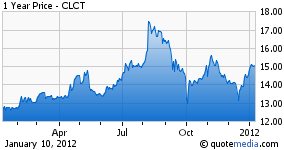 Typically when I think of (and write about) Collectors Universe (NASDAQ:CLCT), I consider it to be a not-so-sexy company in third party consumer services. The business model is pretty simple: they grade and authenticate collectible items for consumers and dealers through their various divisions including PCGS (for coins), PSE (for stamps), and PSA/DNA (for autographs, sports memorabilia and trading cards). Not the most exciting thing on the planet but it (at least the PCGS coin division) has been very strong and, notably, stable.
Every now and then something comes along that offering what is a bit more exciting than 'stable' and that is ... growth! Collectors Universe announced on Friday that PCGS would "expand its international services by establishing operations in Asia." What exactly does this mean?
"Initially, PCGS will offer on-site authentication and grading services to Asian customers from Hong Kong, starting with the Hong Kong Convention and Antique Watch Fair, April 6-8, 2012."
The company made a similar announcement just over a year and a half ago when it announced it had "opened an office in Paris, France as part of its expanding international services." The release ended with a statement by CEO Michael McConnell (whose insider selling I discuss in my most recent article) that is strikingly similar to the statement at the end of the release about Asia/Hong Kong.
Paris release: "We are optimistic about our expansion in Europe based on the initial feedback from potential new customers, which has been very positive."
Asia/Hong Kong release: "We are excited about our prospects in Asia based on the initial feedback from potential new customers."
McConnell also states that the expansion will be done in a conservative manner, just as he stated in the Paris announcement.
Ok, so what? The CEO says they have positive feedback and that's why they're going to do this...big deal, he obviously would say stuff like that. It would be entirely reasonable for you to think that after reading the first part of this article. But that's because I haven't told you how they've done in Europe as a result of this recent push in Paris. McConnell himself sums it up pretty well in this statement from the Asia/Hong Kong release from Friday:
"Having grown to about 7% of revenues in the twelve months ended September 30, 2011 from 3% the prior twelve month periods, World coin grading represents an important growth opportunity for the Company."
Note that the contribution from World coins accounted for an additional 4% of revenues while the rest of the coin division was very strong. The following comes from the earnings release regarding the First Quarter ended September 30, 2011:
"Service revenues increased 23% in this year's first quarter, compared to the same quarter of the prior year, driven primarily by a 32% increase in coin service revenues. Notably, the average service fee earned, per coin, increased by 24% to $14.89, and coin units increased by 7% compared to last year's first quarter."
Since, effective November 15th, 2011, World coins must be submitted at the (minimum!) $20 level and not the $14 level (you can view the PCGS fee schedule), World coins will only continue to help increase the average service fee earned per coin. This means that, even in an environment with declining volumes (which does not appear to be the case, you can view their statistics page here) the increasing revenue-per-coin could lead to significant growth in coin revenues.
By the way, in the quarter ended June 30, 2011, Collectors Universe reported that the 18% increase in coin service revenues was "primarily the result of a 25% increase in modern coin grading revenues and 152% increase in World coin grading revenues." You can read that release for yourself. This appears to be a direct result of the expanded presence in Paris, which is why I am even bothering to draw attention to the potential afforded by a push into Asia.
I include all of this information to point out that if a presence at the Hong Kong show is even mildly successful it could result in a large number of higher margin coin service fees and enable PCGS to tap into a some of the oldest markets in the world. Did I mention that they get a lot more money for grading coins older than 1955? And that Asian civilizations have been around quite a long time??
You can read the release on the Asia announcement as well as the older release on the Paris announcement on the Collectors Universe website.
Disclosure: I am long CLCT.