On the strength of huge gains in its seeds and genomics and agricultural productivity businesses, Monsanto (NYSE:MON) posted $2.44 billion in revenue in the first quarter of its 2012 fiscal year, a 33% rise over the same period a year earlier. In contrast to Mosaic (NYSE:MOS), which has forecasted lower phosphate prices and sales for its coming quarter, Monsanto expects sales to pick up stream over the same period.
Seeds and Genomics
Sales in the seeds and genomics segment were $1.53 billion, an increase of 32 percent from the first quarter of Monsanto's 2011 fiscal year. Sales of corn seed and traits led the $281 million increase, which was 46% higher than the previous year. A 4% increase in planted area in Brazil to more than 20 million acres drove this surge in sales. In Argentina its expected that corn acreage will rise to a record 10.6 million acres. Farmers are not happy about this year's investment in the extra seed as a La Niña weather pattern has brought drought to South America and it looks like corn and soybean yields will be severely limited by the dry conditions. Growers will line up around the globe when the drought tolerant corn family of seeds are finally available commercially. Soybean acreage planted in South America was up by a more modest 3% as soybean seed & traits sales rose by 7% during the quarter to 242 million.
Cotton seed and traits was another area of high growth with net sales swelling by 73% to 194 million compared with 112 million in Monsanto's fiscal 2011 1st quarter. Like corn, increased planted average was a reason for rising sales, however, $21.7 million or $0.04 a share could be attributed to a "timing-shift." In Australia, cotton growers can either buy seed traits at the same time they buy their seeds or they can wait until they harvest their cotton with the pricing based on actual yield. In this fiscal year a high number of growers elected to buy seed trait technology upfront. This effectively shifts $0.04 per share from the 4th quarter of 2012 into this quarter.
Agricultural Productivity
Sales in this segment increased by 34% to $905 million as compared with $673 million in the same period a year ago. 40% of the increase was due to higher sales volumes of the company's Roundup and other glyphosate-based products. This gain in volume was offset by a price reduction of 6% that was necessary due to a period of increasing inventories in the global glyphosate market. Glyphosate is the active ingredient in the company's Roundup product. Monsanto's patent on this herbicide expired in 2000. Over time since the patent's expiration other producers have come to market and there is now a good-sized supply of generics that has placed increased competitive pressure on the market. The company recognizes that this is a mature industry and it now needs to focus on managing costs in the sector. Gross profit in the sector was 24% higher at 180 million.
The company also did a good job of controlling operating costs. While revenue rose by 33 percent, operating expenses were only 12 percent higher. SG & A expenses were $50 million or 11% higher, primarily due to the growth in the company's Latin America business as part of these expenses come from sales-related commissions. Spending on research & development increased by 16% to $351 million. However, as a percentage of sales both SG & A and R & D expenses declined with SG & A expenses falling 4% to 21% of sales and R&D expenses dropping 3 percentage points to 14% of sales.

Source: The Mays Report
Like corn wheat & soybeans, Monsanto's stock has decoupled from the EUR/USD exchange rate in recent weeks, falling to .10, which basically says that there is no relationship between the two. In a recent article detailing Mosaic's earning release entitled, "Mosaic's Q2 Yields Higher Earnings, But Q3 Customer Slowdown Looms," I illustrated how crop prices had decoupled from the EUR/USD exchange rate in recent weeks. The graph below illustrates that the Monsanto stock price has a positive relationship with corn, wheat & soybeans while it has decoupled from the EUR/USD.
(Click chart to expand)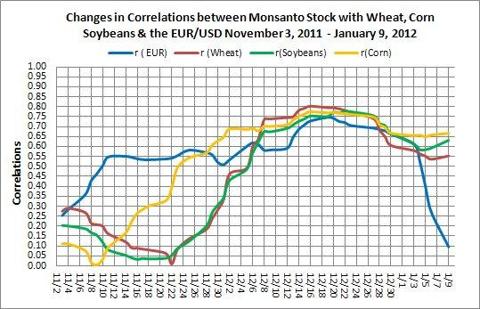 Source: The Mays Report
The correlation between Monsanto, corn, soybean and wheat markets with the EUR/USD exchange rate is likely to stay low for as long as South American weather issues dominate crop markets.
Monsanto is heading into its seasonally strong 2nd Quarter and this will most likely continue to propel the stock higher in the short term. My models however, show that the stock is overvalued. The stock is trading 22-23 times its own updated FY 2012 EPS guidance of $3.39 - $3.44 per share, 3.8 times book and 3.4 times sales. The Agricultural Chemicals peer group it belongs to is trading at a mean average of 12.3 times recent earnings estimates, 3.5 times book and 1.9 times sales. I would also like to note that I removed the earnings estimate of Rentek (NYSEMKT:RTK) from the peer group average because it's now trading at roughly 150 times its mean consensus earnings estimate of 0.01 per share and this skewed the results.
I would not buy the stock at these levels but if you already hold it, I'd keep eye on soybean and corn prices in the short term and you might eke out a few extra bucks if the weather stays dry in South America. It's possible that the stock could briefly run up to the mid to high eighties in these increasingly irrational markets. Otherwise it might be wise to harvest profits now and sow new seeds when the agriculture business hits its cyclical trough.
Disclosure: I have no positions in any stocks mentioned, and no plans to initiate any positions within the next 72 hours.