An interesting thing happened last quarter into the height of the European debt debacle. Consumers adjusted to the post-recession economy. After falling steadily in 2009 through the summer of 2010, the measure turned higher in 2011.
The spending trend accelerated in November, with consumer credit climbing $20 billion from October. The growth marked the single highest monthly change since November 2001. Given our economy has sputtered along with anemic growth thanks mainly to manufacturing, a pickup in consumer spending is welcome news. Particularly, since services account for the bulk of GDP.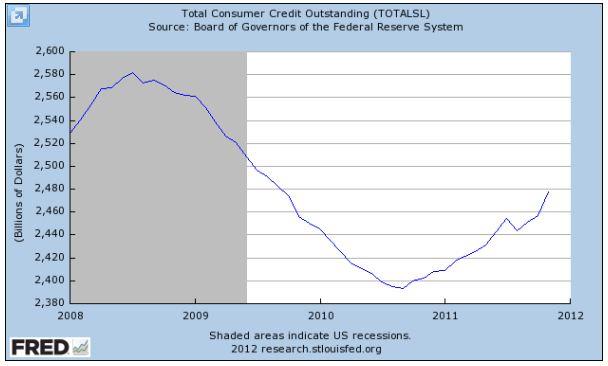 Certainly, a lot of the rise in consumer credit came from rebounding auto sales and the auto loans supporting them. This helped non-revolving credit outstanding march to yet another record high.
But, revolving credit, which climbed to $807.9 billion from $789.6 billion in July, is where consumer spending is most recently picking up. And, credit card growth suggests solid results for retailers.
If the corner has turned for consumer spending, retailers will benefit. But, picking winners in retail can be tricky, particularly in stores where fashion and pricing has to be perfect.
To find those stocks most likely to reward investors, my team at E.B. Capital Markets, LLC, screened more than 1800 widely traded stocks to find the best retailers. The scoring system used to rank these stocks cuts across both fundamentals, such as earnings growth, insider buying and valuation, and technicals, such as short and long term momentum.
The strongest tend to remain discount stores, such as Dollar General DG, Big Lots BIG and T J X Companies TJX. These companies have benefited from value conscious shoppers, expanded inventory and cheap new store construction costs. As unemployment drops, consumers will likely trade back up to more aspirational retailers. But, we're still a far cry from those levels, which means there's plenty of opportunity to sell to value seeking shoppers.
Also strong scoring are home improvement stocks, including Home Depot HD, Lowes LOW and Williams Sonoma WSM. The recent improvement in housing starts and improved consumer balance sheets suggest spending could move higher for these companies this year, unlocking some of the pent up demand for updating rooms and repairing neglected decks and roofs.
| | | | |
| --- | --- | --- | --- |
| Stock | Symbol | Industry | E.B. Current Score |
| Petsmart Inc | | SPECIALTY RETAIL, OTHER | 95 |
| Home Depot | | HOME IMPROVEMENT STORES | 95 |
| Lowes Corp | | HOME IMPROVEMENT STORES | 95 |
| Dollar General | | DISCOUNT, VARIETY STORES | 95 |
| Big Lots, Inc. | | DISCOUNT, VARIETY STORES | 95 |
| T J X Co's Inc | | DEPARTMENT STORES | 95 |
| Footlocker | | APPAREL STORES | 95 |
| Williams Sonoma | | HOME FURNISHING & FIXTURES | 90 |
| Wal-Mart Stores Inc | | DISCOUNT, VARIETY STORES | 90 |
| Dollar Tree Stores | | DISCOUNT, VARIETY STORES | 90 |
| Urban Outfitters | | APPAREL STORES | 90 |
| Aaron's, Inc. | | SPECIALTY RETAIL, OTHER | 85 |
| JC Penny Company Inc | | DEPARTMENT STORES | 85 |
| Ross Stores | | APPAREL STORES | 85 |
Disclosure: I have no positions in any stocks mentioned, but may initiate a long position in WSM, ROST, TJX over the next 72 hours.