Mid-cap value was the top performer in the 10-year and longer periods. Mid-cap growth was the superior performer over three and five years. Mid-cap generally did OK for one year in 2011, although large-cap and mega-cap was marginally better in 2011.
The three Russell mid-cap categories are represented by these ETFs:
Small-cap value was not as good in the 10-year and longer periods, but was superior to large and mega-cap. Over the 1-5 year periods small-cap value was less impressive.
A representative ETF is:
The tables that follow illustrate the performance observations.
Note: These observations do not consider either the dividend component of total return, nor the volatility of the categories over the performance periods. Those are important considerations for investors the older they become, because their investment results time horizon shortens, and because the risks of generating cash from sale of assets instead of collecting dividends are substantial.
Click images to enlarge
Calendar Year Heat Map of Total Return for Market-Cap and Style Indexes: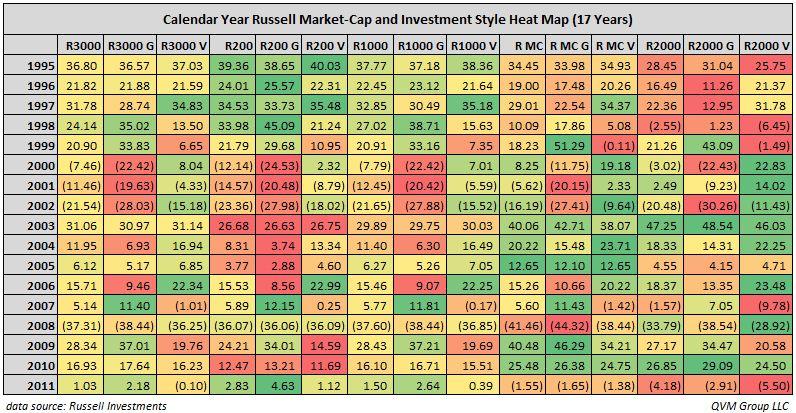 The way to view the heat map above is to look for columns under Russell categories which have the most green and the least red to find the best performers.
Cumulative Value of $1.00 Invested Per Index Over Multiple Time Periods:

Mid-cap categories clearly have the most green and the least red. The Russell 3000 (proxy IWV) is mostly yellow, which is the in-between return, which is expected for a blended index of all of the sub-indexes.
Cumulative Value of $1.00 Invested Per Index Versus the Russell 3000:

The mix of green and red cells in this heat map is the same as the prior map, but it makes quantitative perception of the performance difference a bit easier to apprehend.
Graphical Visualization of Relative Performance: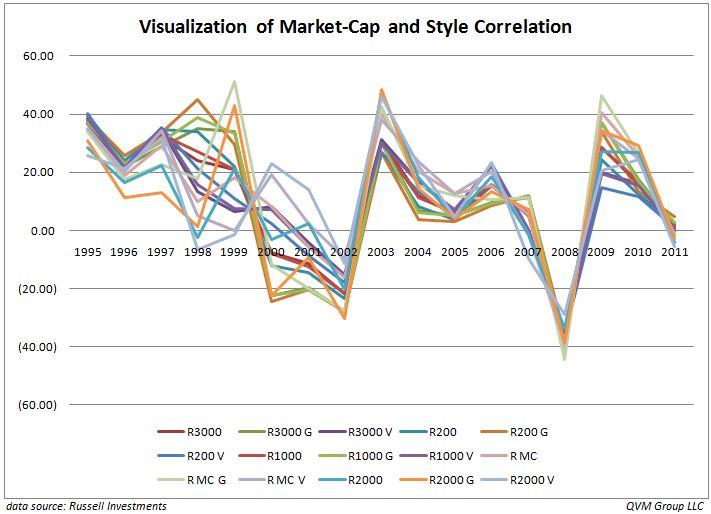 This rather cluttered chart of the calendar year returns of the indexes helps visualize the correlation aspect of returns.
It appears that during periods of early rebound in 2003 and 2009 from major bottoms, the correlations are high, as they were in the epic decline in 2008.
One might therefore conclude what is generally accepted that herd behavior causes correlations to converge in times of euphoria and panic, but that in other times correlations diverge.
That is not to say that the correlations are not always high within domestic stocks, as compared to correlations with other classes such as cash and bonds. However, the correlations within domestic stocks do tighten and loosen as opinions converge and diverge.
Proxy ETFs available for the Russell market-cap and style indexes reviewed in the data table above are:
Russell 3000 (broad market)
Russell 200 (mega-cap)
Russell 1000 (large-cap includes mega-cap)
Russell Mid-Cap (mid-cap)
Russell 2000 (small-cap)
According to BarChart, here are the most recent P/E ratios and yields of those ETFs: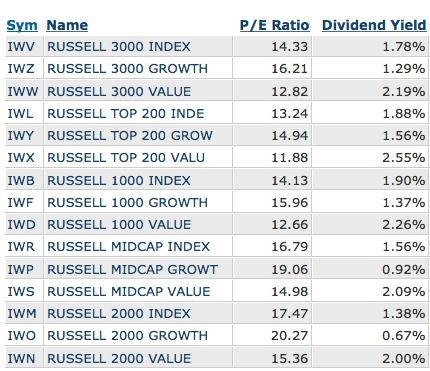 Disclosure: QVM has long positions in several of the identified index ETFs as of the creation date of this article (January 10, 2012).
Disclaimer: This article provides opinions and information, but does not contain recommendations or personal investment advice to any specific person for any particular purpose. Do your own research or obtain suitable personal advice. You are responsible for your own investment decisions. This article is presented subject to our full disclaimer found on the QVM site available here.