Covered call writing has become a popular strategy of late, particularly as online investing tools have cut transaction costs and allowed individual investors reasonably priced access to the options market. In addition, a number of factors have combined to make the strategy successful in the recent market. Higher volatility has increased option premiums; a sideways market (the S&P 500 closed 2011 down 0.03 percent) has limited the benchmark rate of return; and low yields in the bond market have forced investors to more creatively seek income generating strategies.
The Chicago Board Options Exchange (CBOE) compiles the BuyWrite Index (BXM), which simply involves the ownership of the S&P 500 index, with an index call option written against the long position. It has outperformed the broader market since the onset of the financial crisis in late 2007 :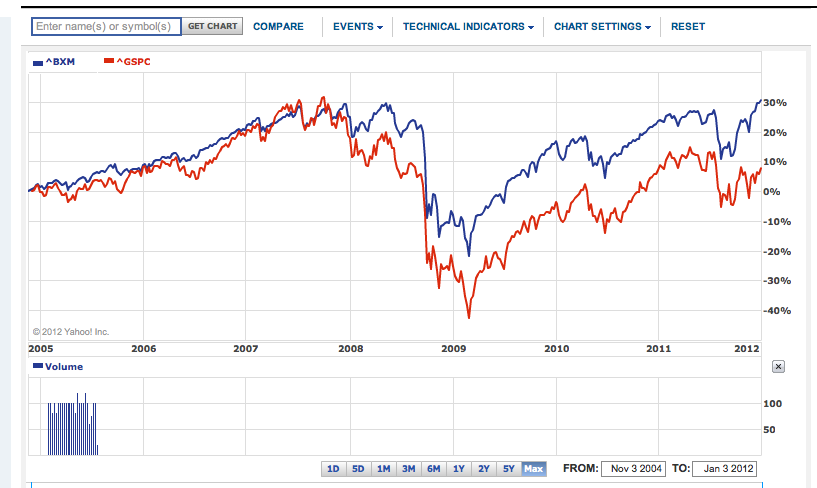 BuyWrite Index (BXM) in blue, S&P 500 (GSPC) in red, since inception; chart courtesy Yahoo! Finance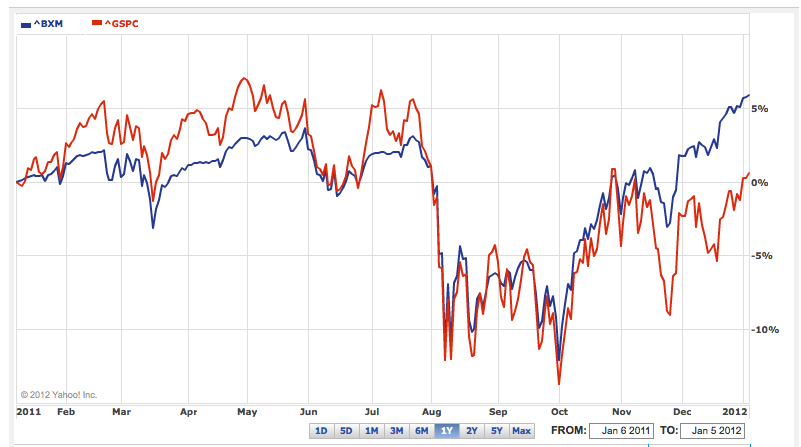 BuyWrite Index (BXM) in blue, S&P 500 (GSPC) in red, one year chart; chart courtesy Yahoo! Finance.
In 2011, the BXM finished up 5.7%, versus the essentially flat performance of the broader index. And as Barron's noted last week, other variations of the strategy -- writing cash-secured puts, or covered calls on different indices -- performed even better.
Granted, the 2011 market was essentially tailor-made for hedged strategies. In addition, despite the numerous articles on the Internet (including many here on Seeking Alpha), covered call writing is not a free lunch. The 20% and 30% returns you may see pitched on individual stocks assume the best-case scenario for each equity. Indeed, in a strong bull market, buy-write strategies will drastically underperform the broader market. In a bear market, the income from call options -- the majority of which will expire unexercised -- will provide some downside protection and index outperformance, but that option income will not overcome steep losses in the underlying equities.
At its heart, the goal of a covered-call strategy is to generate income with the call options sufficient to overcome the loss in the underlying assets. Given that we are essentially being forced to sell off our winners, while maintaining or selling losing positions, it is difficult to even maintain our portfolio value, unless we are in a strong bull market. (In that situation, of course, our portfolio will almost without question lag market benchmarks). As such, investors should remember that the double-digit returns touted by many writers through buy-write strategies are unrealistic at best.
That said, in a world where American Express (NYSE:AXP) offers "high yield" savings accounts with an annual return of less than one percent, the returns offered by the buy-write strategy should lead investors to consider covered calls for income generation and a slight amount of risk mitigation. In addition, investors expecting a repeat of 2011's volatile, sideways market in 2012 can expect buy-write strategies to again outperform. Several ETFs allow for the use of covered-call strategies with lower transaction costs, less required expertise, narrower spreads, and less time to implement these detailed strategies. In addition, many covered-call ETFs are trading at a discount to NAV, a change from 2008-09, when the hedged nature of the funds and the fear generated by the stock market collapse led to many buy-write vehicles trading at a premium.
As noted previously, the distribution rates offered by covered-calls funds should be discounted by the expected loss in NAV going forward. In addition, some funds offer distributions that are heavy with return of capital. ROC distributions -- which are essentially including the initial investment in their payments -- can skew the annual yield on the fund higher, making performance seem stronger than it truly is. A good example is the BlackRock International Growth and Income Trust (NYSE:BGY), which sports a seemingly attractive 18.66% yield relative to Tuesday's close of $7.37. Yet, as Morningstar notes, the "fund's unsustainable distribution policy... regularly includes large portions of destructive return of capital." And while the fund has outperformed key benchmarks over the past three years, its total 3-year return -- just over nine percent -- shows how unreliable covered-call fund distribution rates can be on their face.
As such, potential investors in covered call ETFs must be aware that total return will almost always be lower than the funds' distribution rates; but these funds can provide income with a measure of safety, and even the potential for some capital appreciation if the current discount applied to the sector narrows in the short- or mid-term.
Below are some of the more interesting plays in the covered-call ETF universe (all data sourced from Morningstar and fund manager websites):
1. Nasdaq Premium Income & Growth Fund (NASDAQ:QQQX)
This five-star Morningstar-rated fund has beaten benchmarks consistently since its inception in early 2007. QQQX attempts to mirror the Nasdaq 100 index, while also writing call options against the index. The Nasdaq 100 features the giants of the tech world; 15% of the fund's holdings are in Apple (NASDAQ:AAPL), with Microsoft (NASDAQ:MSFT), Google (NASDAQ:GOOG), and Oracle (NYSE:ORCL) combining for another 21%.
Despite the fund's strong history, it is trading at an all-time high in terms of discount to NAV (the discount is 6.46% as of Tuesday):

QQQX premium/discount since inception; graph courtesy nuveen.com
2. Dow 30 Enhanced Premium and Income Fund (DPO)
Another five-star-rated Nuveen fund, DPO tracks the 30 Dow stocks while writing covered calls against roughly 50% of the fund's holdings. DPO is trading at a discount over 7%, a level rarely seen since the 2008-09 stock market crash, during which the fund traded at an often substantial premium to net asset value. The fund switched to a quarterly distribution calendar (from monthly) earlier this year, and sports a distribution rate of approximately 8.5% based on the most recent payout.
3. GAMCO Global Gold, Natural Resources, and Income Trust (NYSEMKT:GGN)
GGN is actually trading at a slight premium to its net asset value (currently under 1%), though that premium is actually rather low in historical terms. While GGN's performance has not been particularly impressive -- it struggled in 2011, in particular, as mining and resources stocks lagged the broader market -- it offers two distinctive characteristics for investors. First, it offers a monthly distribution, currently held at 14 cents per month (for an 11.1% annual yield). Secondly, its sector-focused nature allows for diversification while hedging historically volatile mining stocks.
4. BlackRock Enhanced Dividend Achievers Trust (NYSE:BDJ)
Morningstar gives the fund a Bronze rating, noting the improvement in performance under a recently installed management team. Despite that rating, the fund trades at a current discount of 11.3%, relative to a 3-year average discount below 1%. (BDJ, too, traded at a premium during most of 2008 and 2009.)
Like DPO, BDJ writes options against roughly half of its portfolio. Its holding focuses on dividend stocks, and looks to add to the income generated from yields primarily through covered call writing. Top holdings as of September included Chevron (NYSE:CVX), BHP Billiton (NYSE:BHP), Exxon Mobil (NYSE:XOM), JP Morgan (NYSE:JPM), and IBM (NYSE:IBM). The distribution yield is 9.4%, based on a quarterly 17-cent payout and Tuesday's close of $7.22.
5. Nuveen Equity Premium Opportunity Fund (JSN)
This four-star and bronze-rated ETF also is trading at a significant discount to NAV: 11.13% as of Tuesday's close. The "managed distribution" policy gives the fund a distribution rate of 9.63%.
JSN looks to replicate a 75/25 share of the S&P 500 and the Nasdaq 100, giving the fund a overweight orientation toward tech and large cap stocks. Apple is again the largest holding here, with Exxon, Microsoft, and Google the fund's next largest positions (in order).
Disclosure: I have no positions in any stocks mentioned, and no plans to initiate any positions within the next 72 hours.