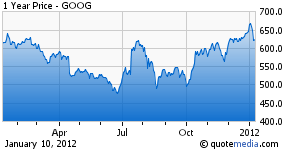 Google (NASDAQ:GOOG), the Internet search engine super giant, closed out last year about as great as shareholders could hope for. In the last few days of trading Google managed to power higher to close out making new 52-week highs multiple times in the last week of trading. As we begin finding our way into 2012, Google has moved off the epic push higher with about a 10% retracement.
Google's lower price is nearing support level. Google stock has technical support at just above $600, but don't expect Google's stock price to move down below $600 and stay there. Google is firing on all cylinders (or transistors as the case may be) and gaining market dominance. In an article I wrote a few weeks ago, I predicted Google would continue to gain market share and for me the last few sessions' sell off spell a buying opportunity (actually an option selling opportunity).
The implied volatility is much higher for the weekly option series expiring on Friday, but that would be more of a simple trade and less of an investment than I want to put on. I am currently focused on the January monthly expiration series and I will go into what I believe is the sweet spot for trading Google stock options in a moment.
Google's Android is number one in smart phones. In what may be the biggest and or most important market in advertising in the future, portable Internet devices, whether smart phones or tablets, Android continues to dominate the space with about 50% market share. Apple (NASDAQ:AAPL) did manage to close the gap for the final quarter somewhat due to the new iPhone 4S, but Apple will have to come up with the next trick soon or face falling further behind Google.
Research In Motion (RIMM) is clearly struggling with the North American Market, but RIM is bigger than just North America. Microsoft (NASDAQ:MSFT) is so far behind with smart phones, we can't say for certain they will even make it to the finish line much less take over a leadership role. To Microsoft's credit, the Seattle company announced an increase for some app developers of Windows 8. Microsoft needs to do more than offer a little extra pay if they hope to take away from Apple and Google, although it may be enough to shift focus away from Blackberry developers.
Another important point with Android is the move by low cost pre-paid phone services now offering Android products. I believe once people get used to the Android platform, they will be less inclined to move to Apple when they move up in smart phone quality.
In Search, Google continues to be the one to beat. Google reportedly has gained market share at the expense of Yahoo (YHOO) with a dominating 65% of the search space. This is the area Google brings in the most amount of revenue and part of the reason why I believe Google's recent sell-off creates opportunity for those to gain access on the cheap. Microsoft and Yahoo may have a long standing partnership in search, but no one will care if the actual search results are not improved. Google continues to be allowed by Microsoft and Yahoo to have a virtual monopoly for small buyers and sellers of ad space. With the combination of "AdSense" and "AsWords," Google can be expected to take everyone else's lunch money until they figure out how to make a website to buy and sell ad space.
Must see Internet TV. Google TV is starting to gain the traction needed to receive wide acceptance. Lenovo, LG, and Samsung (OTC:SSNLF) appear to be on board with Android 4 TV. Google TV products made the newest public announcements at the Consumer Electronics Show (CES) in Las Vegas. YouTube already shares revenue with top viewed videos and Google is making moves to shift away from home made videos of cats chasing laser lights to high production quality professional entertainment. Simply put, Google is making all the right moves, and owning the competition in just about everything they do.
How may I make a buck with Google stock trading lower? There are two ways in my opinion with one far superior to the other.
The first is to simply buy the stock and allow for your shares to appreciate. The second is to use options to mitigate risk, lower volatility and be able to enter with a lower than current market price. My first choice of the two would be to simply sell put options. While the $590 is a little further out of the money than I would normally like sell, it appears to be a real sweet spot. First, it's far enough below the round $600 number to allow some breathing room. Second, the premium is rich due to the recent drop in share price.
Covered call writing could also be done, but with put option liquidity as thick as it is, and the spreads so wide with the stock/option combo, the simple cash covered put appeals to me. If you haven't begun the learning path with options, fellow contributor Rocco Pendola recently wrote a short and to the point ebook on options. I read it and recommend it (read all my book reviews here). My target entry for Google is near the $609 price point and I will be watching for a pullback into that support area this week.
Do you have a company you want me to review? Do you share or not share my thoughts? Let me know in the comments below.
I use a proprietary blend of technical analysis, financial crowd behavior and fundamentals in my short-term trades, and while not totally the same in longer swing trades to investments, the concepts used are similar. You may want to use this article as a starting point of your own research with your financial planner.
Disclosure: I am long RIMM.
Additional disclosure: I may short GOOG put options over the next 72 hours.