By Brendan Gilmartin
Overview
Wells Fargo (NYSE:WFC) is scheduled to report 4Q 2011 earnings before the opening bell on Tuesday, January 17. The results are typically released at 8:00 a.m. and will be followed by a conference call at 9:30 a.m. Wells Fargo's results will become available at about the same time as rival Citigroup (NYSE:C), potentially distorting the trading signal.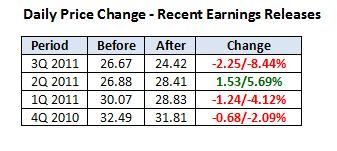 Outliers and Strategy
The following measures warrant close attention:
Earnings Per Share (EPS): The value for this measure typically compares with consensus estimates. The only exception is when "proximity verbiage" is present, meaning there are certain charges and/or gains that could impact the bottom line. The estimate is $0.75 per share (range is $0.66 to $0.77). (Source: Yahoo Finance)
Revenues: The top-line is expected to decline y/y as a result of decreased mortgage activity. The consensus is $20.06 bln.
Tier 1 Capital Ratio: As one of the nation's largest lending institutions and the tighter constraints under Basel III, Wells Fargo is expected to show higher reserves on its balance sheet.
Recent News
12/20: Bank of America reiterated its Buy rating and reaffirmed Wells Fargo as its Top Pick for 2012, according to a post on Benzinga.com. The report cited potential for capital return in 2012, balance sheet strength, and risk management. The piece target is $33.
12/14: According to a report on TheStreet.com, analysts at JPMorgan Chase reiterated an Overweight rating on Wells Fargo, citing recent acquisitions, improved fee income growth, an improving commercial real estate loan portfolio, and lower international risk exposure relative to its peers.
12/06: Wells Fargo CEO John Stumpf made the following observations from the Goldman Sachs U.S. Financial Services Conference:

Wells Fargo continues to maintain a diversified business model resulting in consistent earnings growth.

Wells Fargo operates with less operational, balance sheet and market risk than its large peers (Source: slide).

The capital position remains strong and continues to grow. Wells Fargo is also buying back stock.

Wells Fargo is well positioned for growth, based on:

Completion of the Wachovia merger integration.

Increased deposit growth.

Selective acquisitions.

Strong Balance sheet.
Technical Review
Wells Fargo recently broke through resistance at $27.50, a level going back to early August and is up more than 30% from the summer lows. The Relative Strength Index (RSI) is nearing the 70-level – an area generally considered overbought, while the MACD is also extended. The shares are now closing in on longer-term resistance near $30. Should earnings disappoint, or the momentum begin to fade, look for previous resistance near $27.50 to become the first level of support, followed by the 200-Day SMA close to $26.50. (Chart courtesy of StockCharts.com)
Click to enlarge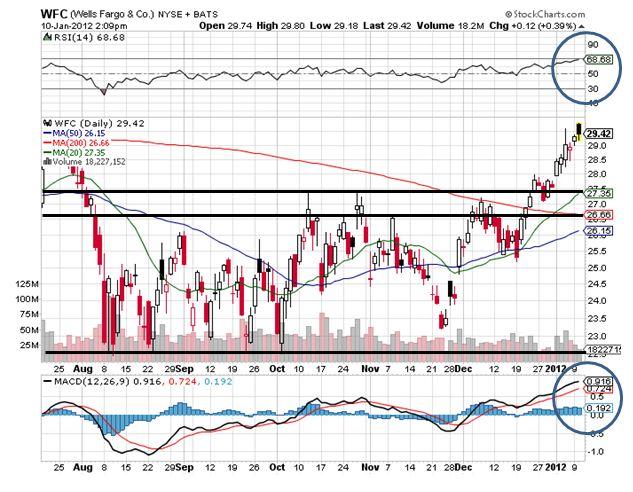 Summary
Wells Fargo shares have been breaking out in recent weeks, thanks to an improving loan portfolio, increased fee income and deposit growth, selective acquisitions, and its strong balance sheet headed into the 4Q 2011 earnings release. Against this positive backdrop, Wells Fargo is expected to deliver solid results for the recent period. Anything less may be taken as a disappointment, given the 30% plus increase in the share price since early October.
DISCLAIMER: By using this report, you acknowledge that Selerity, Inc. is in no way liable for losses or gains arising out of commentary, analysis and or data in this report. Your investment decisions and recommendations are made entirely at your discretion. Selerity does not own securities in companies that they write about, is not an investment adviser, and the content contained herein is not an endorsement to buy or sell any securities. No content published as part of this report constitutes a recommendation that any particular investment, security, portfolio of securities, transaction or investment strategy is suitable for any specific person.
Disclosure: I have no positions in any stocks mentioned, and no plans to initiate any positions within the next 72 hours.