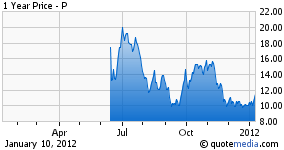 Millions upon millions of people listen to Pandora (NYSE:P) each and every day. A fraction of that amount listen to Internet Radio competitor Slacker That does not mean that Pandora can rest on its laurels of 125 million registered users. With the existence of Spotify, Sirius XM (NASDAQ:SIRI), Slacker, iHeartRadio and others, no one can afford to sit still.
Slacker is certainly not acting out its namesake. Over the past two days the company has made leaps in its programming offering that will certainly begin to garner consumer attention. The company has added live sports to the line-up in a deal with ESPN, talk and financial programming in a deal announced with American Public Media, and customizable weather in yet another deal with The Weather Channel. This is in addition to the ABC news, comedy and customizable content via ESPN that was already offered. Essentially Slacker has effectively made the shift from a company focused on music to a company focused on delivering top notch content to the consumer no matter what it is.
As those who have followed the radio industry for any length of time already know, content is king. It was an expensive lesson learned by satellite radio in the early years. Satellite radio had a need to differentiate themselves from AM and FM radio. They initially did it by offering commercial free programming and quickly learned that commercial free music was not the total solution. In order to survive Sirius and XM needed to offer more. Much more. Expensive deals with the NFL, NBA, MLB and the NHL quickly came into being. Deals with the likes of Fox News, MSNBC, CNN and CNBC were soon added to the mix. Then mega-deals were struck with the likes of Howard Stern, Oprah and others. The combination ultimately worked, and today, Sirius XM is a thriving company setting subscriber and revenue records many could not have imagined just a few years ago.
It seems that Slacker is taking a similar path to Sirius XM by becoming an aggregator of top notch content. Interestingly it seems that Slacker has set its sights on Pandora rather than Sirius XM. In a recent press release Slacker noted the following:
"Slacker Radio is dedicated to offering a fully customizable online radio experience that includes the most varied and compelling range of personalized content offered by any Internet radio service. The Slacker Radio experience includes over 150 expert-programmed music stations, ABC news, personalized ESPN Sports content and live streaming programs, American Public Radio programming, comedy, custom artist-hosted showcase stations, leading music festival stations with the new lifestyle stations and The Weather Channel updates coming soon. With a music catalog that is over ten times larger than Pandora, the leading radio competitor, Slacker Radio gives listeners the ultimate music and content discovery resource."
The biggest question is whether the Slacker strategy will work. Getting a viable Internet radio business up and running is not an easy task. Sirius XM's Mel Karmazin loves to say that Internet Radio has no barrier to entry, but the truth is that the barriers are substantial. Royalties on music, deals with ABC, with cell carriers, with the Weather Channel, and with ESPN are all costly. In the classic sense of the argument Karmazin is correct ... anyone can start an Internet Radio company. However, in the real world that we all live in, a viable Internet Radio company cannot simply be born out of nothing. It takes tens, if not hundreds of millions, to even have a chance.
The next natural question is what the strategy of Pandora is, and whether or not they will need to modify that strategy to keep competitive. Certainly Pandora is capable of offering live programming and non-music content on the service. Up until now, the company has chosen to stick with music and comedy. Is that strategy still sound? The numbers Pandora can boast would seem to indicate that the company is perfectly content to let consumers shift away from Pandora to catch the news, weather or a sports game on another service. It could be a stable concept. The test comes if listeners decide that the other service(s) they are listening to (such as Slacker) are better than Pandora. If that happens we could have some interesting radio wars brewing for 2012.
Investors in Pandora have plenty to be excited about. The company is growing subscribers, registered users, active users, listener hours, advertising revenue and much more. Pandora is certainly no slouch. What investors need to consider though is the audio entertainment landscape as a whole. The very definition of radio is shifting as are the methods by which consumers listen to radio. Pandora has been and continues to be a leader in defining audio entertainment. The real trick is understanding the mind and psychology of the consumer. If consumers want a one-stop shop for audio entertainment, they may shy away from Pandora in favor of a Sirius XM, Slacker or the iHeartRadio solution.
As 2012 progresses Pandora investors should monitor the entire audio entertainment landscape and keep a tab on whether Pandora is being a leader or a follower. Slacker certainly has not eclipsed Pandora on the numbers front, but as a main rival, they have taken a huge leap ahead in the non-music side of the business.
The ball is now in Pandora's court. It will be interesting to see how the game turns out.
Disclosure: I am long SIRI.
Additional disclosure: I have no position in Pandora.