Approximately one month ago, Standard & Poor's placed 15 European nations on review for potential credit downgrades. In spite of the implications, Italian bonds began to climb and their yields began to fall, as many were hopeful that an upcoming summit between European Union leaders might put an end to the region's spreading debt crisis.
Indeed, on 12/5/2011, newf-ound enthusiasm pushed Italian 10-year yields down to manageable rates, somewhere below 6%. The S&P 500 benchmark for U.S. stocks also gained on hopes for the EU meet-n-greet, rising to 1257.
However, after European leaders concluded the weekend festivities (12/9/2011-12/11/2011), investors feared that little had been accomplished. Stock assets around the globe took yet another pounding. And Italian 10-year yields climbed back above 7%.
Here's the dilemma: Even as we celebrate an apparent breakout for U.S. stocks in the New Year ... even as the S&P 500 is now up to a friendlier level of 1292 (1/10/2012) ... the sovereign debt crisis isn't subsiding. One month after the EU summit, Italian yields are still above 7%.
The 7% rate is considered the rate at which Italy's debts become unsustainable. At 7%, the government might find itself in the same place as Greece ... seeking a bailout.
Unfortunately, Italy is the third largest issuer of bonds in the entire world. A bailout might require assistance from more than Europe. It would probably include the EU, the IMF, the U.S., the U.K. and oh yes ... the PRC (People's Republic of China).
Granted, the U.S. Federal Reserve or the European Central Bank may decide to directly purchase Italian bonds, hoping that artificially lower yields inspire confidence. On the other hand, buying time and buying Italian bonds may fail to inspire confidence at all. When one buys time through quantitative easing, one is looking for the economy to gain traction. Few believe that Italy can gain the kind of economic traction that the U.S. can.
The bottom line? ETF investors may wish to take their cues from two ETFs: (1) iShares MSCI Italy (NYSEARCA:EWI) and (2) PowerShares DB Italian Treasury Bond Futures ETN (NYSEARCA:ITLY). Both are below 50-day trendlines. Both tell us that the sovereign debt crisis is far from over.
Click to enlarge charts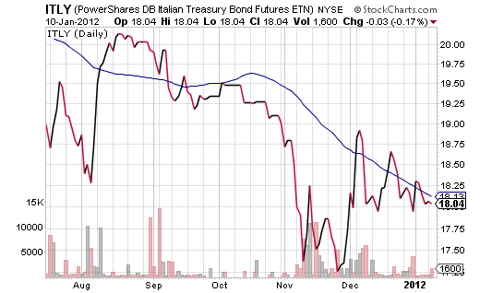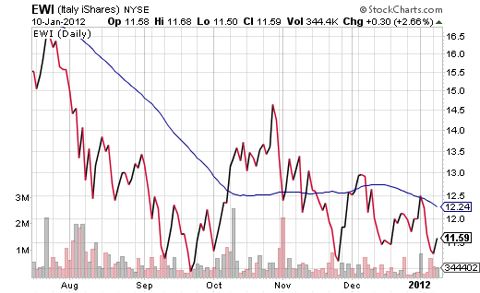 Disclosure: Gary Gordon, MS, CFP is the president of Pacific Park Financial, Inc., a Registered Investment Adviser with the SEC. Gary Gordon, Pacific Park Financial, Inc, and/or its clients may hold positions in the ETFs, mutual funds, and/or any investment asset mentioned above. The commentary does not constitute individualized investment advice. The opinions offered herein are not personalized recommendations to buy, sell or hold securities. At times, issuers of exchange-traded products compensate Pacific Park Financial, Inc. or its subsidiaries for advertising at the ETF Expert web site. ETF Expert content is created independently of any advertising relationships.