Although investment writers often seem to hate growth-by-acquisition roll-up stories, there's a reason that they keep popping up in the market – when executed properly, they can work very well. Investors can look at stories as varied as Danaher, BB&T, or Helen Of Troy (Nasdaq: HELE) and see a similar theme of success through repeated M&A activity.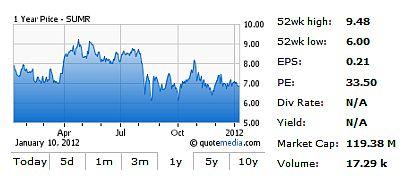 It may be unfair to suggest that Summer Infant (Nasdaq: SUMR) has only grown by virtue of folding in smaller makers of kid-oriented products, but the fact remains that the company is what it is today because of deals. Looking out a few years, though, it's not too hard to see how Summer Infant can grow itself into a real contender next to Mattel's (NYSE: MAT) Fisher-Price or Newell Rubbermaid's (NYSE: NWL) Graco business. Consequently, the company's downward revision in Q4 results is upsetting, but not the end of the story.
Soup To Nuts For The Wee Ones
Summer Infant isn't exactly a household name at this point, though, so a little bit of introduction is in order. As the name no doubt suggests, Summer Infant is in the business of developing and marketing products targeted at the parents of small children.
Nearly one-third of the company's sales come from baby monitors, with nursery (blankets, bassinets, changing pads, etc.), feeding/nursing, bath, safety, and travel products all contributing as well. Though Summer Infant does use some licensed IP (largely from Disney (NYSE: DIS)), the majority of the line-up is proprietary.
Like Mattel, Helen Of Troy, and Hasbro (NYSE: HAS), Summer Infant outsources the large majority (over 80%) of its production to China. While this is an economics-driven decision that is hardly unusual anymore, it does expose the company to its own set of risks. Not only is there the risk of yuan revaluation and ongoing wage inflation in China, but build quality and workplace conditions can also come back to embarrass these companies.
It is also worth noting that Summer Infant's sales base is fairly concentrated. The Toys R Us family (that is, Toys R Us and Babies R Us) of stores makes up about half of the company's sales, and that certainly exposes the company to significant merchandising risks. Said differently, if Toys R Us decides to squeeze the company on margins, shelf space, or promotion, there is not a lot that the company can do about it. Given that the company is large enough now for its wares to be carried by Wal-Mart (NYSE: WMT), Target (NYSE: TGT) and Bed Bath & Beyond's (Nasdaq: BBBY) buybuy Baby, it stands to reason that this concentration could abate.
Can New Products Boost Performance?
There's nothing to boast about with the company's margins, but new product rollouts could help. The company had begun shipping its Prodigy car seats in the third quarter, but initial sales have been disappointing. One percent of this $1 billion market is worth $10 million in revenue to Summer Infant, so clearly it's important for management to get this right. Now it looks like the company will re-launch the platform in the fiscal third quarter of 2012.
Later in 2012 the company will also be introducing its new Peek next-generation video monitor. This monitor will retail for about $350 and offers parents real-time imaging through a secure internet feed that can be viewed on any internet-enabled device. At a minimum, and assuming that the feed can be sent to multiple viewers, grandparents ought to like this one quite a bit.
All in all, though, Q4 results do highlight that management needs to execute better. Blaming poor performance on a tough retail environment isn't going to cut it; we all know it's tough out there and we still expect growth stocks to perform accordingly. After all, if you can only grow when everybody else does, you're not really a growth company.
More Brand Value And ROIC, Please
As said before, there is nothing to celebrate in this company's margins, nor in its returns on asset or capital. This is not unusual for small companies, particularly those cobbling together a collection of assets through M&A. To that end, it's worth noting that Kid Brands (NYSE: KID), another small player in this market, has similarly unimpressive margins.
As the company gains scale, it should see more operating leverage and start closing the gap on well-established rivals like Hasbro and Mattel. It is also vital, though, that the company really invest in developing and cultivating its brand. Fisher-Price owes its success at least in part to the fact that everybody knows what it is, what it does, and what you're getting. More to the point, people will go out shopping for Fisher-Price-branded items and that is the basis of building a moat and harvesting better margins and returns.
The Bottom Line
Certainly there will be readers who look at the margins and the debt and immediately write this one off as too risky and unproven. That's fine; this is not a stock for the conservative or risk-averse investor. By the same token, early-stage growth stories in consumer goods often look like this – the rare spotless companies are often either cooking the books or sporting whopping valuations – and it's part of why early-stage growth stories are risky (and rewarding when it all works).
I feel that I'm being relatively conservative in my modeling on Summer Infant. I expect sales growth to trail off to 8% by 2015 and for free cash flow margin to rise to about 6.5% - certainly better than what the company has been doing (less than 0.5% over the trailing 12 months), but still below rivals and other consumer goods companies like Hasbro, Mattel, Newell, or Helen of Troy. Attach a 12% discount rate, strip away the debt, and fair value is in the neighborhood of $10.
Disclosure: I have no positions in any stocks mentioned, and no plans to initiate any positions within the next 72 hours.