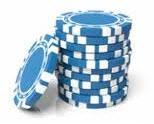 In this article we will discuss the following S&P 500 large cap or better Blue Chip stocks with over 3.0% dividend yields and above-industry-average profit margins. According to the New York Stock Exchange, a blue chip is a stock in a corporation with a national reputation for quality, reliability and the ability to operate profitably in good times and bad.
The stocks in question are: General Electric Company (NYSE:GE), The Procter & Gamble Company (NYSE:PG), Pfizer Inc. (NYSE:PFE), Johnson & Johnson Common (NYSE:JNJ), AT&T Inc. (NYSE:T), Intel Corporation (NASDAQ:INTC) and Kraft Foods Inc. (KFT). Are these blue chip stocks providing an opportunity for substantial capital gains and income upside? Read the article, due your own due diligence and decide for yourself.
2012 began on a strong note by recording its preeminent single-session percentage gain in weeks, closing at a two-month high on the first day of trading. There were a multitude of positives spurring the advance. Please review the following highlights of macro-economic positive indicators that could facilitate a rally in these names.
The manufacturing reading from China advocated activity expanded after contracting the prior month.
India reported its best manufacturing reading in six months.
Manufacturing data from Europe was comparatively inspiring.
Recent manufacturing activity in the United Kingdom was better than expected.
Eurozone manufacturing activity was somewhat in-line with outlooks.
Progress by the Euro proved positive for stocks.
The December ISM Manufacturing Index improved to 53.9 from 52.7 in November, exceeding expectations of 53.4.
November construction spending increased by 1.2%, besting analyst estimates of 0.5%.
The FOMC meeting minutes specified that domestic economic activity grew temperately, notwithstanding seeming deceleration in growth of overseas economies and continuing monetary complications in the eurozone. The FOMC largely remains sure that the speed of economic activity will increase in the coming years. Nevertheless, many members specified present and future circumstances may well merit further policy accommodation.
Growth Catalysts, News And Current Charts
GE Transportation was a great growth story last year. The unit, which manufactures high-tech locomotives, mining equipment and other heavy machinery, announced more than 2,400 jobs in the U.S. in 2011. It will invest over $400 million to open new plants and upgrade facilities in Pennsylvania and Texas. It also reported $2.1 billion in revenues for the first half of 2011, up 45% over the same period a year ago, and profits at $335 million, up 135%. This economic engine is motoring ahead. Today, GE Transportation said that it would sell 43 ecomagination-qualified C30ACi diesel-electric freight locomotives to South Africa's Transnet Freight Rail (TFR). This new purchase comes on top of a 100-engine order that TFR placed with GE two years ago.
The Procter & Gamble Company recently updated previously announced all-in sales and earnings guidance for fiscal year 2012 following the creation of a new global partnership and joint venture (JV) in consumer health care that was announced Tuesday. In addition, the Company included in its guidance the expected one-time gain from the upcoming Pringles transaction with Diamond Foods, Inc. and the cost of P&G's incremental restructuring plans, both of which will be reported as non-core items.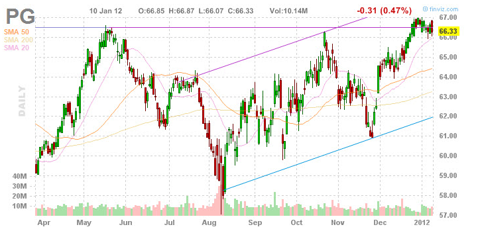 Janssen Biotech, Inc., one of the Janssen Pharmaceutical Companies of Johnson & Johnson, recently announced that it has executed an agreement with Pharmacyclics, Inc. (NASDAQ:PCYC) to jointly develop and market the anti-cancer compound, PCI-32765. A number of Phase 1 and 2 studies with PCI-32765 are ongoing across a panel of B-cell malignancy disorders, including chronic lymphocytic leukemia, mantle cell lymphoma, and diffuse large B-cell lymphoma. Interim data were reported at the 2011 American Society of Clinical Oncology Annual Meeting and oral presentations on two separate Phase 2 studies will be presented at the upcoming American Society of Hematology Meeting in December, along with several other poster presentations.
William N. Hait, M.D., Ph.D., Global Therapeutic Head, Oncology, for Janssen said:
The agreement with Pharmacyclics is an opportunity to bring a new form of oral therapy to patients with B-cell malignanciesPCI-32765 is an innovative compound, with broad applicability and the potential to help a large number of patients with B-cell malignancies.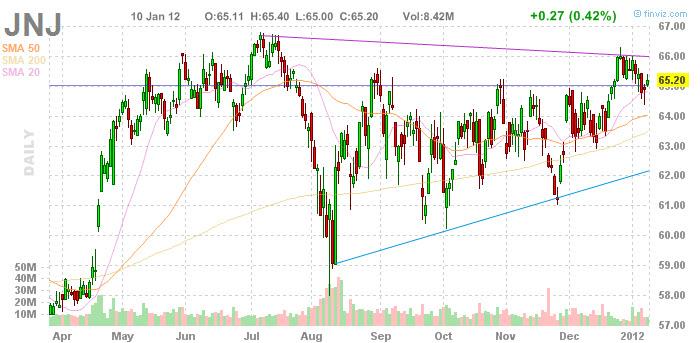 AT&T's goal is to deliver to AT&T customers the industry's best mobile broadband experience with a leading 4G LTE device portfolio, along with best-in-class apps and network. Recently, from the stage of the AT&T Developer Summit -- one day before the 2012 International Consumer Electronics Show in Las Vegas -- AT&T Mobility and Consumer Markets President and Chief Executive Officer Ralph de la Vega unveiled five smartphones and one tablet powered by 4G LTE and the Android platform that are planned for availability from AT&T* in early 2012.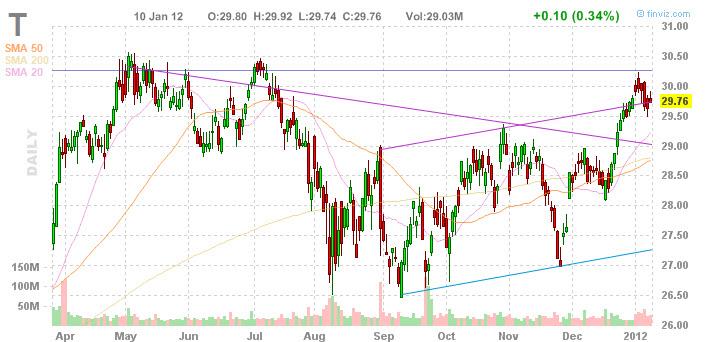 Pfizer Inc. recently announced that the U.S. Food and Drug Administration (FDA) has granted approval of the Company's pneumococcal conjugate vaccine Prevnar 13®* (Pneumococcal 13-valent Conjugate Vaccine [Diphtheria CRM197 Protein]) as a single dose for use in adults. Prevnar 13 is indicated for adults 50 years of age and older for active immunization for the prevention of pneumonia and invasive disease caused by the 13 Streptococcus pneumoniae (S. pneumoniae) serotypes contained in the vaccine.
Ian Read, chairman and chief executive officer, Pfizer Inc said:
Pneumococcal disease, including pneumonia, in adults 50 years and older represents a significant personal and societal health burden in the United States. The FDA approval of Prevnar 13 for these adults offers the potential to contribute to the health of millions of aging Americans. This approval is representative of Pfizer's dedication to discovering and bringing to market life-changing medicines and vaccines.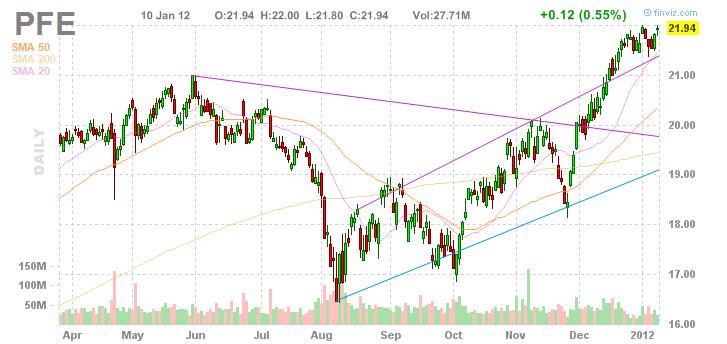 Intel Corporation recently announced that the company's fourth-quarter results are expected to be below the company's previous outlook due to hard disk drive supply shortages. The company now expects fourth-quarter revenue to be $13.7 billion, plus or minus $300 million, on both a GAAP and non-GAAP basis, lower than the previous expectation of $14.7 billion, plus or minus $500 million.
Sales of personal computers are expected to be up sequentially in the fourth quarter. However, the worldwide PC supply chain is reducing inventories and microprocessor purchases as a result of hard disk drive supply shortages. The company expects hard disk drive supply shortages to continue into the first quarter, followed by a rebuilding of microprocessor inventories as supplies of hard disk drives recover during the first half of 2012.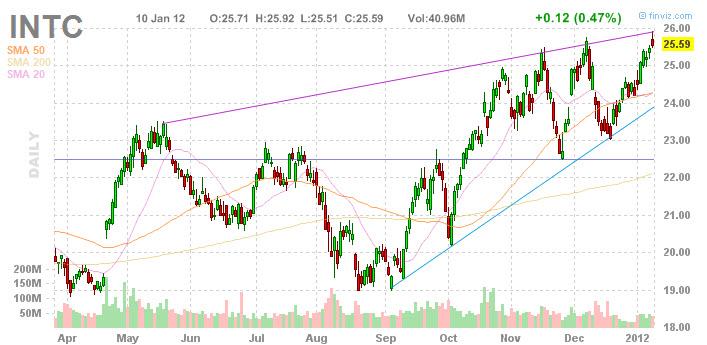 Kraft Foods Inc. recently reported third quarter results driven by strong organic revenue growth and operating income gains in each geographic region.
Irene Rosenfeld, Chairman and CEO said:
Our investments in marketing and new products continue to drive high quality growth and solid market shares. And we've accomplished this despite having taken significant price increases to offset record-high input costs. Together with substantial savings opportunities, we expect to deliver top-tier results in 2011 and remain on track to launch two industry-leading companies with strong operating momentum in the coming year.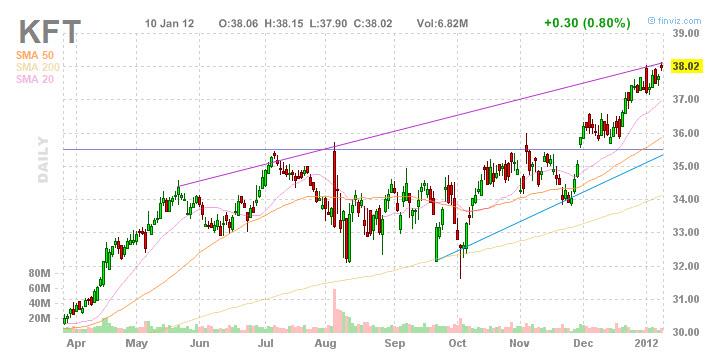 Charts provided by Finviz.com.
Compelling Fundamental Criteria
The stocks in this article have above-industry-average profits and strong fundamentals, as well as dividend yields of greater than 3.0 percent. Moreover, most of these stocks are trading below consensus analysts' estimates, have recent upgrades, positive analyst comments and company-specific catalysts for growth. Below are three tables with detailed statistics regarding each company's current summary, fundamental and dividend and earnings information.
Summary Statistics
(Click to enlarge images)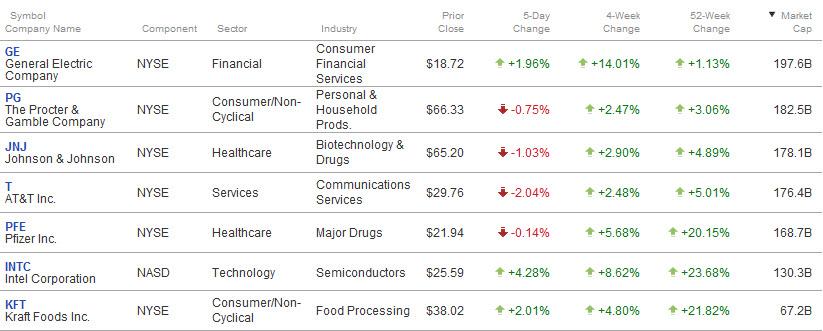 Fundamental Statistics
Earnings and Dividend Statistics

Tables Provided by Scottrade.com.
Conclusion
Dividend-paying stocks have the potential for both capital gain and income production. Boomers will be looking for stocks that have a track record of increasing dividends, giving them yet another hedge against inflation. This combination will be necessary to fund the lengthening retirement that comes with a greater life expectancy. Combining these factors with the Fed's recent announcement that rates will remain at ultra-low levels for at least the next two years, we can see that fixed income instruments such as bonds and CDs provide little protection against inflation. Factor this in with the fact that historically, dividend-paying stocks have outperformed non-dividend-paying stocks, and you have a recipe for outstanding returns.
A company's profitability is conceivably the most important statistic to understand before investing in a stock. Each time you consider starting a position in a stock, you should prudently scrutinize its earnings information. The reason earnings are so vital to investors is that they tell you about the relative profitability of a company. Earnings per share is defined as the net income of a company divided by the shares of common stock outstanding. With the EPS measure, you are looking at the amount of money left over for shareholders. The value is reported after taxes are subtracted, and we are normalizing those profits by stating them on a per-share basis.
When a company is profitable, and has money to give back to shareholders in the form of earnings, the company has two basic options: First, it can distribute some of the earnings in the form of a stock dividend. Factor this in with the fact that, historically, dividend-paying stocks have outperformed non-dividend-paying stocks, and you have a recipe for outstanding returns. After the precipitous drop in the Dow in 2008, the high-dividend-payers were the first to recover. Whatever is not paid out in the form of dividends is placed into the retained earnings, which then become a source of capital that can be used to help support the growth of a company.
The constant negative headlines out of the eurozone have ground most of these fundamentally sound U.S. stocks down significantly. Ironically, U.S. economic indicators are actually fairly good right now. I have been around long enough to know macro headline risk provides great opportunities to buy sound companies at discount prices. Market sentiment can and will turn on a dime-- what's more, it seems it has.
As we all know, in life, timing is everything, and the time to buy these stocks is now. This could be your last chance to pick up these stocks at this level once the world realizes that things aren't as bad as they seem. Nonetheless, this is only the first step in finding winners for your portfolio. Use this information as a starting point for your own due diligence and research methods before determining whether or not to buy or sell a security.
Disclosure: I have no positions in any stocks mentioned, but may initiate a long position in PFE, T, GE, KFT, INTC, JNJ, PG over the next 72 hours.