Previously
Introduction
American Railcar Industries (NASDAQ:ARII) (hereafter "ARI") is the third largest manufacturers of railcars in the US. ARI is owned and controlled via a 56% stake by famed activist investor Carl Icahn. Icahn last purchased shares in 2011 at around the $15 dollars a share mark, a very slight premium to a book value. Since Icahn's last purchase of ARI shares the company has had a distinct and dramatic transformation, all against the backdrop of railcar industry resurgence. This meteoric rise has lifted shipments of railcars nearly 400% and ARI's share price as much (412% since January 4th 2010).
Understanding ARI's Operating Structure
Over the past four years. ARI has transformed from a plain manufacturer of railcars to a business model reliant almost entirely on leasing and leveraging extremely favorable capital markets. The new ARI business model is an activist's dream; a company with a sole strategic focus organized to maximize value through financial structuring. Constrained supply in ARI's two railcar types, Covered Hoppers and Tankers, has resulted in high and rising lease rates over the past four years. ARI started building its own lease fleet in 2011 entering the business of ARI's largest customer, Icahn's railcar lessor ARL.

The web of relationships weaved since ARI's entrance into leasing subverts the typical operating structure of an equity. A business typically buys from suppliers, adds values, and then sells to customers; everyone's motives are fairly clear cut along the way. In ARI's case many of their customers and suppliers are affiliates whose only goals in common are to maximize Icahn's profits. The quasi-alignment of interest is of note for investors who should be fully aware that ARI is run in the best interest of Icahn, all of the railcar related companies he owns, and the wider Icahn enterprise. Below I have charted the vast array of ARI's business relationships with Icahn controlled entities:
ARI's Affiliate Business Relationships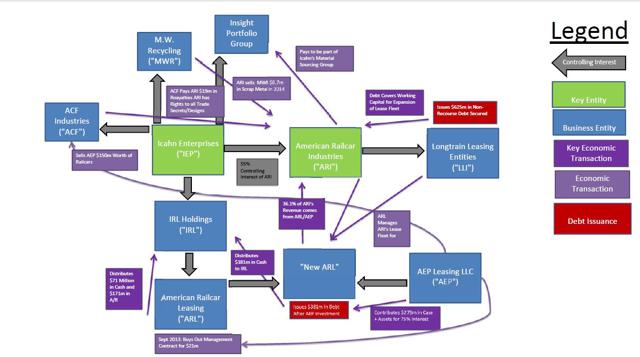 Key Business Relationships
36% of ARI's Revenue is Derived from ARL
ARL manages ARI's lease fleet
Combined ARL and ARI have issued over $1 billion in debt tied to leased railcar assets
ARL has distributed over $450m in cash to Icahn Enterprises
ACF another railcar manufacturer sold railcars to AEP (now New ARL) and pays royalties to ARI to use their intellectual property/services
Reshuffling
Icahn's 2013 reorganization of ARL showed some of the potential pitfalls of being a minority shareholder in an Icahn Enterprises (NYSE:IEP) subsidiary. When Icahn combined ARL and AEP in September of 2013 he essentially borrowed against the railcar assets to distribute $452 million in cash and $171 million in receivables to Icahn Enterprises. There is also precedent for Icahn taking cash out of ARI, granted it happened before ARI became a publicly traded company. In 2004, Icahn initiated a transaction where ARL lent ARI $130m and ARI lent Icahn $165 million, then in exchange for expunging the ARL debt ARI gave them ownership of the Icahn note and took 35,000 ARL units ($165m in notes for $130m+Equity). What does this all do exactly? It "sells" ARL equity to ARI for an undisclosed valuation and gives Icahn more cash to work with (units are "worth" $35m but at what multiple of earnings/assets we do not know). The point being that Icahn's options are always open to change ARI's balance sheet or business objectives to suit the needs of the wider Icahn conglomerate.
All About Leasing
Icahn is essentially duplicating the business of ARL at ARI, which maximizes value in these conditions by taking advantage of extremely easy credit markets and economic recovery/US commodities fueled demand for railcars. The combination of ballooning asset valuing for certain car types and historically low interest rates has allowed Icahn's lessors to secure debt on extremely advantageous terms. ARI went from being able to only borrow $250m in principle at a fixed rate of 7.5% in 2007 to borrowing $621m at rates of 3-4% (albeit secured by railcars).
With such access to capital the process works as follows; manufacture railcars, then sign leasing contracts, issue debt secured by the railcars, and take that cash to fuel a larger manufacturing run of railcars. Alternatively, Icahn can always take the cash generated by debt issuance, often non-recourse and secured by railcars, as pure profit through ARL. No one can argue that this strategy has not been extremely lucrative in the past few years, however, one must question if it has laid the best foundation for the long-term health of ARI post Tanker Car super cycle.
The added benefit for ARI is that the combined lease production of ARL and ARI gives ARI huge economies of scale, which have cut ARI's operating expenses per car by 45% since 2010. However, both the lease model and manufacturing scale ultimately are dependent upon essentially one customer; Carl Icahn's railcar lessors. Subtracting the railcars shipped to ARL or added to ARI's lease fleet we see that ARI has actually seen sequential drop in railcar shipments since 2011.
Last year ARI shipped less railcars to non-Icahn customers than they did in the worst year of recession. This is worrisome for a number of reasons, primarily because it seems ARI owes lots of the success to temporary factors and not superior product. As well positioned as ARI was to take advantage of Tanker market and highly liquid QE credit markets, it stands to reason that it leaves ARI far more exposed to the downside in the inevitable cycles the railcar manufacturing industry is known for. A narrow focus and high concentration of business creates high degrees of volatility, which takes ARI to extreme heights in boom years but leaves them undeniably exposed to any changes in business environment that ARI's very tailored business model is not built for.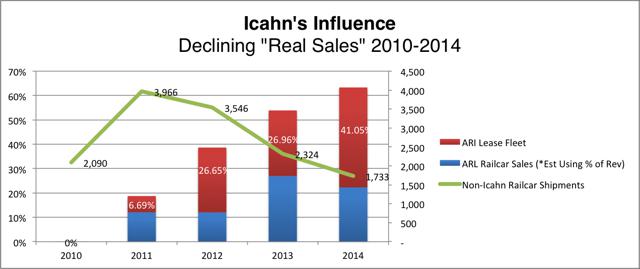 Oil and Gas Concentration
ARI's concentration of risk extends beyond dependence on lease rates. ARI's revenues are also heavily dependent on the oil and gas industry who lease the majority of ARI's and ARL's railcars. Getting exact numbers on ARI's exposure to the oil and gas industry is difficult as the company does not release any information regarding the breakdown of leasee by industry or breakdown of production between Tanker and Hopper Railcars. The last year data was available on mix was 2006, where Paragould (ARI's primary Hopper manufacturing plant) produced 81% of cars (5,625) and Marmaduke (Tankers manufacturing plant) produced 19% of railcars. With Paragould currently at 70% capacity and Marmaduke at 100% capacity along with multiple expansions ARI's production mix is now likely well over 50% Tanker Cars (1-70%*5,625/8,018).
Another common misconception is also that Tanker cars are ARI's only exposure to the oil and gas when in fact many Hopper Cars are used to haul frac sand for shale drillers further extending ARI's dependence on the sector. If leasing in the energy sector becomes even temporarily uneconomical than the demand for ARI railcars evaporates quickly, because they rely on one customer, and liquidity dries up as Tanker Car asset values fall. It is tempting to take security in backlog and argue that this could not happen quickly but remember that in 2007, before the recession, ARI had a backlog of 11,929 railcars and at the end of 2014 ARI had a backlog of 11,732 railcars. Unlike in 2007, the fleets of ARI's railcar types are newer and larger meaning the downturn could be more fundamental this time around.
What Impending Regulations Mean
Earlier this month the DOT announced finalized rules for new Tanker Car regulations, which have been developed in response to the increasing number of Tanker derailments. Regulation of the Tanker Railcar market is an important catalyst, which has meaningful implications for ARI. In investigating ARI's exposure it is quite clear that the leasing exposure to regulations is relatively benign if not positive for ARI. All the costs from retrofits will be done at the expense of the leasee due to modification provisions in most leasing contracts. Since ARI and other lessors are not going to bear the cost of new regulations it is largely a positive development. Regulation will fuel demand for new railcars on the manufacturing side and will constrain the supply of cars as retrofits take cars off the market temporarily, increasing lease rates.
The trouble for ARI long-term is that regulations act as a reset button for new railcar wins and ARI has not geared their business towards manufacturing but taking advantage of lease rates. Greenbrier (NYSE:GBX) has the clear advantage in winning new business and consequently has been very vocal pushing for tougher regulation of Tanker Railcars. Some of Greenbrier's products already meet some of the new regulatory requirements like ½ inch thick head shields and higher pressure release valves. In contrast, looking at the models ARL offers (mostly built by ARI), ARI has been building cars towards the lower end of the specification spectrum. With 50% of GBX's enormous backlog consisting of Tanker Cars that puts them at nearly 20,600 Tank Cars verses ARI's estimated 3,100 cars (ARI CEO said around 30% of backlog tied to energy market in Q1 conference call). GBX has 4x the total backlog of ARI or twice the number of non-Tanker Cars as ARI's total backlog, which, once again, exhibits ARI's lack of diversity.
Regulations also constrain capital of railroads changing the economics of shipping oil by rail at a time when low oil prices are starting to affect shale driller's en masse. With GBX filling regulatory demand and overall oil related demand waning there appears to be trouble ahead for ARI. Icahn also owns stock in Greenbrier and has repeatedly made offers to buy GBX over the years. In the current context Icahn's past offers for GBX seems like an attempt to buyout ARI's strongest competitor when shares were beaten up, rather than an effort to combine two equals.
Valuing ARI
Whereas I valued GBX looking primarily at the manufacturing segment and backlog as the main drivers of value, it is clearly that ARI is exactly the opposite case. The way to value ARI is to look at the leasing assets ARI has accumulated, as far more than 100% of cash flow is going back into adding to the lease fleet (see graph in "Understanding ARI's Operating Structure"). Also, remembering that rental income is the primary concern because most of the railcars will be sold to pay the principle of the debt issuances used to cover the gap between cash flow and capital expenditures (See "ARI's Affiliate Business Relationships" Longtrain Leasing Debt Issuance).
Even assuming lease rates can maintain record levels through the expiration of ARI's debt, which also assumes pricing of railcars is fairly high, ARI's lease assets by my estimations are worth $160-180m based on rental income and excess value of railcars after ARI settles their debts in 2025. Along with cash on ARI's balance sheet, $310m, this equates to a value per share of $22.05. Some quick calculations of other working capital, PP&E, and ARI's equity investments add around another $5.40 per share, for a total of $27.45 a share. My valuation puts ARI's at something a little bit above a standard book value calculation but more than 50% below current market prices.
While my recommendation was tepid regarding Greenbrier, for ARI my recommendation would be a strong sell if you were smart enough to see the aged fleet of railcars and the rebound of American economic recovery tailwinds and buy ARI in 2008-2011. Currently, a valuation 2.5 times book value is a huge premium for a business that so clearly diversification and competitively inferior. After researching ARI it becomes even clearer that Greenbrier is probably the best operator in the industry (Although I will start looking closer into Trinity Industries (NYSE:TRN) soon).
Final Thoughts
Given the re-focus of ARI's business model on accumulating leasing assets a variation of book value is an appropriate and reliable indicator of what ARI is worth. Remember this, if you bought ARI at the heights of ARI's booming 2007 backlog your return would be somewhere in the very average range of 5-9% compounded return , a valuation around 2-3 times book value. In a cyclical industry like railcar manufacturing it is critical to orient valuation to context of the cycle. For ARI who is so unapologetically geared toward the cyclical highs they seem poised to fall in many scenarios.
Other Sources: Annual Reports 2005-2014
Disclosure: The author has no positions in any stocks mentioned, and no plans to initiate any positions within the next 72 hours.
The author wrote this article themselves, and it expresses their own opinions. The author is not receiving compensation for it (other than from Seeking Alpha). The author has no business relationship with any company whose stock is mentioned in this article.