Over the last couple of weeks or so I've disclosed buying two new individual stocks for most of our large client accounts. (In this context large means accounts where we believe using mostly individual stocks is suitable). A hopefully amusing thought occurred to me that actually relates to a potentially serious issue, certainly a frustrating issue.
Using individual stocks in a portfolio offers the chance for outperforming a relevant benchmark index with the trade off being that the single stock risk goes bad for turning out to be a bad choice. I've talked about this many times before, of course, in the context of a particular stock not working out over some reasonable period of time.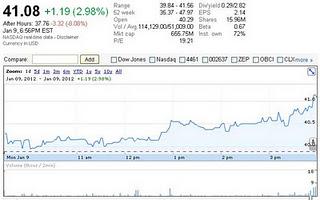 Occasionally something will go wrong immediately after purchasing a stock (fortunately not yet with the last two I purchased). You may need to click on the image to see what is going on there, but yesterday WD 40 (NASDAQ:WDFC) had a pretty good day during the regular trading session.
It chugged higher most of the day, there was relatively a lot of volume in the last hour of the day as the stock kept going up. Then, after hours the company missed by what seems like a lot on earnings and by what seems like a little on revenue, which lead to an 8% decline.
I follow the stock only to the point of merely staying in touch. Over very long periods of time the stock generally has gone up, but occasionally it gets clobbered. It seems like a fine company, we all have a can of the flagship product somewhere in our house and many of us have at least one other product as well. I can't quite get my head around why it gets hit so hard, again only occasionally, and so we've never owned it, but it does have volume and a real market cap; $650 million.
Buying the stock may or may not work out but it is not absurdly reckless. It just so happens that people who bought in yesterday had it go bad immediately. Clearly this caught the market by surprise, and while the report might alter the prospects for the next few months, it probably does not change the prospects for the next five years.
Sometimes, of course, news can come out of nowhere and meaningfully change the prospects for years. Obviously, people bought Union Carbide on December 2, 1984. Later that night a gas leak at the company's facility in Bhopal, India killed, by one count, 3787 people and lead to other related deaths. The stock immediately fell 30% in the face of the news, was never the same and was bought in what might be called a take-under by Dow Chemical (NYSE:DOW) in 2001.
That is not something that can be factored into a forward looking analysis of a stock, other than saying that anything can happen so I'll only buy 4%. More realistically someone who bought Union Carbide on December 2, 1984 or WDFC yesterday was just unlucky, and that can happen to anyone. If you have a 40 or 50 year investing career using individual stocks, it will probably happen two or three times. To the extent this sort of blowup cannot be reasonably predicted it speaks for avoiding big bets, which is of course something I have been preaching here for years.