Apple (NASDAQ:AAPL) is piling up boatloads of cash: just not here.
Those boatloads are increasing becoming docked in Apple's foreign subsidiaries and cannot be repatriated without incurring additional hefty U.S. taxes. A whopping $54 billion of Apple's $82 billion cash and investments is in offshore accounts. It isn't coming here: The giant 35% U.S. corporate tax has created an artificial divide between U.S. and foreign holdings, a divide which cannot be easily bridged.
Moreover, the off-shore component of cash is growing exponentially, courtesy of milder overseas tax treatment as well as burgeoning foreign markets. In contrast, Apple's U.S. cash/investments are increasing much more slowly.
The graph below charts Apple's cash, short and long term investments held at U.S. and foreign subsidiaries.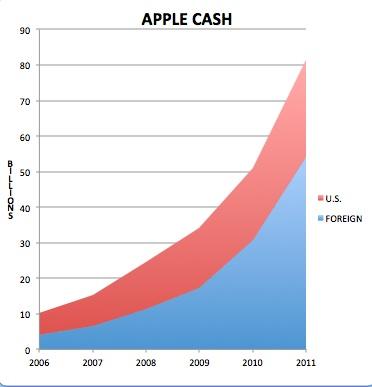 (Data from Apple 10Ks)
The foreign contribution to Apple's cash and investments is growing at far faster pace than the U.S.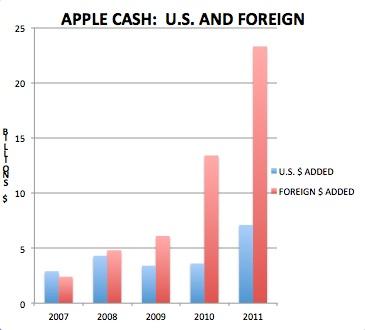 (Data from Apple 10Ks)
Increasingly, Apple's cash lies overseas out of easy reach, a trend that will pose a considerable challenge for the company in instituting a significant dividend, buyback, or U.S. acquisition. For the foreseeable future, Apple's foreign wealth will keep getting larger: Ultimately, Apple may become more of an overseas business with a U.S. division hindered from a lack of ready cash.
Disclosure: I am long AAPL.