Currently, there are a bunch of small cap biotech companies which are involved in cancer immunotherapies. But only a few catch investors' eyes. ImmunoCellular Therapeutics (NYSEMKT:IMUC) is one of them. ImmunoCellular Therapeutics stands out for a couple of reasons.
ImmunoCellular Therapeutics is at the forefront of targeting cancer stem cells
Research has shown that cancer stem cells (CSCs) are the root cause of cancer relapse or recurrence. Both chemotherapy and targeted therapy have not solved the long existing, notorious problem of cancer treatment: Relapse or recurrence. That's because neither chemo nor targeted therapy targets CSCs.
ImmunoCellular Therapeutics has developed two key technologies which specifically target cancer stem cells. One is active immunotherapy and another one is monoclonal antibody technology. ImmunoCellular Therapeutics' technologies utilize both arms of human immune system to fight cancers. The active immunotherapy uses the cellular (T-cell based) immune system to deploy special killers to target and destroy cancer cells while the monoclonal antibody technology uses the humoral (B-cell based) immune system to fight cancers. Both technologies have the potential to attack CSCs without harming healthy tissues.
ICT-107 holds high promise for the treatment of glioblastoma
ImmunoCellular's lead product candidate is ICT-107, an autologous, or personalized, dendritic cell-based vaccine. ICT-107 is similar to Dendreon's (NASDAQ:DNDN) vaccine Provenge, the first in class cancer vaccine approved by the FDA for prostate cancer. However, ICT-107 is specifically designed to target glioblastoma stem cells. Whereas dendritic cells used in Provenge are exposed to only one antigen specific to prostate cancer cells (PAP/GM-CSF), ICT-107 are exposed to six different antigens, mainly targeting glioblastoma cancer stem cells.
This is accomplished by extracting dendritic cells from a patient. These dendritic cells are then loaded with antigens that are highly specific to CSCs found in GBM tumors, and are reintroduced to the patient's body to trigger an immune response to destroy these CSCs.
ICT-107 targets GBM CSCs but has broad potential

Antigens

Tumor Expression

CSC Expression

gp100

melanoma, brain cancer

Trp-2

melanoma, brain cancer

High

Her-2/Neu

breast and ovarian cancer

Medium

MAGE-1

melanoma, brain cancer

AIM-2

breast, ovarian, colon, brain

High

IL-13aR2

brain cancer
ICT-107 is the only cancer vaccine in clinical trials targeting CSCs. The company has finished a Phase I trial of ICT-107 for the treatment of newly diagnosed glioblastoma multiforme (GBM), also called glioblastoma, the most common and most aggressive type of primary brain tumor. Though at its early stage development, ICT-107 has already demonstrated outstanding efficacy data and safety profile.
In total of 16 newly diagnosed GBM patients, two year overall survival (OS) rates were 80.2% in the drug group compared with the historic median two-year survival rate of 26.5% with standard of care (SOC) alone. Median OS exceeded 38 months in the ICT-107 group compared with 14.6 months in the historical standard of care (SOC) group. The study's median progression-free (PFS) survival of 16.9 months also compared favorably to the historic median PFS of 6.9 months. No serious adverse events have been reported and minor side effects have been limited to fatigue, skin rash and pruritis.
Long-term data from the Phase I clinical trial showed 43.8% patients who received ICT-107 were disease-free at two years, with three of these patients (18.8%) remaining disease-free for more than three years. One of these patients remains disease-free after almost four years. No treatment-related serious adverse events have been observed to date. Following is the summary of the Phase I study results.
Phase I of ICT-107: Summary of PFS and OS‐ Newly Diagnosed GBM Patients

ICT‐107 + SOC*

SOC (Stupp, NEJM, 2005)

(n=16)

(n=287)

Median Age

52

56

PFS (%)

At 6 months

100

53.9

At 12 months

62.5

26.9

At 18 months

43.8

18.4

At 24 months

43.8

10.7

Median (months)

16.9

6.9

OS (%)

At 6 months

100

86.3

At 12 months

100

61.1

At 18 months

93.8

39.4

At 24 months

80.2

26.5

At 36 months

55.0

16.0

Median (months)

NR > 38

14.6

*SOC= Standard of Care (XRT +TMZ); NR=Not reached
The above data from ICT-107 are the most compelling so far for the treatment of glioblastoma. The median PFS of 17 months compares favorably with 12.7 months for CDX-110 (Celldex (NASDAQ:CLDX)) and 13.6 months for Avastin (ROCHE: OTCQX:RHHBY). This is encouraging although ICT-107 is at its early stages of development.
Competitive advantages of ICT-107 in PFS and OS (Click to enlarge)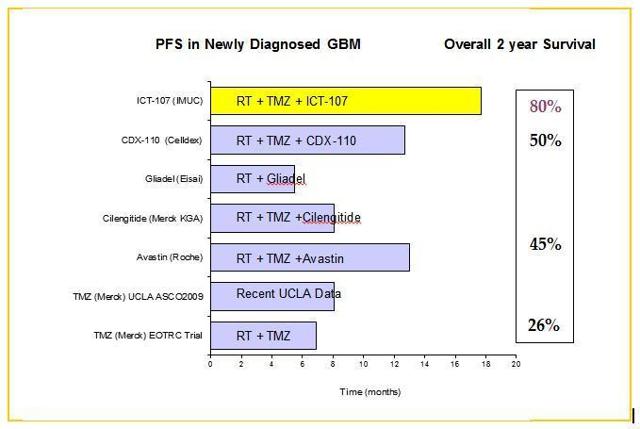 Phase II trial of ICT-107 is under way
The company initiated a Phase II trial of ICT-107 for the treatment of newly diagnosed GBM following resection and chemoradiation in January 2011. The trial is expected to enroll approximately 150-160 patients to treat 102 patients with HLA-A1/A2 immunological subtypes. The Phase II trial is a double-blinded, placebo-controlled, 2:1 randomized study of ICT-107 in newly diagnosed GBM. The study will be conducted in approximately 20 clinical trial centers in the U.S. and Canada.
ImmunoCellular Therapeutics has contracted with Averion, a contract research organization (CRO), to conduct the Phase II trial of ICT-107. The first patient was enrolled on January 31, 2011. There are 36 patients enrolled in the study to date. Enrollment for the trial is expected to be completed by Q2, 2012 and an interim analysis is expected at the end of 2012.
Patients will receive at least four intradermal injections of the ICT-107 vaccine and additional doses of vaccine during a maintenance phase until disease progression. The primary objective is to compare overall survival (OS) and progression free survival (PFS) in patients when treated with ICT-107 versus control.
We have a high expectation that the Phase II trial will be successful based on the Phase I study results. Unlike the Phase I which showed a 24 month increase in OS, a six month increase in OS would be considered successful and clinically relevant for this disease as the current standard of care increases OS by 2.5 months. Upon the successful conclusion of the Phase II study, ImmunoCellular Therapeutics anticipates a lucrative partnering contract with a major pharmaceutical or biotech company. The partnership may include a large sum of upfront payment, milestone fees and high royalties.
ICT-107 holds advantages over Provenge
ICT-107 works the same way as Dendreon's Provenge does. However, ImmunoCellular Therapeutics has developed an innovative method for the manufacturing of ICT-107 with its collaborators. The new method employs a closed-bag system designed to produce highly potent dendritic cells from white blood cells collected from patients, and for subsequently cryopreserving the dendritic cells for future vaccine treatments. Engineering and validation runs have confirmed that this process may be used to produce 20 or more doses of ICT-107 vaccine from a single blood collection, which may be frozen and later used for vaccination and maintenance of immune response in patients until disease recurrence.
Therefore it's important to recognize the differences between Provenge and ICT-107.
ICT-107 has a higher purity of dendritic cells (great than 80%) and is optimized for interleukin-12 (IL-12) secretion. Provenge is only 20-25% activated monocytes and the rest are lymphocytes and other cell types which are not needed for immunization. Therefore, a much smaller dosage of ICT-107 is required for vaccination, therefore reducing side effects.

ImmunoCellular Therapeutics' process produces 20 or more dosages of vaccine in a single production run which could be good for up to four years if boosted every quarter. The company uses cryopreservation technology to freeze these cells and store it for long term (almost like off-the-shelf product). Provenge is produced one dose at a time and Dendreon has to deliver Provenge within 18 hours to the patient after it is produced. ImmunoCellular Therapeutics certainly has a manufacturing convenience and logistic advantage.

Cost advantage is apparent. COGS for ICT-107 is much lower (15,000/20 = $750 per shot of vaccine). Therefore, gross profit margin will be much higher (95% for ICT-107 compared to 60-70% for Provenge at scale, currently close to 40%).

Due to limited treatment options for glioblastoma multiforme, ImmunoCellular Therapeutics should have pricing power if ICT-107 is approved for that indication. Therefore, management assumes first year reimbursement potential of $120K (same as Avastin) and 60K for the second year and third year. Total reimbursement should be roughly $240,000.

While Provenge is specifically indicated for prostate cancer, addressable market for ICT-107 could be glioblastoma multiforme (GBM), melanoma, breast cancer, ovarian cancer and colon cancer. If ImmunoCellular Therapeutics only develops it for ovarian and GBM to be conservative, the potential market size for those two indications is huge (more than $2 billion dollars).
It's clear that ImmunoCellular Therapeutics' ICT-107 has many advantages over the first-in-class cancer vaccine Provenge including manufacturing convenience, easy logistics, potential less side effects, cost advantages and much larger addressable market.
Not like most of its peer small biotech companies, which all have cash burn problem, ImmunoCellular Therapeutics is in a better position to fund its operations with a strong balance sheet.
The company had $5.3 million in cash as of September 30, 2011.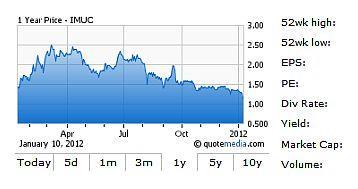 ImmunoCellular Therapeutics raised about $8 million from certain institutional and other investors in February 2011. On January 10, 2012, the company announced the pricing of an underwritten offering of 9,489,436 units, each unit consisting of one share of its common stock and a warrant to purchase one half of a share of its common stock, at a public offering price of $1.10 per unit. ImmunoCellular expects to receive net proceeds of approximately $9.4 million, after deducting the underwriting discount and estimated offering expenses. The warrants will have a five-year term and an exercise price equal to $1.41 per share.
The proceeds of this offering will be used to fund ImmunoCellular Therapeutics' ongoing ICT-107 Phase II clinical trial and for general corporate purposes, including research and development activities for its other product candidates and any future product candidates that the company may develop or acquire and for general and administrative costs.
Some investors view the offering as a dilution to existing shareholders, as evidenced by the selloff of ImmunoCellular Therapeutics' shares after the news release. However, we see this as a positive for the company's long term growth as it greatly boosts the company's balance sheet. It also reflects institutional investors' confidence in management's ability to deliver shareholder value
Another positive sign for the relief of cash burn is that ImmunoCellular Therapeutics is making efforts to monetize its antibody platform technology and if successful, this could provide the company with additional cash for its operations. Also, if data from the Phase II trial of ICT-107 are positive, the company could land a favorable partnership from big pharma or biotech companies.
Apparently, ImmunoCellular Therapeutics has all the makings of a successful biotech company in our view.
Disclosure: I have no positions in any stocks mentioned, and no plans to initiate any positions within the next 72 hours.
Disclosure: I/we have no positions in any stocks mentioned, and no plans to initiate any positions within the next 72 hours.
Business relationship disclosure: I work as a Consultant Analyst for Zacks Investment Research. The article is written by me and is 100% my opinion. I receive compensation from Zacks for writing equity research reports and providing valuation analysis on this company's stock and expect to do so in the future. Zacks receives compensation from the company. Please see the Zacks Disclaimer for further information: http://scr.zacks.com/Disclaimer/default.aspx