Abbott Laboratories (NYSE:ABT) stock has been on a roll, just off 52-week highs and now approaching all-time highs. I decided to take a closer look in the stock and see if it is worth pursuing at these prices. Here are the 6 points I looked at:
Valuation: Abbott's five-year trailing valuation metrics suggest that the stock is slightly undervalued. Abbott's current P/B ratio is 3.5 and it has averaged 4.1 over the past five years with a high of 6.0 and a low of 3.1. Abbott's P/S ratio is 2.3 and it has averaged 2.7 over the past five years with a high of 3.6 and a low of 2.1. Abbott's current P/E ratio is 19.3 and it has averaged 21.7 over the past five years with a high of 55.3 and a low of 13.4.
Price Target: The consensus price target for the analysts who follow Abbott is $58. That is upside of 2% from ABT's current stock price. That is very limited upside.
Forward Valuation: Analysts forecast that Abbott will earn $5.03 per share next year. With a current stock price of $55.86, that is a forward P/E multiple of 11.1. Although there are no direct comps because of patents and proprietary products involved, it makes sense to look at what other large drug stocks are trading at. Eli Lilly (NYSE:LLY) is trading 11.7 times next year's earnings. Merck (NYSE:MRK) is trading 10.0 times next year's earnings. Pfizer (NYSE:PFE) is trading 9.3 times next year's earnings. Abbott is trading just above the mean forward P/E for the four large-cap drug stocks.
Earnings Estimates: Abbott beat EPS estimates the last four quarters, each time by one penny. This suggests there won't be any upside earnings surprises any time soon for the company as analysts have a good idea of where earnings will be for the company.
Free Cash Flow: Abbott generates significant free cash flow and has averaged $6.6 billion in free cash over its past three fully reported fiscal years. Some of that cash has gone to business expansion and some of it has been returned to shareholders through dividends. Abbott has paid out over $2 billion in dividends in each of its last three fully reported fiscal years. In the first nine months of 2011, the company generated free cash flow of over $6 billion and has paid out more than $2 billion in dividends.
Abbott's current quarterly dividend is 48 cents a share, which is a yield of over 3%. The company has paid a dividend since 1990 and the payout has doubled in the past eight years, making it a worthwhile Dividend Aristocrat.
Price Action: Abbott's stock has been on a roll this year, up more than 15% over the past year. The stock did run into some trouble in August when there was some weakness in the broader market, but quickly recovered and set new highs. The stock is about 2% above its 50-day moving average right now and just off 52-week highs. Short-term support sits at $55 followed by $53.
(Click chart to expand)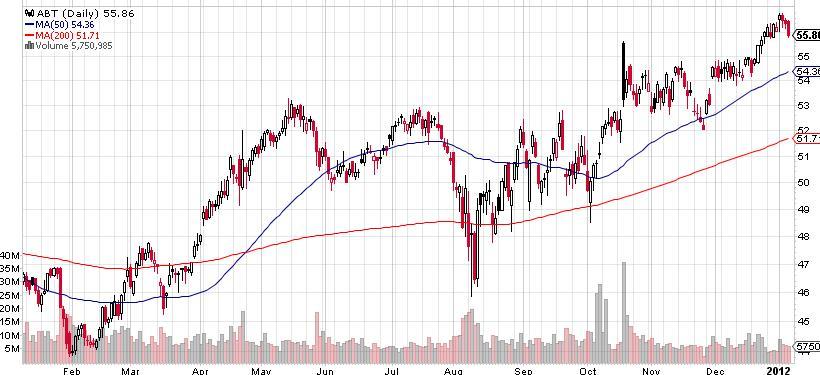 Conclusion: Abbott generates very strong and stable cash flows and pays a nice dividend. However, at this point, the stock is fairly valued and not worth an investment. It is not trading at a significant discount relative to peers and analysts do not expect much upside from the stock. The estimates will change however if the company adds another product to its portfolio that opens up a new cash flow stream.
Disclosure: I have no positions in any stocks mentioned, and no plans to initiate any positions within the next 72 hours.