Spirit Airlines (NYSE:SAVE) stock took a beating following its latest quarterly results, down well over 10% in the past couple weeks after it reduced its full year margin guidance slightly. Many analysts reduced their price targets slightly, albeit to levels significantly above its current price. In the midst of all the hype over Spirit's margin guidance many people missed a very significant quote from CEO Ben Baldanza during the conference call.
"Certainly, something could happen later in the year that would create more airplanes next year or something like that and maybe modify that (fleet growth) somewhat" - Ben Baldanza
This quote was intriguing and suggested the airline may be planning an order of aircraft at the end of this year.
Aircraft Order
Spirit Airlines workhorse aircraft, the Airbus A320 is going to have its production wound down starting next year as Airbus ramps up production on its successor, the A320NEO. The quote from Ben Baldanza suggested that perhaps Spirit was hoping to take delivery of some cheaper end of the line current generation aircraft next year for a significant discount. Upon further investigation however it turns out Airbus has oversold the current A320 and has sold an enormous amount of its latest A320NEO meaning that;
A) A end of the line discount aircraft order is now out of the picture and,
B) Any future aircraft orders will not begin deliveries for well over a year
What else could he be referring to?
The only other event that could create more aircraft without an aircraft order would be a merger with another airline. The question then became, who would be a good fit with Spirit Airlines? With some further research a match made in heaven was found.
Frontier Airlines
Frontier Airlines would be a perfect match for Spirit Airlines, and is a almost certain merger candidate for Spirit Airlines. Frontier Airlines is now owned by the company, Indigo Partners that used to own part of Spirit Airlines and turned it into the successful ultra low cost carrier that it is today. Indigo Partners is now entering the conclusion of turning around Frontier from an airline that was making substantial losses and applying the successful ultra low cost model to it. When complete, Frontier will be a replica of Spirit Airlines business model. Not only however do the aircraft share the same business model and previous ownership, they also share the exact same aircraft type making for a very seamless combination, allowing pilots to fly either airlines aircraft and flight attendants to do the same without much additional training.
Merger
A Spirit Airlines merger with Frontier Airlines would propel Spirit Airlines growth significantly. It would increase its fleet size by 79% and greatly expand the amount of cities and routes Spirit serves.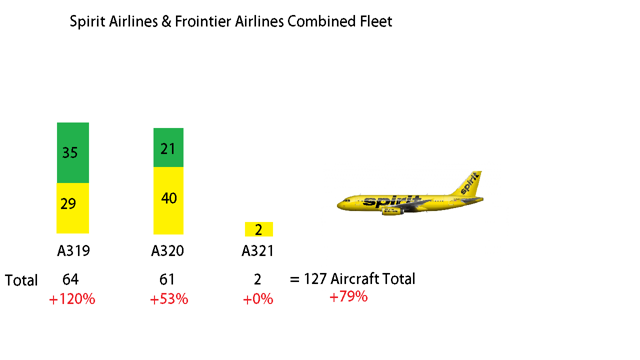 Fig 1: Spirit Airlines fleet before & after Frontier merger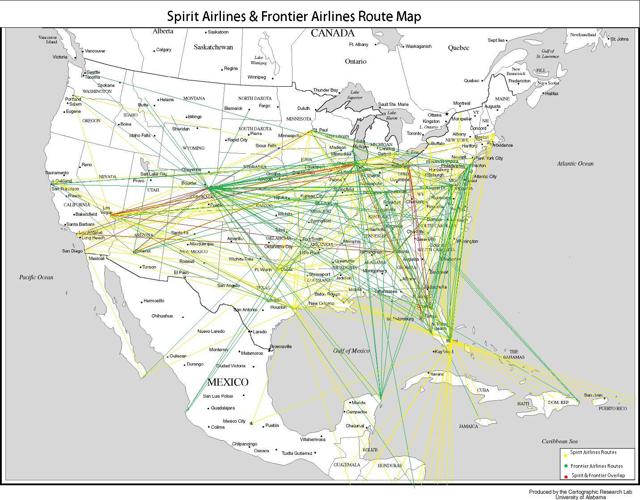 Fig 2: Spirit Airlines & Frontier combined route network.
Spirit would go from serving around 160 routes to around 300 with a Frontier merger and would only overlap in approximately 20 of these, or less than 10%.
Antitrust Concerns?
The next issue becomes, would the justice department allow another airline merger to go through after allowing so many already that have generally resulted in nothing but fare increases for the flying public. The surprising answer is the justice department may actually be in favor of such a deal. Spirit Airlines has a selling point that will likely be the magic bullet in allowing a merger to go through with Frontier. Its business model is built around allowing the public to be able to afford to fly, its ultra low fare business model shakes up every market it enters and causes fares to decrease drastically. On top of that Spirit and Frontier share less than 10% overlap in their route networks. Therefore, allowing a combination would not reduce competition on a significant number of routes but would instead allow a stronger entity to be formed and stand up against the mega carriers created from the justice department allowing previous airline mergers. It would further reduce pricing on many more routes within the United States.
Summary
A merger between Spirit and Frontier would provide Spirit with a significant boost to both its impact on the US marketplace and its stock price. It would likely almost double revenue for Spirit and would increase profits significantly over the long term.