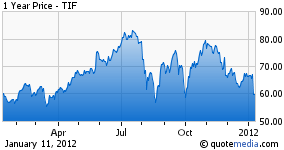 Even in 2012 the disastrous holiday season continues to hit retailer's shares hard. After the recent profit warnings of BestBuy (NYSE:BBY) and Sears (NASDAQ:SHLD), it was Tiffany's (NYSE:TIF) turn Tuesday. The world's second-largest jewelry chain warned that it would have to lower its full-year guidance from $3.70-$3.80 a share towards $3.60-$3.65 as volatile markets have led to a slowdown in key markets such as Europe and the US.
Not surprisingly, the stock was down over 10% in a generally strong market, closing at $60 a share.
Terrible holiday quarter
The lowered guidance still implies 23-25% earnings per share growth compared to 2010, resulting in a price-earnings ratio of about 17. The problem is that the first 3 quarters of 2011 imply earnings of 1.35-$1.40 for the holiday quarter, down from $1.44 last year. While annual growth is still impressive, year-on-year profits for the important holiday season are down, raising red flags for profits in 2012.
Why the drop is justified
At first sight the 10% drop in the share price seems hardly justified given the slight earnings revision, however:
1. It was only 6 weeks ago when Tiffany raised its earnings guidance, showing lack of visibility and a dramatic reversal in its key markets
2. Despite a 15% hike of the dividend earlier this year, the annual dividend rate of $1.16 only implies a dividend yield of 2% (even after today's drop)
3. Earlier yesterday competitor Signet Jewelers (NYSE:SIG) gave a profit warning as well, implying a general industry slump
4. Despite a lack of growth (cumulative revenue growth of 6% over the last four years) the stock trades at a full valuation, despite the dramatic start of the year.
Disclosure: I have no positions in any stocks mentioned, and no plans to initiate any positions within the next 72 hours.