I'm experimenting with a new portfolio that focuses on investments in companies that could have an upside that is many times the current share price but that also carry a very high level of risk.
I've sat on my hands and missed several multi-baggers over the past several years because I prefer a more focused, lower risk style of investing. I'm interested in seeing how I might do managing a diversified portfolio of high risk/high return stocks where the odd big winner more than offsets the odd big loser.
My first selection for this "homerun" portfolio in late December was PetroFrontier (OTC:PFRRF). It has since had a pretty good run in a short period but still may trade at a valuation that is a fraction of what it could potentially be worth.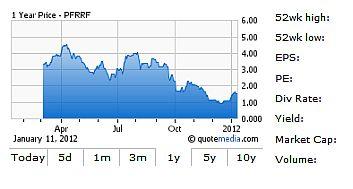 What PetroFrontier Does
PetroFrontier is an exploration-stage oil and gas company with a core operational focus in Australia's Georgina Basin, where it controls an 85% working interest in 13.6m contiguous acres of oil and gas exploration permits. Independent resource assessments of PetroFrontier's land base have pegged the prospective recoverable oil resource at 27.5 billion barrels.
That is not a typo, that is b as in billion.
The unconventional Lower Arthur Creek Hot Shale is believed to hold oil reservoirs, source beds and traps that are analogous to the unconventional Bakken shale play in Canada and the U.S. The Bakken is recognized as the largest and most successful unconventional reservoir in North America, and the Lower Arthur Creek has the potential to be a very large unconventional play for PetroFrontier.
Initial signs from the Georgina Basin appear promising. Between 1962 and 1991, approximately 29 wells were drilled on PetroFrontier's lands. Most of these legacy wells were logged and cored, and although subsequently abandoned, many encountered oil shows. PetroFrontier has identified 12 potential, untested, bypassed pay zones in a number of these wells, many with high background gas.
Onshore exploration in Australia offers a competitive cost structure and fiscal terms, in a stable, democratic country. With access to oil and gas infrastructure in close proximity to PetroFrontier's land base, the company is positioned to turn a discovery into a development project in short order.
PetroFrontier has about 70 million fully diluted shares and a share price of $1.60, $35 million of cash and no debt. That is a market capitalization of $112 million and an enterprise value of under $77 million.
Since the company claims to be working on a resource that could contain billions of barrels of oil, it isn't hard to tell, given the valuation of the company, that success is far from guaranteed.
PetroFrontier Management and Company History
PetroFrontier is led by Chief Executive Officer Paul Bennett, who is based in Calgary, Alberta. Mr. Bennett is a geologist with more than 38 years of experience in the oil and gas, and mining industries. Prior to joining PetroFrontier, Mr. Bennett held senior management positions with ExxonMobil (NYSE:XOM) in the United States, the United Kingdom and Canada. Mr. Bennett has supervised exploration teams in the Gulf of Mexico, the North Sea, Western Canada, Newfoundland and Nova Scotia.
PetroFrontier was officially formed on 31 December 2010, as a result of the amalgamation of Pendulum Capital Corporation and Australia Energy Corporation (AEC). AEC was a privately-held E&P company that was effectively spun out of Rodinia for the purpose of earning in to Exploration Permits 103 and 104 in Australia's Northern Territory.
In the Georgina Basin, Rodinia was partnered with Odin Capital and Texalta Petroleum (TEX/A CN, not rated) in EPs 103 and 104. The joint venture, known as the Texalta Farmout Agreement, consisted of approximately 5.7m gross acres. In February 2009, Rodinia and Odin Capital divested their interests in the agreement to AEC, with Rodinia retaining 2.0m of AEC's outstanding common shares. The deal allowed AEC the right to earn a 50% working interest in these permits from Texalta. In January 2010, AEC satisfied the requirements and retained operatorship of both licenses.
In April 2010, AEC entered into another agreement, this time with Baraka Petroleum, to farm in for a 50% working interest and operatorship in EP 127 and EP 128. In December 2010, AEC acquired an additional 25% interest in these blocks from Northern Territory Oil for $2 million in cash and securities. Combined, these exploration permits encompass 7.9m gross undeveloped acres and are contiguous with EP 103 and EP 104 to the north, west and south.
PetroFrontier went public in January 2011 by way of an RTO in which the company raised C$58.5m.
Details on the Georgina Basin
The Georgina Basin covers an area of more than 100,000 sq km (24.7m acres) of Australian outback between the Northern Territory and Western Queensland. With less than one exploration well drilled for every 5,500sq km, the basin is sparsely explored relative to other onshore sedimentary basins in the world.
Despite its limited exploration history, the basin is home to a known petroleum system. The reservoirs in the southern Georgina Basin have strong similarities to other producing basins in Australia. The Amadeus Basin to the southwest has fields that have been producing gas for years: The Mereenie gas field, with 2P reserves of 325bcf; and Palm Valley, with 2P reserves of 230bcf. Situated further to the east, PetroFrontier's lands lie within the oil mature window.
Legacy wells had live oil shows and high background gas. Prospective reservoirs exist in the unconventional Cambrian-aged black organic shales, as well as in the conventional Cambrian carbonate and sandstones. Through previous drilling, these formations have been shown to exhibit good reservoir properties and anhydrite seals. Data collected through legacy cores, logs and seismic suggests the basin has all the characteristics necessary to be a world-class producing area.
PetroFrontier is one of the first companies to take on exploration activities in the Georgina Basin in more than two decades. PetroFrontier's exploration permits are believed to reside in the most prospective parts of the basin, and using modern drilling and completion technologies, the company will attempt to crack the nut and unlock the 27.5 billion bbl recoverable potential that lies within its acreage.
Ryder Scott evaluated each of PetroFrontier's concessions in the Georgina Basin (and estimated the lands to hold prospective resource potential of 27.5bn bbl of oil (unrisked, P50 estimate). The Arthur Creek "hot shale" was assigned 26.4 billion bbl and is of course the primary focus for the company. Ryder Scott also evaluated four potential conventional targets on the same acreage, and these were assigned a potential of 1.1 billion bbl across four zones.
Insider Ownership and Insider Buying
Investing in a company like this is basically speculation. A speculation where most of the information that you have as investor is fed to you by management and their description of the potential of the play.
In a case like this I think watching what insiders are doing with respect to their ownership interest is very valuable. PetroFrontier insiders as a group control 10.8% of the company, which isn't an overwhelming amount. What did catch my eye was recent insider activity and greater than 10% owner activity:
| | | | | | |
| --- | --- | --- | --- | --- | --- |
| Dec 16/11 | Heritage Oil Plc | Common Shares | 10 - Acquisition in the public market | 289,500 | $0.91 |
| Dec 6/11 | Jespersen, Kent | Common Shares | 10 - Acquisition in the public market | 50,000 | $1.14 |
| Oct 27/11 | Kroontje, Al | Common Shares | 10 - Acquisition in the public market | 107,500 | $2.07 |
| Oct 19/11 | Heritage Oil Plc | Common Shares | 10 - Acquisition in the public market | 481,700 | $1.73 |
| Oct 18/11 | Rae, Donald J. | Common Shares | 10 - Acquisition in the public market | 35,000 | $1.85 |
| Oct 17/11 | Heritage Oil Plc | Common Shares | 10 - Acquisition in the public market | 145,000 | $1.56 |
| Sep 22/11 | Heritage Oil Plc | Common Shares | 10 - Acquisition in the public market | 400,000 | $3.05 |
| Sep 16/11 | Heritage Oil Plc | Common Shares | 10 - Acquisition in the public market | 500,000 | $3.05 |
| Sep 8/11 | Heritage Oil Plc | Common Shares | 10 - Acquisition in the public market | 19,100 | $3.05 |
| Sep 6/11 | Heritage Oil Plc | Common Shares | 10 - Acquisition in the public market | 4,100 | $3.12 |
With Jesperson ($60k), Kroontje ($214k) and Rae ($65k) we have three directors investing a decent amount of cash in shares of PetroFrontier. What might be a little more interesting is the frequent buying by Heritage Oil from $3.12 all the way down to $0.91. Heritage has to report its transactions because it owns more than 10% of PetroFrontier. As of the end of September 2011 there were two 10% plus owners of PetroFrontier:
Quantum Partners - 15.4%

Heritage Oil Plc (OTCPK:HTGLF) - 13.8%
Yes, the Quantum Partners is related to George Soros. The size of the holding in relation to the Quantum Assets is a rounding error though, so I wouldn't take much from it. The Heritage Oil position and the continued Heritage buying, however, I find more interesting.
Heritage Oil by itself is a fascinating oil and gas exploration company. Heritage has a producing property in Russia, exploration projects in the Kurdistan Region of Iraq, the Democratic Republic of Congo, Malta, Pakistan, Tanzania and Mali and an investment in Libya. The business model of the company is to look for high impact discoveries in regions that have been overlooked historically. You may have guessed that from the names of the regions Heritage operates.
Heritage has disclosed that it has invested in PetroFrontier for investment purposes. Clearly Heritage management believes there is something to the PetroFrontier and Georgina basin story.
The Exploration Program is Underway
PetroFrontier is in the middle of its exploration well testing this play. The rainy season in Northern Australia is underway and that brings work for PetroFrontier to a halt until it ends. Here is where the drilling program got to in 2011 per the last operations update:
On August 3, 2011, PetroFrontier began drilling its first exploratory well, "Baldwin-2Hst1". This well is located in the southwestern part of EP 103 in the Southern Georgina Basin. PetroFrontier has a 100% working interest in EP 103 and is the operator.

On October 11, 2011, the horizontal section of Baldwin-2Hst1 reached a total measured depth of 1,948 metres and drilling remained within the main target zone in the lower Arthur Creek "Hot Shale". Positive hydrocarbon indications were recorded along the entire length of the horizontal section with elevated gas readings and evidence of heavier hydrocarbons present. A Packers Plus string was then placed in the horizontal section of this well and the well is now ready for frac'ing early in 2012.

On October 28, 2011, PetroFrontier began drilling its second exploratory well, MacIntyre-2. MacIntyre-2 is located in the northeastern corner of EP 127 in the Southern Georgina Basin approximately 60 km northwest of Baldwin-2Hst1. PetroFrontier has a 75% working interest in EP 127 and is the operator.

On November 21, 2011, MacInctyre-2 had reached a vertical measured depth of 930 metres. Elevated hydrocarbon shows were recorded throughout the Arthur Creek "Hot Shale" formation with sustained and peak levels generally two to three times greater than those seen in the vertical pilot hole at Baldwin-2Hst1. PetroFrontier is very encouraged by the significant oil and gas shows in its first two wells located 60 km apart in the Southern Georgina basin.

Due to the imminent onset of the wet season in the Northern Territory, the drilling rig at MacIntyre-2 has been demobilized and the drilling of the horizontal portion of the well has been deferred until early 2012. Further to that, PetroFrontier will continue with the frac and completion of Baldwin-2Hst1 once MacIntyre-2Hz has been completed.

PetroFrontier's strategy is to mobilize the frac'ing equipment when the drilling of the horizontal leg of MacIntyre-2 is near completion. MacIntyre-2 would then be frac'ed, followed by Baldwin-2Hst1.
In my mind, PetroFrontier is a coin flip. Heads I win really big, tails I lose a lot. The intriguing part is that the really big could be several multiples of the current share price. I'm hoping that a few really big winners more than offset a few big losers.
Please be aware that I have invested in PetroFrontier with the intention of it being a small piece of a very diversified portfolio.
Disclosure: I am long OTC:PFRRF.