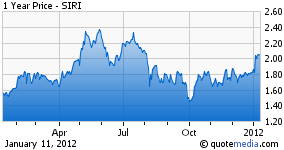 Yesterday, in Creating A Basket Of Audio And Video Entertainment Stocks, I discussed the prospects of opening a long position in Sirius XM (NASDAQ:SIRI) as part of a set of broad, sector-specific holdings.
In a nutshell, I noted that I would consider buying the stock on a somewhat considerable pullback to below $2.00. For several reasons, including a couple articulated by fellow Seeking Alpha contributor Paulo Santos, I don't think the stock is worth much more than $2.00 per share. If nothing else, the number of outstanding shares and relatively slow revenue growth should hold it back despite a rapidly-improving balance sheet and glimmers of hope that Mel Karmazin might finally get serious about being multi-platform.
Effectively, I would consider a long play on SIRI a hedge against myself. That's the beauty of basket trading. You can - and I think you should - include stocks you're not necessarily 100% bullish on.
By doing this you accomplish two related things. First, you acknowledge the possibility that you might be wrong, something that's tough for many investors to do. And, second, you provide a natural shot of diversification to your portfolio. While I am not saying you should stack your basket with long plays on stocks you are bearish about and vice versa, it makes sense to check yourself from time to time, particularly in situations where you have more than an inkling of doubt.
If you take a very basic-level glance at SIRI's chart, you can see history setting up to repeat itself. We're getting ready for that pullback.
Click to enlarge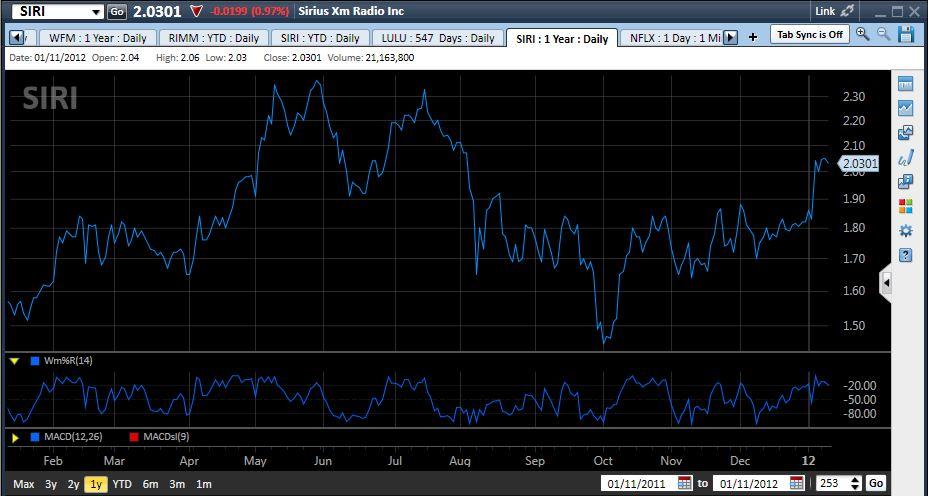 (Chart courtesy of Schwab's StreetSmart Edge)
It borders on eerie, but the pattern setting up right now closely resembles the patterns we saw when SIRI double-peaked in the May-June time frame and then peaked again in mid-July before free falling.
Sirius XM reports earnings on or around February 14th. If we already know all of the good news there is to know, investors should at least consider a swoon scenario. We've seen it before.
Call this bearish. Call it baseless. Claim that the euphoria this time is not merely that. That this time it's different. You very well might be right, just like I was wrong to claim that SIRI would see $1.50 before it saw $2.00. But, this is where you have to remove what you want to happen or what you think should happen from the equation. I'm not necessarily saying sell or even don't buy, but strongly evaluate the very real possibility that you'll be holding the bag for at least some time.
We might get an upside surprise or some other bit of news that further propels the stock come earnings. If we do not, however, SIRI will be ripe for a takedown. Investors and, maybe more importantly, traders have already bought the rumor and continued to buy once it became news. They will not hesitate to sell the news when it's no longer fresh and exciting.
Disclosure: I have no positions in any stocks mentioned, and no plans to initiate any positions within the next 72 hours.