When it comes to getting an extremely high yield out of an equity, those equities are often not standard corporations, but instead another class of entity that is designed to provide a significant payout to investors. Within the world of oil and gas, there are two common forms of such high-income entities: the Master Limited Partnership and the Royalty Trust.
A Master Limited Partnership, or MLP, is a type of partnership that is publicly traded on a securities exchange, and most MLPs are publicly traded oil and gas pipeline businesses that earn stable income from the transport of oil, gasoline and/or natural gas. MLPs combine the tax structure of limited partnerships with the liquidity of publicly traded securities.
A royalty trust is a type of corporation that is also usually involved in oil and gas production or some type of natural resource mining. Royalty trust profits are not taxed at the corporate level so long as the bulk of the trust's profits (at least 90%) are distributed to shareholders as dividends.
Royalty trusts often own multiple individual claims, but in the U.S., trusts are not allowed to acquire additional properties once they are formed. This is very different than the MLP model, where new assets are often dropped into an already existing MLP. Another primary difference is that MLPs are usually involved in the distribution, while royalty trusts are usually involved in the extraction of the resources from a proven source. Therefore, most MLP yields should be consistent and based upon demand for oil and/or gas, trust yield is usually more volatile as it is affected by commodity pricing and pumping.
In this now highly volatile environment, many may consider these high yield oil & gas options as a sensible long-term income producing investment. Below are the 2011 equity performance rates and present yields for four MLPs, Breitburn Energy Partners L.P. (BBEP), Calumet Specialty Products Partners LP (NASDAQ:CLMT), Ferrellgas Partners LP (NYSE:FGP), Martin Midstream Partners LP (NASDAQ:MMLP), and three royalty trusts BP Prudhoe Bay Royalty Trust (NYSE:BPT), MV Oil Trust (NYSE:MVO) and San Juan Basin Royalty Trust (NYSE:SJT). All of these equities are publicly traded in the United States and currently yield well over six percent (between 6.7% and 10.8%). I have provided their present yield, as well as their 1-month, 3-month and 6-month performance rates, and how far down each equity currently trades from its 52-week high (click to enlarge):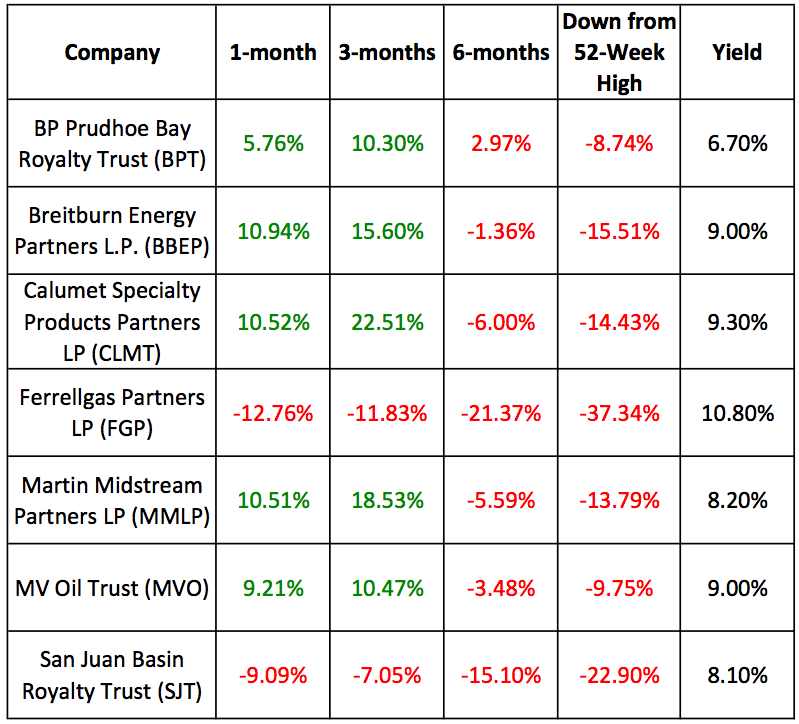 Several of these high-yield options did not have a great 2011, and all of the listed MLPs and trusts have depreciated over the last six months, with an average 6-month equity depreciation of 7.13 percent. Moreover, these companies average a 17.49% drop from their 52-week highs, with the equity of only two depreciating in the single digits (BPT and MVO), or to a comparable degree to their yield. Over the last month and quarter, though, BPT, BBEP, CLMT, MMLP and MVO have all performed well, appreciating along with the broader market while also providing three to four times the average yield.
The royalty trusts have considerably more direct exposure to oil and gas prices, while the MLPs are more directly connected to demand for them. MLPs have developed a great deal of popularity over the last few years, and it is likely that the asset class will continue to grow over the next few years. Royalty trusts cannot grow individually, but it is likely that new trusts will be developed as property owners continue to develop more tax-efficient methods of monetizing oil and gas production and distribution.
Disclosure: I have no positions in any stocks mentioned, and no plans to initiate any positions within the next 72 hours.
Disclaimer: This article is intended to be informative, and should not be construed as personalized advice, as it does not take into account your specific situation or objectives.