Aircastle (NYSE:AYR) is a company that owns 138 aircraft and leases them to airlines. It shows up well on screens with a p/e of 9.8x a yield of 4.5% (a 50% payout ratio) and a price to book of 0.8x. In addition Aircastle repurchased an impressive 9.5% of its shares outstanding in the first nine months of 2011 and has raised its dividend recently, though in part that's a rebound from a large dividend cut in 2008. Over the past 12 months Aircastle's shares have risen 26%.
Many of Aircastle's numbers are broadly consistent with others in the aircraft leasing sector such as Fly Leasing (NYSE:FLY), and though Aircastle is the stock in the sector I've looked at in most detail.
The Value to the Airlines
Leasing provided by companies such as Aircastle offers airlines a way to get the cost of the aircraft off their balance sheet, which can be tax efficient and gives them better able to manage their aircraft capacity.
Slow Speed of Aircraft Model Changes
It turns out that aircraft leasing is generally a good business to be in, in part because innovation in aircraft is so slow, and therefore the risk of Aircastle's fleet becoming out of data any time soon is low. The Boeing 747 has been around since the 1960s, and there are few other industries where designs from half a century ago are still in use.
Aircraft Traffic In 2012 Forecast To Be Modest
Similar to 2011, IATA forecasts single digit growth in passenger traffic in 2012, but a flat outlook for freight, with Europe the main source of downside risk.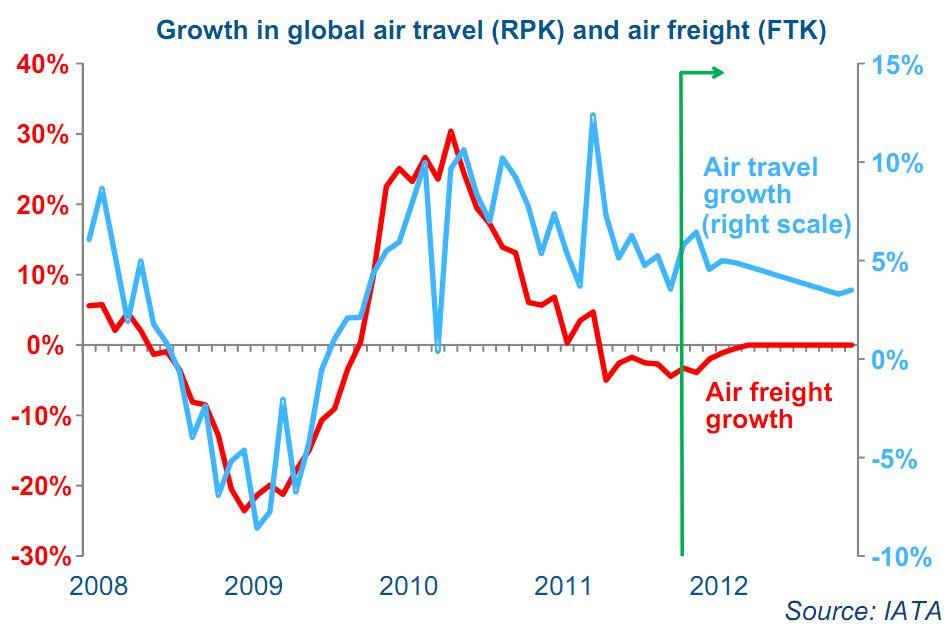 Geographical Exposure - Exposure To Europe is a Concern
Aircastle does not disclose all its customers, but its largest European customer is Iberia Airlines, which leases six aircraft and Martinair (owned by KLM), which leases six aircraft, and Europe is 43% of net book value of leases. This is not ideal given Europe's current issues, but otherwise Aircastle has good diversification by geography and customer, with no customer leasing more than 9% of the fleet.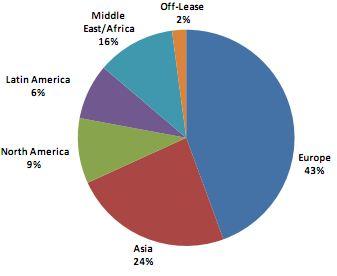 source: Aircastle
The Keys To The Investment Case
Aircastle appears a solid value stock with a good yield and an encouraging rate of buybacks. The main concern is European air traffic, but Aircastle has good diversity amongst its customer base. With $1.30-$1.50 of earnings forecast for 2011, Aircastle is trading at 7-10x forward earnings, and debt refinancing in 2012 could reduce interest costs and increase net income. There is also sufficient cash on the balance sheet for buybacks to continue, assuming management doesn't make big investments in new aircraft. Without much to drive consistent, long-term EPS growth, I would not expect Aircastle to ever command a premium multiple to the market, but it is reasonable to expect Aircastle to close the gap to its book value, which would drive the stock to deliver a 26% return and reach a price of $17 at which point, you have to look to multiple expansion to drive the stock, and there is likely better value elsewhere.
Disclosure: I am long AYR.