The headline unemployment number has fallen to 8.5% from a "Great Recession" high that is well north of 9%. Many say that the trend is heading in the right direction. And the media are beginning to tout the executive branch of government as having contributed to "job creation."
Privately, many economists decry that systematic wealth redistribution is incapable of creating jobs - issues of fairness notwithstanding. In the same vein, conservatives wonder why the White House can be credited with 2.7 million positions filled. Shouldn't the media discuss the 4.3 million lost during the current Administration's tenure? That's a net loss of 1.6 million jobs.
(Note: Approximately 4.3 million more jobs were lost under President Bush, for a total loss of 8.6 million. The Great Recession was rather unkind.)
In truth, investors need to be able to put aside the "spin," as well as political affiliation (or non-affiliation). How can people do that? They can focus on a more robust indication of employment health in the "labor force participation rate."
The labor force participation rate takes into account those individuals who are employed as well as those who are unemployed, but who would like to be working. In contrast, the popular unemployment rate ignores those who have given up looking for work and/or who do not collect unemployment compensation. In "normal times," the participation rate may approximate 67%.
So, for example, November and December's employment gains were considered remarkable, as the unemployment rate dropped from 9.1% in October to 8.7% in November to 8.5% in December. However, the 278,000 jobs gained in November did not take into account 315,000 Americans who stopped looking for work or who stopped receiving compensation. Not surprisingly, the labor force participation rate remained at 64%.
Taken a step further, the participation rate remained unchanged at 64% in December 2011 as well, even though the unemployment rate had hit 2 1/2 year lows at 8.5%. More telling, the participation rate in January, 2011 was 64.3% ... actually a bit healthier than in December, 2011.
The reality of the U.S. employment picture is that it may be a very long time before the people who long for a "daily grind" get the opportunity again. Without a better participation rate, the U.S. economy and other developed world economies will see undesirably slow economic progress.
If there's good news for investors, it's the fact that leaner, meaner multi-national corporations can still be quite profitable, selling their products and services in emerging nations. For that reason, companies that are growing their dividends in Vanguard Dividend Appreciation (NYSEARCA:VIG) remain a "buy" for portfolios requiring a bit more equity exposure. (Note: Pay attention to the 200-day trendline.)
Click to enlarge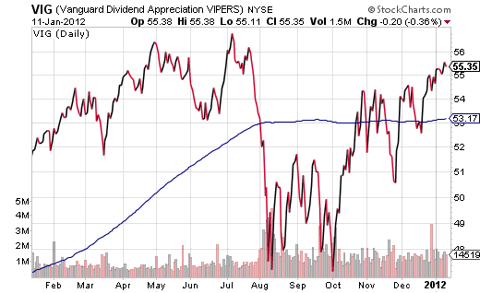 Of course, the "muddle-through" scenario for the U.S. (and other developed world economies) still has an uncomfortable itch or two. Italian 10-year yields are still north of 7% and the euro-dollar is testing 52-week lows. CurrencyShares Euro Trust (NYSEARCA:FXE) is "unbearably" far from its 50-day moving average, and yes ... pun intended.
Click to enlarge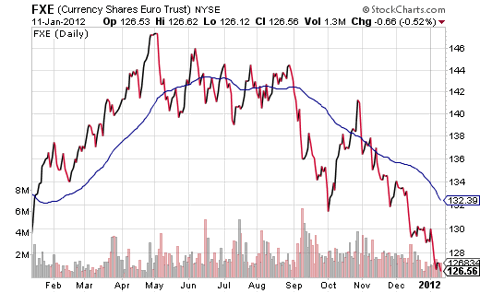 Disclosure: Gary Gordon, MS, CFP is the president of Pacific Park Financial, Inc., a Registered Investment Adviser with the SEC. Gary Gordon, Pacific Park Financial, Inc, and/or its clients may hold positions in the ETFs, mutual funds, and/or any investment asset mentioned above. The commentary does not constitute individualized investment advice. The opinions offered herein are not personalized recommendations to buy, sell or hold securities. At times, issuers of exchange-traded products compensate Pacific Park Financial, Inc. or its subsidiaries for advertising at the ETF Expert web site. ETF Expert content is created independently of any advertising relationships.