Bruce Berkowitz, a Miami fund advisor, is the founder and managing member of Fairholme Capital Management, LLC. He is the advisor for three mutual funds: Fairholme Fund (MUTF:FAIRX), Fairholme Focused Income Fund (MUTF:FOCIX), and Fairholme Allocation Fund (MUTF:FAAFX).
Berkowitz's claim to fame came in 2010 when he was honored as the "Fund Manager of the Decade" by Morningstar, as a consequence of a stunning 10-year performance with an average annual return of 13.2% when over the same period, the broader S&P 500 index showed negative average annual returns.
The company's flagship product is the Fairholme Fund (FAIRX), with an inception date of Dec 29, 1999. FAIRX is categorized as a multi-cap non-diversified value fund that holds significant cash and equivalents on average. Till 2007, its performance was stellar with Lipper rankings near the top among its peer-group. Since then, the fund returns have been erratic with the fund dropping by a third in 2008, returning ~50% in 2009, over 20% in 2010, and reducing roughly a third by the end of Q3 2011. Over the 4-year period, $10K invested in the fund would have reduced to $7.5K, a cumulative loss of 25%, when in the same period S&P 500 lost around 10% (cumulative). The reversal in the fund's prospects dragged the Lipper one year ranking down to be near the bottom, although over the 5-year and 10-year periods, the fund has beaten 88% and 90% of its peer-group respectively.
Below is a look at the Fairholme's holdings over the last five years:
Click to enlarge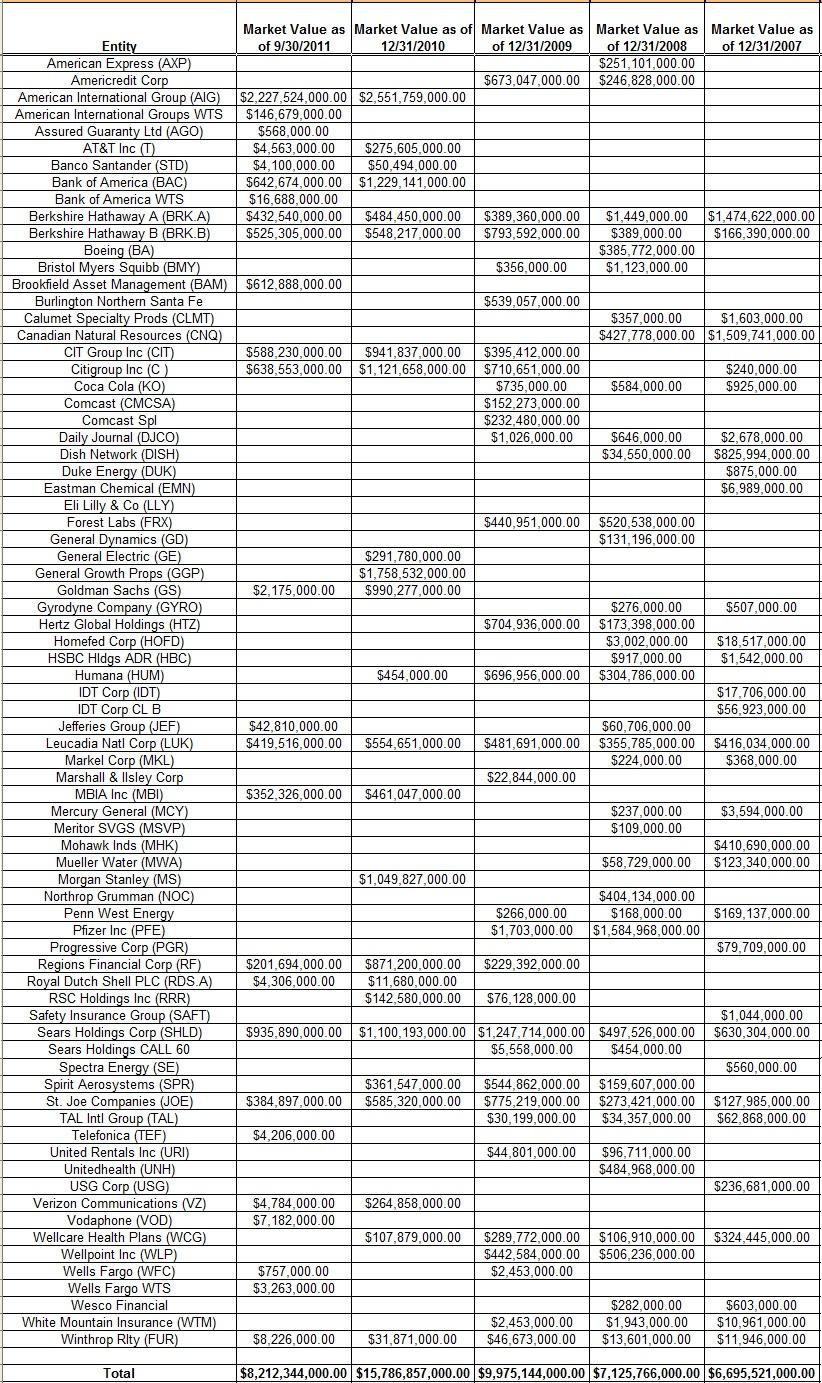 The fund went through 76 different companies over the course of the last five years, while the average number of holdings in any given year was in the mid-twenties. In essence, even though the fund runs a concentrated portfolio, turnover is significant.
The value of holdings excluding cash peaked at around $16B in 2010 as an outcome of two back-to-back years of great performance. The value of holdings has since dipped almost 50% as a result of the fund dropping by a third and as a result of redemptions.
Cash is known to have been between 5% and 20% over the last five years, roughly correlating inversely with the performance of the S&P 500 index – cash is increased as the index goes up and vice-versa.
Below is a look at the current top-5 holdings of Fairholme and the same five years ago: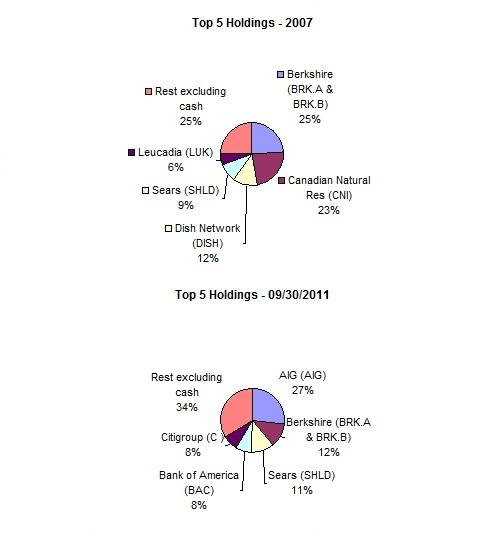 The top-5 holdings accounted for over 75% of the portfolio (excluding cash) in 2007 compared to just over 65% of the portfolio (excluding cash) as of Q3 2011. Fairholme has spread the portfolio across more names in 2011 than in 2007. Even so, investing 65% into just five securities shows a heavily concentrated portfolio.
Berkshire (BRK.A and BRK.B) and Sears (NASDAQ:SHLD) are among the top-5 for both years. On a comparative basis, Berkshire accounted for a quarter of the portfolio (excluding cash) in 2007, while in Q3 2011 it is just below 12%. Like other hedge funds, holding Berkshire must be a store of value for Fairholme too. Sears is a long-term holding first purchased in Q4 2006, when the price-per-share was between $158 and $177. The fund added to this position significantly during the one year from Q3 2007, increasing it from 3.27% to 15.13% of the total portfolio. The stock price plunged from ~ $170 to $70, and the share count increased six-fold to over 12M shares during the period. Remarkably, the position was increased to over 14M shares as the share price dived even further to the current $30 range.
The current top-5 holdings also include AIG (NYSE:AIG), Bank of America (NYSE:BAC), and Citigroup (NYSE:C). Financials and insurance are so prominent among the investments that the sector accounts for over 80% of Fairholme's portfolio – compared to 2007, when it held more diverse assets. In 2008, Fairholme became heavily weighted in healthcare and defense sectors, owning large stakes in Pfizer (NYSE:PFE), Wellpoint (WLP), Northrop Grumman (NYSE:NOC), Boeing (NYSE:BA), Spirit Aerosystems (NYSE:SPR), General Dynamics (NYSE:GD), etc. only to dispose most of them by 2010.
For investors attempting to follow Bruce Berkowitz, there are several opportunities to go long at a cost-basis significantly below what Berkowitz paid for them. It is a tempting situation, but it is worthwhile to dwell on both Berkowitz's rational and the short thesis that have been winning on many of these investments, as part of your own research before committing capital:
American International Group (AIG):
Berkowitz has disclosed that his average purchase price per share for AIG is $32. It is the largest holding at ~27% of the portfolio excluding cash. Government owns 77% of AIG as a result of the 2008 bailout, and it still owes the government around $8.4B. Investment thesis on this bet is that the government has cleaned up AIG-- enabling it to function as a very profitable, albeit smaller independent entity, once the government stake is sold. Government's break-even on its AIG investment is $28.73 and the large stake is an overhang that has depressed the stock price. Based on the $23B deferred tax asset, future profits are going to be tax-free for a number of years. The counter argument is that its reserves may turn out to be inadequate.
Bank of America (BAC):
Berkowitz's investment theory on BAC was made public in the "Fairholme Stays the Course" presentation available at the fund's website. The case-study lays out the following:
BAC is trading at a large discount to book value (BV), cash, and revenue.
Huge asset growth – 57M consumer and small business relationships, 5700 branches, 17500 ATMs and 16500 financial advisors.
Problems at legacy Countrywide (consumer real estate services) masking strong franchises: Deposits, card services, global commercial banking, global banking, and global wealth and investment management are all very profitable.
Get vs. give analysis: Future cash flows projected at between $30B and $50B per annum, owner's capital at $200B, and reserves at $50B. Market capitalization on the other hand is just $70B.
The following comment Berkowitz made in November 25, 1992 summarizes this thesis:
"Earnings power has been disguised by the provisioning for loan losses. But when the provisioning gets back to a normal level, you will start to see that incredible earnings power come down to the bottom line. And it's as simple as that"
However, the flip side to this logic is that leverage can affect performance in different ways depending on how the bets pan out: Just as 1% return on assets can equal 10% return on equity, a -1% return on assets can equal -10% return on equity. A scaled version of the latter scenario playing out is real, as demonstrated in the analysis by Tech Ticker: As of Q2 2011, the entire loan portfolio stood at $413B, of which $265B is comprised of first and second mortgages and $132B of home equity loans. The ~$20B loan loss provisions can turn out to be grossly inadequate, as under certain scenarios the losses could be upwards of $100B.
Also concerning is the fact that the $2.2T balance sheet has other types of exposures (commercial loans and credit, European exposure, derivatives, etc) and the subsidiary Countrywide has huge exposure to lawsuits regarding its mortgage underwriting behavior. One strategy to mitigate the Countrywide related risks is the 'Nuclear Option': Countrywide bankruptcy separate from the rest of Bank of America. A legal opinion regarding this option is summarized as follows:
"I believe that a successor liability case would be difficult to win unless the Transactions materially reduced the value of the legacy Countrywide subsidiaries. It is simply too hard to explain why BAC should be liable – and a fundamental rule of corporate transactions set aside – if the Transactions caused no harm to Investors."
Berkowitz's investments in the other financials (Citigroup – C, Banco Santander – STD, CIT Group – CIT, MBIA – MBI, Regions Financial – RF, etc) is also based on his optimistic scenario playing out.
Sears Holdings (SHLD):
Berkowitz's investment hypothesis on Sears is evident from his comment during the Outstanding Investor Digest interview of March 2009, when the stock was trading in the high-30s to the low-40s:
"The investment is mostly based on assets and liabilities with the assumption that he (Eddie Lampert) is, and will be, a great capital allocator. But to make money right now, all you have to do is liquidate the company… Last summer, we spent a tremendous amount of time going to all the tax collectors' offices around the U.S. trying to get the tax value of Sears and Kmart properties — and we came up with numbers that ranged from between $80 and $90 per share."
A differing viewpoint with regards to the business performance has worked out in the last three years. The U.S. is over-retailed, with Walmart (NYSE:WMT) and Target (NYSE:TGT) forming an intimidating competitive duo. Sears has been losing money with no end in sight.
Disclosure: I am long WMT.