Introduction
LNG, also known as liquefied natural gas, is natural gas that has been converted to the liquid form for storage and transport. Its number one feature is that it takes up one / six-hundredth of the volume of natural gas in the gaseous state.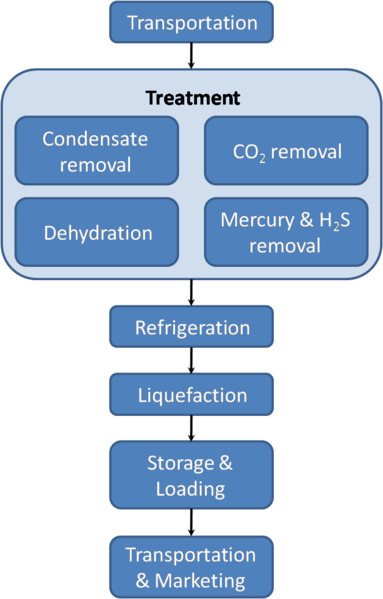 LNG Creation Process - Wikipedia
The above process shows the typical process that is undertaken in the creation of liquid natural gas. To start, a variety of different things are removed from the natural gas. Then the natural gas is cooled to -260F to enable its liquefaction at which point it can be stored and transported.
Australia LNG Exports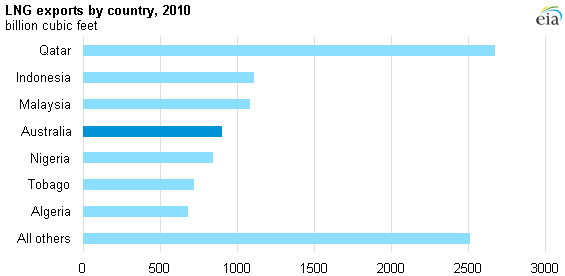 As you can see here, Australia was the fourth largest natural gas explorer in the world in 2010, exporting roughly 900 billion cubic feet of liquid natural gas, equivalent to 30% of the rest of the world combined.
The country does not fall too far behind Indonesia or Malaysia but falls significantly behind Qatar. In 2011, Australia controlled an impressive 8% of the worldwide LNG market share.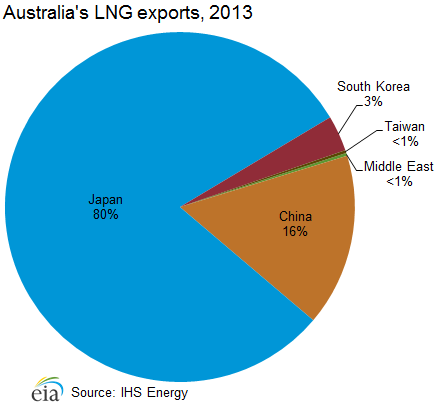 Australia 2013 LNG Exports - EIA
Currently, the majority of Australia's LNG exports go to Japan. After that, the exports go to China, South Korea, and Taiwan / Middle East. In fact, with the exception of a very small portion of Australia's LNG exports, almost all of Australia's LNG is exported to Asian countries.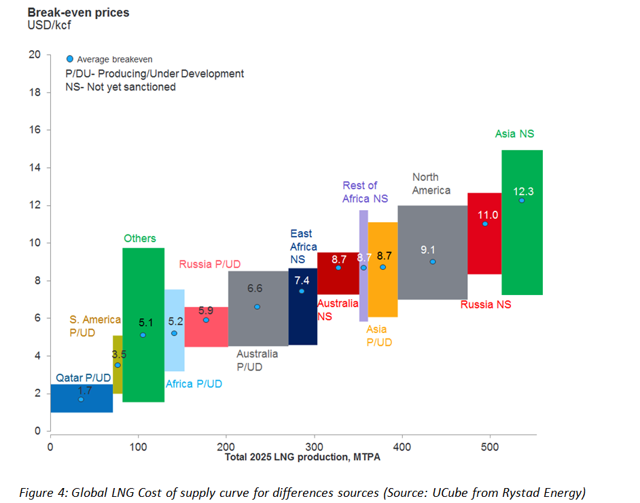 LNG Breakeven Prices - Rystad Energy
Australia's LNG prices also have relatively low break-even prices. While definitely not as low as Qatar, Australia's LNG has a breakeven price of roughly $6.6 USD/kcf.

With current LNG prices steadily increasing and hovering around $13/kcf after the recent crash, that means current prices are almost twice as high as Australia's LNG breakeven price.
Growth
Australia's LNG exports will experience rapid future growth.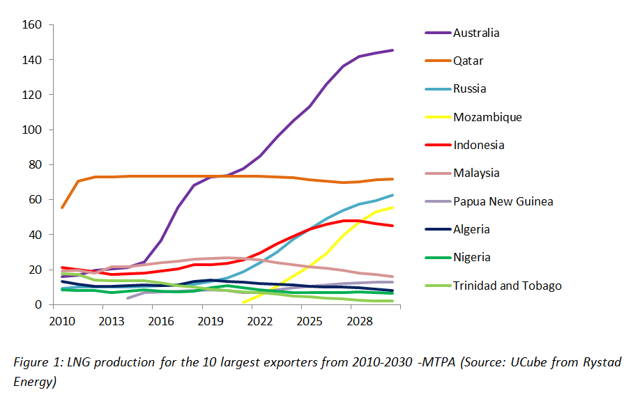 LNG Production for the largest exporters - Rystad Energy
From 2010 - 2030, Australia's LNG is forecast to grow to roughly 2.5x the 2015 rate or a 250% growth in fifteen years. Comparatively, the current largest producer by far, Qatar, is expected to remain relatively constant. In fact, Australia's future LNG production is expected to grow to more than 2x Qatar's current production.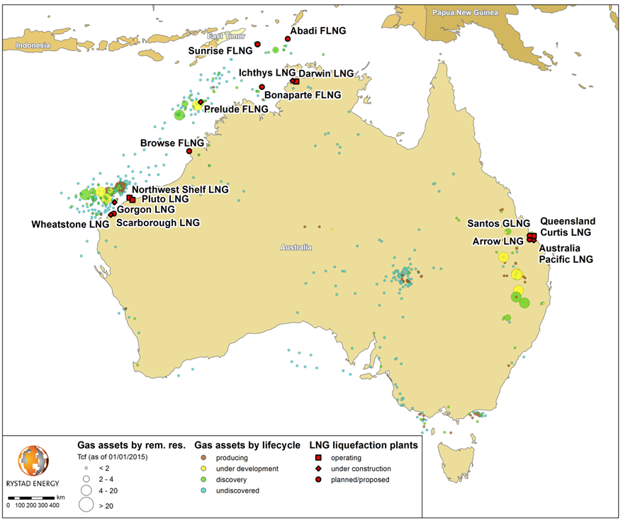 Future LNG Projects - Rystad Energy
The reason for Australia's LNG growth is relatively simple - huge investments. Currently, Australia has a variety of major LNG producing assets.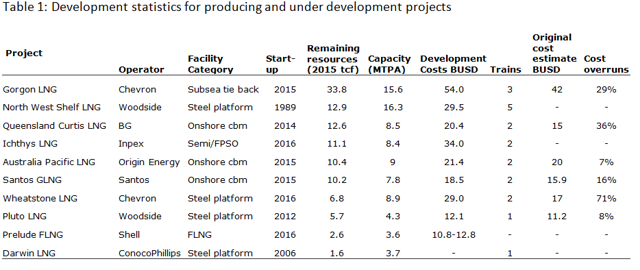 LNG Projects and Operators - Arctic Gas
Australia expects several multi-billion dollar LNG projects to start-up over the next years, many with developmental costs in the tens of billions of USD. The largest of these projects have resources of over 10 tcf. With the estimated total 2011 worldwide LNG exports estimated at 10 TCF, these projects together could cover the entire world's exports for an estimated 11 years.
However, the other thing to note is that almost all of these projects have faced significant cost overruns as can be seen on the right. As companies realize cost overruns to become a normal part of the business - they will account for it - and therefore be more likely to turn away from LNG due to its high prices.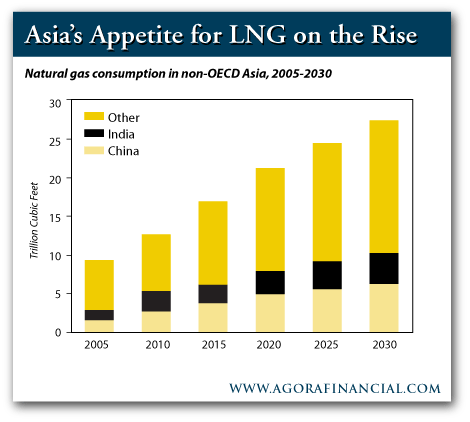 Asian LNG Appetite - Daily Reckoning
But this growth will be well received. China, India, and other countries around the world are all becoming major LNG players with significant LNG demand. In fact 2030 LNG demand is expected to be almost triple that of 2010. Using the data above, it is estimated to cost roughly $2 - 3 billion for every trillion cubic feet of natural gas resources developed.
With 2030 demand expected to be at almost 30 trillion cubic feet - that means an estimated $54 - 81 billion dollars will need to be invested just to meet 2030's requirement.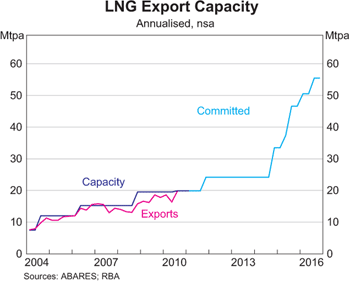 However, Australian producers are rising to the challenge. Compared to 2010, Australia's LNG Export Capacity is expected to triple by 2016. Competitors are realizing the huge market here and are investing billions to take advantage of it.
They fully expect to recoup these billions in the future. Combine this with most oil stocks being undervalued currently and you get some significant investment opportunities.
Invest
As we can see above, there are several major companies working towards developing significant LNG projects. These companies are Chevron (NYSE:CVX), Shell (NYSE:RDS.A), ConocoPhillips (NYSE:COP), Woodside (WPL), and Santos (ASX:STO).
Out of these stocks, I would recommend investing in Chevron. Chevron is a very strong oil major that has seen its price drop 20% as a result of the oil crash. The company currently offers a 4% dividend yield - a significant yield from such a secure company. This is truly a safe company that pays to wait. More so, Chevron is a dividend aristocrat - a company that has increased its dividend for twenty-five consecutive years.
Chevron's currently runs by far the largest LNG project - the Gorgon LNG project. The project is expected to contribute roughly 200,000 barrels per day at its peak - a significant portion of the world's production.
Conclusion
LNG is constantly becoming more and more popular due to its high capacity for energy storage. LNG is expected to grow significantly over the coming decades and Australia is expected to be a big part of this. In fact, Australia is expected to grow to the largest LNG producer by far, producing more than double second place Qatar.
While companies are currently spending billions of dollars on LNG, over the coming years, many of these investments are expected to pay off significantly. Rising LNG demand - particularly in Asia will result in these companies earning billions of dollars.
Disclosure: The author has no positions in any stocks mentioned, and no plans to initiate any positions within the next 72 hours. The author wrote this article themselves, and it expresses their own opinions. The author is not receiving compensation for it (other than from Seeking Alpha). The author has no business relationship with any company whose stock is mentioned in this article.