Thesis
Back in August, I wrote an article explaining the long term investment opportunity in Flowserve (NYSE: NYSE:FLS), a manufacturer of pumps, valves, seals and other flow control solutions. Since publication, the stock is down a little more than 20%. It initiated the sharp decline as oil started to take a tumble, and continued to fall with the commodity as illustrated by the chart below. In my opinion, this was a market overreaction and the decline in the price of crude will not have a significant effect on Flowserve's long term opportunities. Due to the company's operational excellence, capacity to suffer, and diversified business model, I believe that the company's long term demand drivers are not significantly effected by oil's plunge. The valuation indicates about 15-25% upside and limited risk.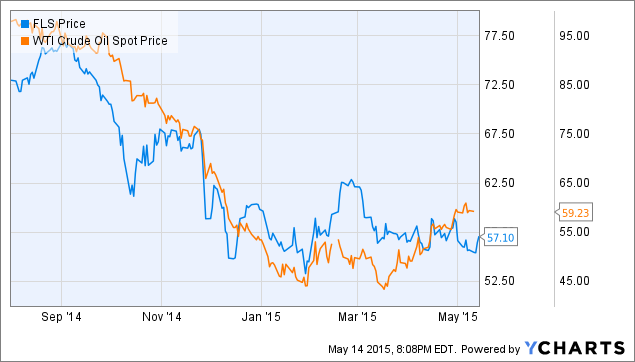 A Tough First Quarter
First, I would just like to give an overview of some of the problems the company experienced in the first quarter:
Excluding the SIHI acquisition (more on this later), bookings in the quarter were down 13% on a constant currency basis.
Sales were down about 5% to $1.01 billion ($66.8 million from SIHI)
Excluding adjusted items, gross profit was down 11.2% (although gross margin was flat at 35.3%)
Excluding one time events, operating income was down 5.8% on a constant currency basis.
The struggles were driven by "broad based industrial spending declines", starting with the oil and gas industry and being furthered by the strength of the USD. COO Tom Pajonas stated on the earnings call, "customers delayed making purchase decisions, were slow to accept shipments, and aftermarket activities were tightly managed and deferred".
Why The Problems Are Temporary And I'm Confident In The Long Term
First and foremost, we have to recognize that these problems are cyclical. The major headwinds the company is facing right now is reduced expenditures from energy companies as well as a strong USD. For the past month or so, the USD has been in a pretty consistent decline against the Euro. I'm not proposing this marks the reversal of the trend, but I don't believe it's something to be too worried about either way. Currencies are going to fluctuate over time depending on macroeconomics. The economy and its components will go through cycles, as they always have, and eventually revert back to the mean. I don't want to spend too much time on the USD, because I think most investors understand this and see that the company will just have to be patient in this regard and endure the struggle as they have in the past.
The struggles in oil and gas, on the other hand, have caused significant declines in shares of oil and gas stocks as well as shares of companies in related industries. In the case of Flowserve, I believe this was a significant overreaction. First of all, oil and gas makes up 40% of the company's business, which is diversified across various end markets and geographies: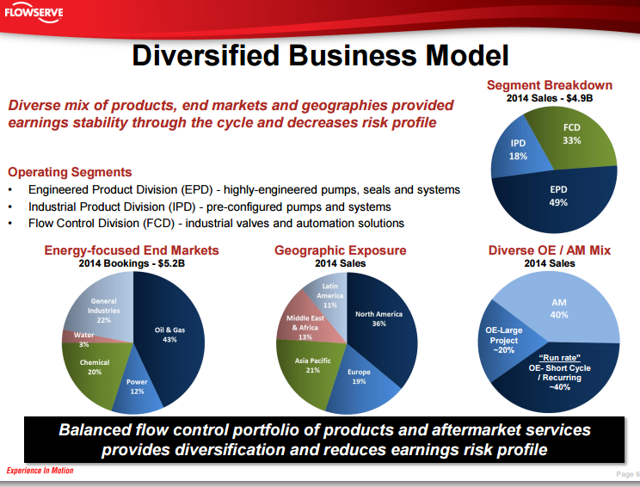 40% might seem like a lot, but the fact of the matter is that upstream oil and gas is the market most strongly effected by crude's decline. Flowserve's customers are predominantly mid and downstream companies that need aftermarket supplies/services. This means that a significant chunk of the spending on Flowserve products is simply maintenance. Maintenance has a significant effect on both safety and efficiency of the company's customers, and although the spending was delayed in the first quarter it can't be postponed forever. Although the price of oil is still far off from highs, there is not nearly as much uncertainty as we were seeing during Flowserve's first quarter. During that time there will still pundits calling $20 a barrel. As a result, I expect to see spending pick up a bit from here now that companies know they aren't facing a doomsday scenario. Still, though, it's hard to pinpoint exactly when things will pick up. As CEO Mark Blinn stated on the first quarter call, maintenance can be delayed for "maybe months, but not for quarters or years." Furthermore, in a cyclical decline like the one we're experiencing, managers are struggling and they know it's their priority to focus on the things that they can control, like maintaining efficiency.
Furthermore, the company should benefit from additional sales in the chemical industry, which makes up 20% of Flowserve's sales. In my recent article on LyondellBasell, I analyzed factors similar to the ones Flowserve is effected by. I believe it is realistic to assume that players in the chemical industry also delayed maintenance in the first quarter due to uncertainty. In the earnings call, it was pointed out that there were multiple unplanned outages throughout the industry during the quarter. I believe this is a combination of both delayed maintenance as well as chemicals facilities running at increased rates to take advantage of cheap feedstock costs. Regardless of the causes, chemicals companies are aware of the threat of outages and I believe spending will pick up soon, just like with oil and gas.
Capacity to suffer leads to additional improvements
In an interview with Jacob Wolinsky of ValueWalk, Tom Russo, general partner of Semper Vic Partners (which oversees $6 billion), stated the following:
When management makes those investments, they must have the capacity to suffer. They have to suffer during the start-up period of those investments because they are not necessarily linked to at the hip with the Wall Street expectations of smooth and steady quarters, but they are able to withstand the burden of the investment cycle. It is inevitably certain that profits are low or non-existent during these early years. And if you do not have the capacity to suffer through that period, you will shy away from making the accurate amount of investment. Your management will under-invest at a time when they have set an advantage and will allow competitors to come into the market.
This applies perfectly to Flowserve's recently announced investment plans. In the Q1 earnings release, management announced the following:
The company plans to accelerate its strategic plans, including significant targeted manufacturing optimization, through the transfer of activities from high-cost regions to lower-cost facilities, and SG&A efficiency initiatives. These actions will together lower our cost base through an approximate 5% reduction in workforce, in addition to the synergies associated with the SIHI acquisition, and deliver annualized run-rate savings of approximately $70 million. We expect to make a near-term investment of approximately $100 million in order to realize these savings and to better position Flowserve in any market condition.
In the current environment, not all of the companies in Flowserve's industry can afford to embark on a restructuring like this. There are enough moving pieces in the puzzle during environments like this, and there are a lot of companies, as Russo said, that "will under-invest at a time when they have set an advantage". Meanwhile, with Flowserve being one of the stronger competitors in the industry, they are able to make these investments now, and thus we are exposed to the evolutionary side of markets. As industries continue to go through cycles like this, the weak are crippled by financial burdens and under-investment while the strong are able to capitalize on the opportunity and come out even stronger on the other end (in the case of Flowserve, operations will be in low cost regions and the company will gain some additional suffering capacity due to improved economics). Over time, we see companies that have the capacity to suffer develop into industry leaders (or maintain their position) and truly excel in long term value creation.
A Brief Word On SIHI
In January, Flowserve announced the acquisition of SIHI Group BV, a provider of vacuum and fluid pumps and related services. A few quick notes on the acquisition:
The deal was valued at $372.5 million and will be financed through a combination of cash and debt.
The company primarily serves the European chemicals market. This is a particularly exciting point in my opinion. Another thing that I learned following Lyondell was that the large majority of chemical feedstock is Europe is crude oil based naphtha. With the decline in crude, SIHI should be able to capture exceptional growth in the European chemicals market as key players invest in additional capacity to benefit from improved margins. With the same story in place for US based chemical companies, where natural gas is the feedstock of choice, Flowserve should gain a number of new projects from chemical companies going forward, resulting in additional aftermarket services thereafter.
The company had gross margins of about 30% and an EBITDA of $37.5 million. Flowserve expects to double this number by 2017.
When considering anticipated synergies, the deal was done a multiple of less than 7x EBITDA.
What To Watch For In The Next Report
There are a few key things to watch for in the next report:
It will be interesting to see whether or not Flowserve starts to get some orders from that delayed maintenance, though it's still early on in the downcycle.
In the last quarter, Flowserve maintained flat gross margins at 35.3%. It will be a further indication of Flowserve's operational excellence if they can maintain these levels through the current environment.
I will be paying close attention to the development of Flowserve's backlog. In the first quarter, the company's backlog fell a small amount, indicating a book to bill ratio of less than one. Although the backlog is still strong at $2.7 billion, it would be encouraging to see that book to bill ratio climb back above one.
Valuation
As you can see in the two charts below, Flowserve looks exceptionally cheap on a comparables basis. Note that not all of these companies compete directly with Flowserve, but the they have similar business models and operations and thus make an appropriate peer group. As for the high book value, this does not concern me as Flowserve has a higher ROA than all of these companies, indicating that their simply doing more with less.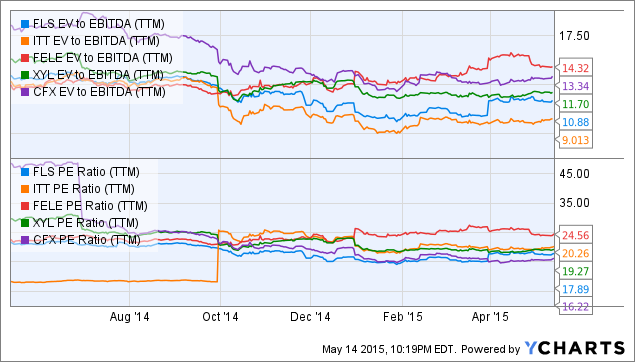 FLS EV to EBITDA (NYSE:TTM) data by YCharts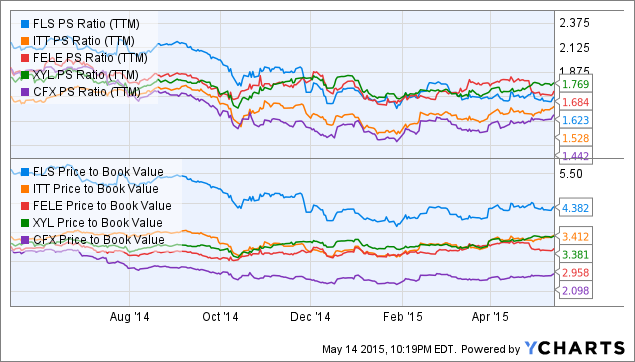 FLS PS Ratio (TTM) data by YCharts
The DCF also suggests significant upside. Here are my assumptions:
Revenue declines 10% in 2015, and then grows modestly at 3.5% out to 2021 (note the slightly extended forecast period due to the fact that we're currently in the middle of a downcycle)
Gross margins will settle around 36%, if not higher thanks to the investments that the company is making now
This leads us to the following sensitivity table:

With the base case indicating 12% upside, the bear case indicating a fair value, and the bull case suggesting more than 25% upside, this seems to be an asymmetric risk/reward opportunity. The comparables analysis confirms this idea.