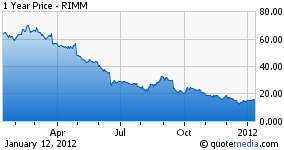 Several weeks ago I wrote an article that chronicled Research In Motion's (RIMM) rise to prominence and its eventual swift fall from grace. It sort of reminded me of MTV's Behind the Music or ESPN's Outside the Lines. The only things that were missing were the interviews from the key players themselves. The article was called Research in Motion: The Real Story Behind Its Sad Ending.
Through a series of missteps, which include several failed product launches, earnings misses, execution failures as well as losing its critical enterprise leverage, the company went into a tailspin that has resulted in where it is today - on the verge of irrelevance. I suppose some might say the fact that I've used the term "on the verge" is a tad too optimistic, but since writing that article, I have started to look into what can save the company from a total collapse. Again, that's assuming the collapse is not already here. Without rehashing too much of what was previously discussed, let's first understand a few things about the company's history.
RIM had a monopoly over the enterprise and its biggest challenge, or perhaps its only challenge, was to preserve it. This was something that it was unable to do as soon as Apple (AAPL) entered the market with the first generation iPhone - effectively, the game was over at that point, only nobody had realized it yet. Realistically, it would be tough for anyone to make assumptions about any market leader losing share to a newcomer encroaching on its turf (even if it's Apple), much less predict the end of one that has been as dominant as RIM had been.
For years, it maintained that enterprise monopoly for no other reason than the fact that its Blackberry email service was not only readily available, but also proved to be more secure. But that started to shift once iPhone and Google's (GOOG) Android devices got in on the action. This forced corporate IT departments to now consider an alternative to the Blackberry - which ultimately was the chosen route and effectively sealing the fate of the once proud company.
3 ways RIM can be saved:
New management
Find new markets
Devote attention strictly to services
Under New Management
I've once said that absent of an acquisition, the company cannot be saved. But after having more time to study the company's landscape, I've become more open minded to other possible avenues. The reality is, as downtrodden the company is today, it still serves a smart phone industry that is still growing - one that is currently still less than half of the overall phone market. But, admittedly, even as optimistic as these numbers may inspire, the confidence is lost when considering the track record of its management and its ability to execute into that growth. So it leads to the first major decision in its ability to be saved - both co-CEOs must be replaced by a single visionary.
Find New Markets and Seek New Ground
Another reason that RIM can be saved is that it has all of the benefits that Apple had when it too was on the verge of collapse when Microsoft (MSFT) emerged as the new dominant player in the computer market, except it does not have Steve Jobs (though some might say because of this it has no shot). The reality is, though turnaround stories often take a long time to be fully realized, it is not impossible to develop. The same way that Apple was able to expand into new markets such as music, smart phones and now possibly TV and cloud services, RIM should seek new markets and understand that a turnaround is indeed possible.
Investors can look to Sirius XM (SIRI) as a perfect example. In 2009 is was on the brink of bankruptcy and traded at 5 cents per share, three years later it is generating cash flow at levels that have been previously unimaginable - to the extent that it is now discussing a possible dividend. While RIM may be only one good idea away from regaining (some) of its glory, the reality that it must embrace is that this glory is not going to come from hardware. That ship has sailed. It needs to instead focus its attention on Mobile Fusion.
Devote Attention Strictly to Services
In November, the company announced the release of Mobile Fusion - an announcement that I felt might be its most significant release going forward. This is a new platform that allows corporate IT departments to better manage the security of mobile devices. It seems that RIM has now seen the light because not only does it work on BlackBerry devices - it also supports devices from its competitors such as Apple and Google.
With the software, companies will be able to set up rules governing employee passwords, apps as well as other software across a variety of smart phones and tablets, including the iPhone, iPad and Android handsets. The system also allows managers to remotely wipe and lock any devices that go missing or stolen, effectively bringing enhanced security to a workplace that has become increasingly fragmented. I think this could be a breakthrough service for the company but it remains to be seen how successful it will be considering the recent track record of its management.
Summary
I can't help but compare this idea to the transformation that IBM (IBM) experienced when it abandoned the PC business and focused solely on software and services. The question is, will RIM be able to execute in the manner that it needs to in order to be successful? That too remains to be seen. One of its advantages is that it still has a big stronghold in the enterprise. Along with Mobile Fusion, the company should seek to scale down some of its operations by discontinuing legacy platforms and commit to offering strictly enterprise business services, it can be a $30 stock again, but its execution has to be precise and its investors have to forget the past.