That sound you heard as the New Year rang in was no doubt the collective sigh of relief felt by so many that a double-dip did not occur in 2011. Last week's economic reports may have shed some much-needed sunshine on the continuing US economic saga. The U.S. economy should continue its slow but steady pace of recovery (expansion, to some) in 2012. The overall political area added volatility throughout 2011, and I suspect it may increase, up to and including the November 2012 elections.
Globally, the Arab Spring saw many leaders and dictators facing a growing demand from their citizens for their "head on a plate" -- and some got it (Osama bin Laden, Moammar Gadhafi). Algeria, Bahrain, Egypt, Iran, Iraq, Israel, Jordon, Kuwait, Lebanon, Libya, Morocco, Palestine, Saudi Arabia, Syria, UAE, Tunisia, and Yemen all saw uprisings intensify in 2011, with several continuing within the Middle East as 2012 begins.
Instability throughout the region is not expected to just simmer down and disappear, so expectations remain that precious metals prices will be influenced by global events.
Supply and Demand
The demand for silver is not expected to change dramatically during 2012, and once again the caveat -- which seems to be a reoccurring theme -- is China. Any major swings in construction and manufacturing will ripple across several sectors of the commodities markets, as well as the equities markets. India also has a large role in keeping its momentum moving forward as well.
I continue to read with great expectations the flood of analysts who are still trying to fit a square peg into a round hole. Page after page warns of how the precious metals don't return a darn thing – no dividends, no interest, no nothing – so why own it? There are those that continue to claim the sky is falling, only to then watch as the price of silver and other precious metals scream higher. That scream is real -- it is reported to be the shorts getting squeezed yet again.
What is supply and demand? Is it really such a simple concept that it eludes most, or is there an important concept that fundamentalist refuse to include because it has no relevancy within their analysis?
Psychology. Without it a market cannot operate – volatility is dependent on it. Simply put, it does really boil down to what you think versus what I think. The effects of tight supplies and high demand, or even the rumor of tight supplies and high demand, will push the price of the underlying higher. Oversupply and light demand (whether real or imagined) will crush prices.
As a trader and analyst, I've witnessed many market tops and bottoms of various degrees and across a wide spectrum of equities, Treasuries, commodities, currencies, and precious metals. My observation has been that most market turns go unnoticed. Seems that no one cares or wants to. The media has been programmed to basically downplay bad news until it can't be ignored, which is usually right before the turn occurs. Meanwhile the smart money begins to move back in or out and support or resistance is formed. Oscillators turn, prices begin to accelerate (again, often ignored in the initial stages) and after about a 10 to 15% move the media throws a glance towards acknowledging something.
2012 Technical Outlook
The correction in silver that began in May 2011 looks to have ended at the recent $26.15 double low basis the spot price, ($25.65 basis SLV.) Year end position squaring carries much of the credit for prices taking another probe of support at the $26 area and if the first week trading in 2012 are setting the tone resistance at $30.65 should not pose much of a threat. In fact, resistance at $33.50 and $37.50 should not pose much more than a place for silver to pause and catch its breath before heading higher.
It is a break with follow-through of that upper zone at $37.50 that needs to occur before stronger upside momentum picks up speed and intensity. Price volatility will remain, with downside freefalls easing in favor of upside bursts providing some strong daily gains. The $24 level needs to contain any near term weakness in order to keep the near to mid-term positive outlook in place.
The oscillators are mixed. The stochastic oscillator (weekly basis) gave a buy signal this week, while the MFI oscillator initially moved higher, but has turned suggesting that sellers have used the initial rally off the lows. I don't think it will hamper the mid to longer-term outlook and actually fits with the "no one cares" idea presented above.
Click to enlarge.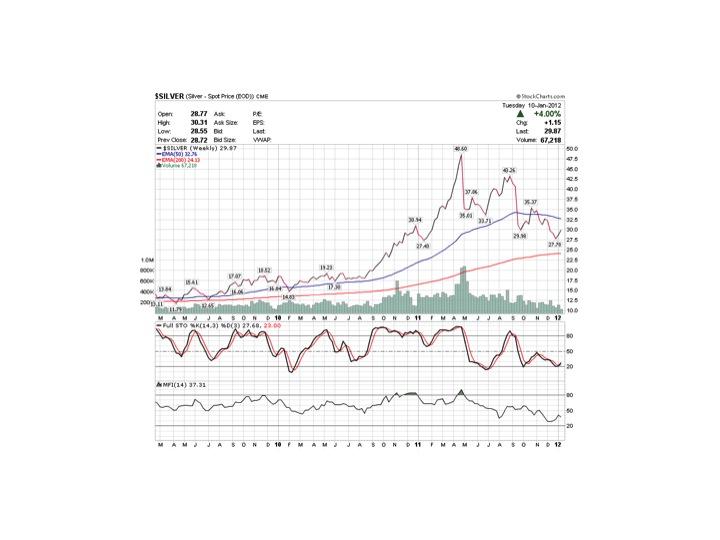 ©1999-2012 StockCharts.com All Rights Reserved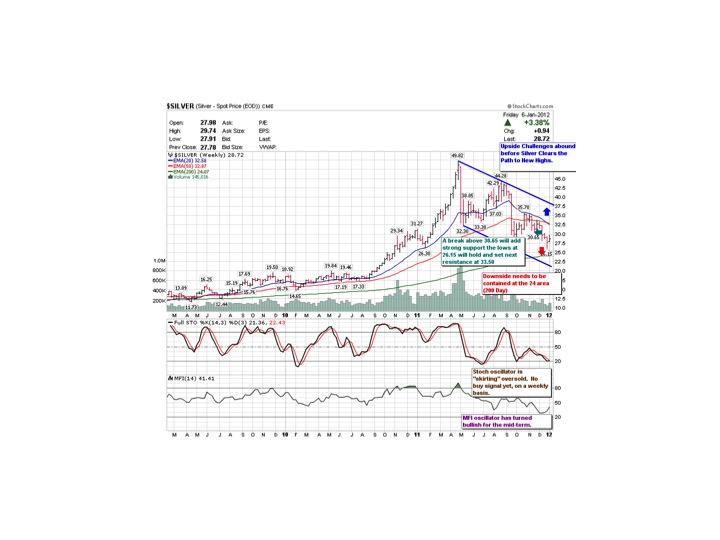 Mining Companies
Mining companies that are focused; that is, they earn 50% or greater of their revenue from silver, and if healthy, should benefit from higher silver prices. I included companies with a market caps greater than $1 billion.
Silver Wheaton (SLW)
Silver Wheaton is a mining company generating revenue primarily from the sale of silver. Silver Wheaton has several long-term silver purchase agreements. Full year earnings are expected to rise by almost 31%. Any surprises will undoubtedly add volatility. The nature of SLW's business ties it more closely to price movement of spot Silver. Technically, the stochastic oscillator is pointing higher after giving a buy signal over the holidays. The company is scheduled to announce earnings on 3/1/2012.
©1999-2012 StockCharts.com All Rights Reserved
Silver Standard Resources, Inc. (NASDAQ:SSRI)
Silver Standard Resources Inc. is a silver resource company, with properties located in Argentina, Australia, Canada, Chile, Mexico, Peru and the United States. SSRI currently earns approximately 70% of revenue from mining operations in Argentina.
Technically, the weekly chart suggests a long-term bottom is in place at $13.46 with both the stochastic and MFI oscillators pointing higher and confirming with buy signals. Resistance at the $17 area may provide a rest stop, but breaking above very likely and stronger resistance moving to $24 to $25.50.
©1999-2012 StockCharts.com All Rights Reserved
Bottom line: Slver will continue to advance over the mid- to long-term. Economic instability will continue to play a major role in how silver and gold are priced, as will currency strength and weakness. The pace of the advance may be more amplified in silver than gold on a percentage basis.
On a clean break above $37.50 (with follow-through and volume), expectations would be for silver to make new highs in 2012 in the $50 to $60 range.
Global demand for silver is forecast to increase as demand is sustained by global concerns about fiscal profligacy, political gridlock on dealing with the U.S. budget deficit, long-term sustainability of the U.S. dollar, potential inflationary consequences of highly accommodative monetary policies, and economic uncertainty. -- HSBC Securities
Disclosure: I am long SLV, SSRI.