The opinions expressed herein concerning MassRoots, Inc. were based upon information within its most recent Form 10-K and 10-Q filings, press releases and other publications. You can access MassRoots SEC filings here:
By: Douglas Leighton, Managing Partner Dutchess Capital
Methodology:
Our methodology for making the investment in MassRoots (OTCQB:MSRT) covers four major areas:
Advertising for cannabis and cannabis-related products has been limited for decades. In particular, online advertising is extremely limited, as it breaks the terms of service of every other major social network and online advertising platform such as Google Ad Words (NASDAQ:GOOG) and Facebook Ads (NASDAQ:FB).
MassRoots' semi-anonymous network allows cannabis enthusiasts to interact with one another on a global scale. Just as Facebook is your friends and family profile, LinkedIn is your professional profile, Tinder is your dating profile - MassRoots serves as your cannabis profile.
The cannabis culture is a very tight-knit community. Most cannabis users are eager to locate and interact with other cannabis enthusiasts. Sharing photos and experiences across a social network is a natural extension to this community.
Big data. Big data has proven to be a very valuable marketing tool for companies across all industries. Historically, data collection regarding the cannabis market was extremely limited but now as the market expands, new information is coming online almost every day. This will prove to be invaluable as the market matures.
Since we previously covered the macro view of the cannabis market in our last thesis dated 11-18-2014, it will not be covered again in this report. To access the previous report, please visit: http://www.dutchesscapital.com
Dutchess Capital Thesis:
The focus of the MassRoots investment opportunity was to cast the widest funnel within the cannabis economy - one that could engage the greatest number of cannabis consumers without any interstate commerce issues. Dutchess was focused on an opportunity that could experience significant growth without extensive capital expenditures and which could scale quickly. That funnel is the cannabis social network, MassRoots.
Cannabis and High Tech. MassRoots sits at the intersection of cannabis and mobile high-tech. It operates a smartphone app that allows approved users to post pictures, make comments, find smoking buddies and interact with other cannabis enthusiasts. Businesses, such as dispensaries, glassmakers, consumption devices or other ancillary business, can utilize MassRoots to market their goods and services directly to cannabis consumers within their geographic area.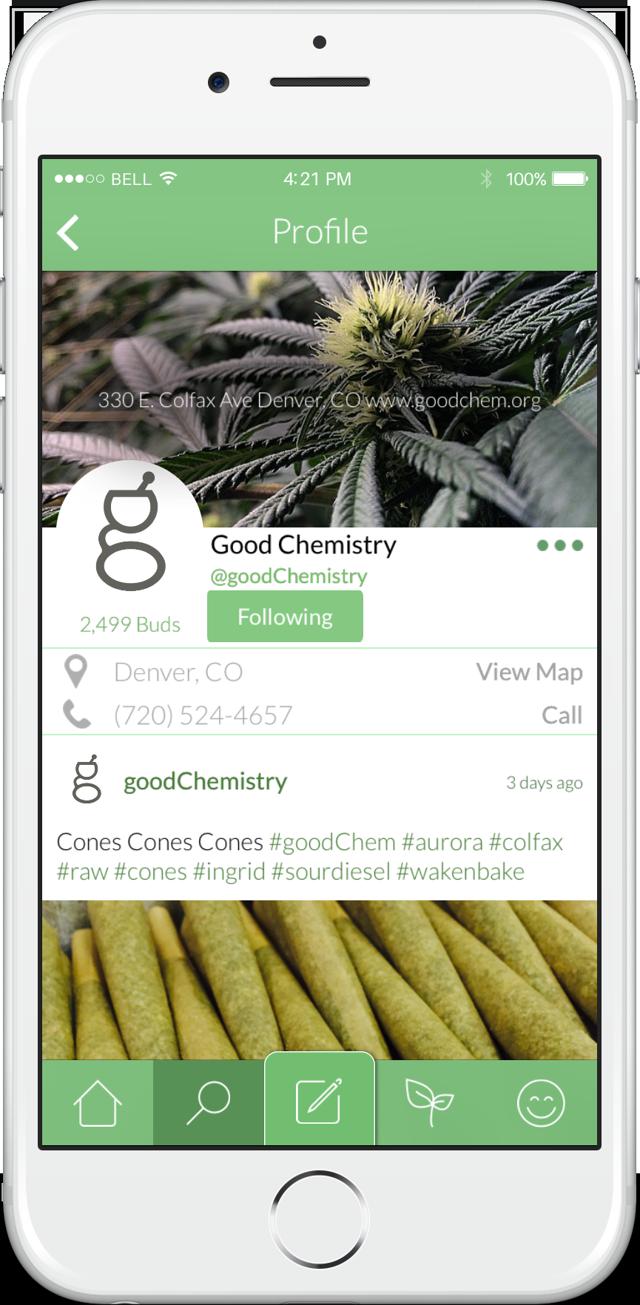 Total Addressable Market1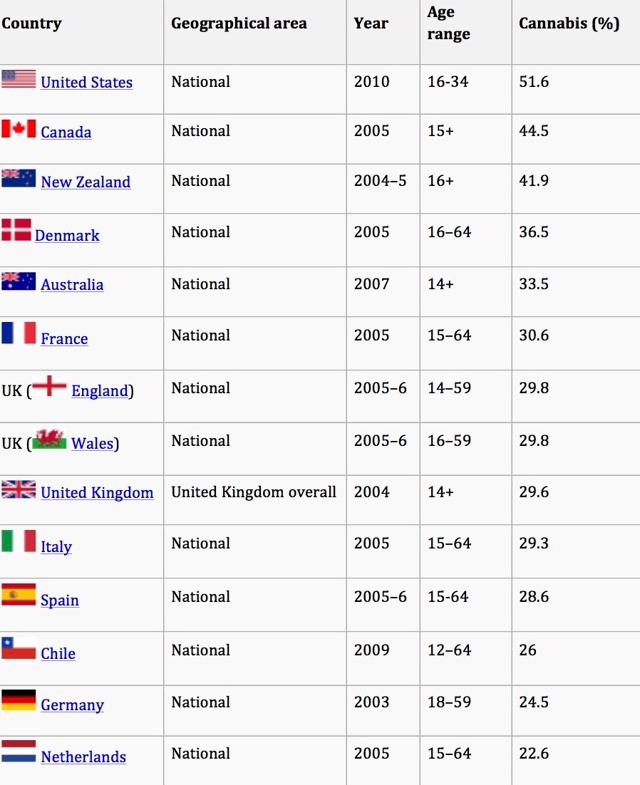 Reliance on Social Networking:
Social Media is firmly embedded within popular culture and the presence of social networking will only continue to grow. Time Magazine aptly calls the millennial generation the "Selfie Generation." "[Social networking] is a way for people to communicate with others they may have something in common with. The way kids think about technology, media and communication is much different than people even 10 years their senior," and that "technology is changing so fast that even small generational gaps are meaningful in how we view normal." 2
Niche Social Networking
The value of a business investing advertising dollars into a social network has become a mainstay. Furthermore, a business investing advertising dollars into a niche social network is considerably more valuable since the consumer has already been identified. Businesses invest in niche social networks because they experience benefits such as:
Qualified leads. Rather than marketing to a broad audience via traditional social media, niche social sites attract users that are already interested in a specific industry or business. There is also less competition on niche sites, as users aren't bombarded with as many advertisements as they would be on broader, traditional social networks such as Facebook or Twitter.
Increased engagement. Since users are inherently interested in niche social sites, they're more likely to be engaged and interact with strangers on the platform. Enhanced interaction is paramount to establishing a meaningful brand-to-consumer relationship.
Greater marketing ROI. More qualified leads and higher engagement means businesses that invest in niche social marketing will experience greater marketing ROI. Focused content means less truly is more, as relevant content is consistently displayed to members of the site3.
The Opportunity:
Currently in the U.S. alone there are approximately 7,000 dispensaries, more than 10,000 head and smoke shops and over 7,500 product companies that are consumer facing in the cannabis space. These companies have very little advertising opportunities outside of a small number of industry magazines such as High Times Magazine or a handful of low traffic websites. MassRoots has developed a platform for Facebook and Twitter-like revenue streams through the use of sponsored posts. This platform allows companies to showcase their products in front of active cannabis consumers in a non-intrusive manner. This feature is scheduled for launch later in 2015.
MassRoots road map for the next several quarters.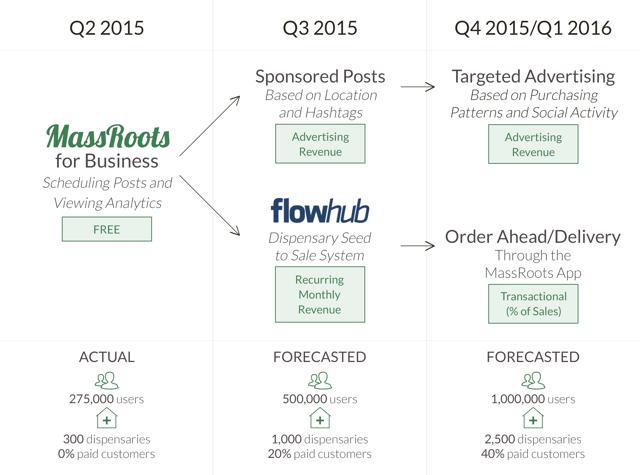 The MassRoots App: MSRT is one of the largest and most active cannabis related social networks with 325,000 users (as of May 11th, 2015). People use the app to find smoking buddies, share their cannabis experiences and stay connected with local dispensaries.
MassRoots for Business: Businesses can use MassRoots to advertise their goods and services to cannabis consumers. As regulations permit, MassRoots will begin adding in features such as order ahead, delivery and the in-app purchase of ancillary products. Once developed, they will be able to simultaneously push these features out to hundreds of thousands of MassRoots users.
Flowhub: Flowhub is a seed-to-sale software solution that will be integrated with MassRoots to consolidate and streamline the flow of cannabis industry data.
Primary Risks of Investing in the Cannabis Industry:
It is illegal pursuant to U.S. federal law
Politics could shift again in opposition of marijuana use
There are currently no regulatory banking laws; it remains a cash-based industry
Each state has its own myriad of laws and regulations
Potential Upside of Investing in the Cannabis Industry:
More states and countries could decriminalize or approve medical and adult use marijuana
More widely accepted scientific research could support medicinal benefits
Marijuana could be reclassified from a Schedule 1 drug to a less restrictive classification
Banking issues could be resolved
IRS Code could be favorably amended
Management:
Isaac Dietrich, Chief Executive Officer, Chairman of the Board and Director - Isaac Dietrich is the founder, CEO and Chairman of the Board of MassRoots. He is responsible for executing the Company's strategic business development. In June 2012, Mr. Dietrich co-founded RoboCent, Inc., a self-service call platform.
In April 2012, Mr. Dietrich was a finalist for PayPal co-founder Peter Thiel's "20 Under 20 Fellowship" and was featured in the CNBC documentary "Transforming Tomorrow." We believe Mr. Dietrich has the experience in scaling technology companies and insight into political strategy necessary to successfully lead the development and growth of the Company.
Tripp Keber, Director - Tripp Keber has served as a Director of MassRoots since 2014. Mr. Keber is also a co-founder and Chief Executive Officer of Dixie Elixirs & Edibles, a Colorado licensed medical marijuana infused products manufacturer. He is a founding director of the National Cannabis Industry Association, and, since 2013, has served as a director of the Marijuana Policy Project. He is also an advisory board member of the Medical Marijuana Industry Group in Colorado. In his current role as CEO of Dixie, Mr. Keber is responsible for the overall strategy, licensing, marketing, branding and expansion efforts related to the Dixie brand, both domestically and internationally. Mr. Keber has been featured on CBS's 60 Minutes and CNBC.
Ean Seeb, Director - Ean Seeb has served as a Director of MassRoots since 2014. Mr. Seeb is also the co-owner and manager of Denver Relief LLC, a Colorado medical cannabis operation. As a founding partner of Denver Relief Consulting LLC and seasoned cannabis dispensary operator, Mr. Seeb has significant experience navigating complex legislation and regulatory demands unique to legal cannabis operations. He serves as Chair of the National Cannabis Industry Association. We believe that Mr. Seeb will use his experience and industry knowledge to help guide the Company's leadership team.
Stewart Fortier, Chief Technology Officer, Director - Stewart Fortier is a co-founder and Director of MassRoots, and has served as Chief Technology Officer since our inception. Mr. Fortier is responsible for the development of our iOS application and technical strategy. He is a self-taught software developer with an interest in both entrepreneurship and technology. Prior to joining MassRoots, Mr. Fortier worked for a real estate development company in Washington, D.C., where he was responsible for the underwriting of commercial and multifamily acquisitions. Previously, Mr. Fortier served as a technical adviser to RoboCent, Inc. from June 2012 to April 2013.
Tyler Knight, Director and Chief Marketing Officer - Tyler Knight is a co-founder, Director and Chief Marketing Officer of MassRoots, responsible for user-acquisition and key marketing channel relations. Prior to joining the MassRoots team, Mr. Knight served as Chief Operations Officer for RoboCent, Inc. from January 2013 to April 2013, playing a key role in acquiring more than 250 clients. He also worked on several political campaigns from January 2010 to December 2012, including serving as Deputy Field Director on Ben Loyola's 2011 campaign for state Senate.
Hyler Fortier, Chief Operations Officer - Hyler Fortier is a co-founder of MassRoots and its Chief Operations Officer, since inception. Mrs. Fortier is responsible for our user interface design, marketing graphics and company presentation materials. Previously, she served in the same position at RoboCent Inc. from June 2012 to April 2013. Ms. Fortier graduated from James Madison University's School of Business with a Marketing degree in May 2014. She has extensive knowledge of graphic design, video rendering and user interface software, especially as they can be applied to enhance user-engagement and retention. She is also active in JMU's Society of Entrepreneurs, often speaking at clubs and events about the need for women to hold more executive positions in business.
We believe MassRoots has the required management team in place to successfully grow and monetize its user base.
Potential risks of investing in MSRT:
The Company has a limited history in the market for its publicly-traded shares
The Company has not yet proven that its business model can produce revenue and positive cash flow for the long-term
The Company relies on third party service providers to host its App, therefore terms of service could change and have a negative impact on operations.
The Company's management team has never operated a publicly-traded company
The Company completed an offering at $0.10 in May of 2014 $0.50 per share in March 2015 and at $0.60 per share in April 2015. The $0.10 shares are now freely tradable, the $0.50 shares will eligible for resale pursuant to Rule 144 beginning in September 2015 and $0.60 share will be eligible for resale pursuant to Rule 144 in beginning in October 2015.
Potential upside of investing in MSRT:
MassRoots competitors, Weedmaps and Leafly, are currently valued at approximately $300 million and $425 million respectively.
Continued growth of the cannabis industry within states that have already legalized marijuana
Potential growth opportunities in states that have yet to approve marijuana
Potential global opportunities are significant
The Company has a significant lead over the nearest social network competitor
The Company's growth has been parabolic, even after being temporarily removed from Apple's App store for four months
The Company has been able to grow on a limited budget. We believe next round institutional funding at higher valuations will accelerate this growth considerably
Key Events at MSRT:
2013 Q3
MassRoots' App launches in App Store
Surpasses 6,500 users in first 8 weeks
Douglas Leighton leads $150,000 seed round
2014 Q1
MassRoots' core team relocates to Colorado
Dutchess Capital leads $475,000 Series A round
Tripp Keber, CEO of Dixie Brands, joins MassRoots' Board of Directors
MassRoots surpasses 100,000 users
2014 Q2
Files a Registration Statement on Form S-1 to become a publicly-traded company
Surpasses 134,000 registered users
Ean Seeb, Founder of Denver Relief and Chairman of the National Cannabis Industry Association (NCIA), joins MassRoots' Board of Directors
Business Insider profiles MassRoots in article, "Money is Flowing to a New Social Network for Weed Smokers"
MassRoots appears on VICE on HBO in their episode, "Rocky Mountain High"
2014 Q3
MassRoots' Form S-1 Registration Statement is declared effective by the U.S. Securities & Exchange Commission
Surpasses 170,000 registered users
Hosts the inaugural Marijuana Tech Startup Competition that was covered by BBC and NBC Nightly News
New York Times covers MassRoots in its story, "Next Gold Rush: Legal Marijuana Feeds Entrepreneurs' Dreams"
Video launches on MassRoots' Apps
2014 Q4
Partners with B-Real on Worldwide Smoker's Tour
Surpasses 215,000 registered users
MassRoots attends Forbes' inaugural "Under 30 Summit"
The MassRoots App is removed from the App Store
2015 Q1
MassRoots launches a successful campaign to reform Apples' App Store marijuana app policies to permit social cannabis applications
MassRoots is accepted back by Apple to the App Store in February
Surpasses 275,000 registered users
Launches "MassRoots for Business," an online dashboard that enables dispensaries and cannabis brands to schedule posts and view analytics
2015 Q2
Shares of MassRoots' common stock begin trading on the OTCQB under the symbol "MSRT"
Is the headline sponsor of the 420 Rally in downtown Denver, which attracted more than 125,000 cannabis enthusiasts
Was covered by CNN during primetime
Partners with Flowhub to consolidate seed-to-sale data with consumer trends
Was covered by CNBC
Surpasses 325,000 users in May
Disclaimer- Please Read.
As of the publication date of this report, Dutchess Capital and its affiliates (collectively "Dutchess"), parties contributing to this report and others we have shared our research with (collectively, the "Authors") have long positions in the shares of common stock of MassRoots, Inc. ("Stock"), and stand to realize gains in the event that the price of the Stock increases. Following publication of this report, the Authors may transact in the securities of the Company covered herein. All information in this report is derived from sources believed to be accurate and reliable, and represents the sole opinion of Dutchess. However, such information is presented "as is", without warranty of any kind - whether expressed or implied. The Authors make no representation, expressed or implied, as to the accuracy, timeliness, or completeness of any such information or with regard to the results obtained from its use. All expressions of opinion are subject to change without notice, and the Authors may at their sole discretion decide to undertake to update or supplement this report or any information contained herein, but are under no such obligation to do so. This document is for informational purposes only and it is not intended as an official confirmation of any transaction. All market prices, data and other information are not warranted as to completeness or accuracy and are subject to change without notice. The information included in this document is based upon selected public market data and reflects prevailing conditions and the Authors' views as of this date, all of which are accordingly subject to change. The Authors' opinions and estimates constitute a best efforts judgment and should be regarded as indicative, preliminary and for illustrative purposes only. Any investment involves substantial risks, including, but not limited to, pricing volatility, inadequate liquidity, and the potential complete loss of principal. This report's estimated fundamental value only represents a best efforts estimate of the potential fundamental valuation of a specific security, and is not expressed as, or implied as, assessments of the quality of a security, a summary of past performance, or an actionable investment strategy for an investor. This is not a recommendation to buy or sell any securities of companies covered herein. This document does not in any way constitute an offer or solicitation of an offer to buy or sell any investment, security, or commodity discussed herein or of any of the affiliates of the Authors. Also, this document does not in any way constitute an offer or solicitation of an offer to buy or sell any security in any jurisdiction in which such an offer would be unlawful under the securities laws of such jurisdiction. To the best of the Authors' abilities and beliefs, all information contained herein is accurate and reliable. The Authors reserve the rights for their affiliates, officers, and employees to hold cash or derivative positions in any company discussed in this document at any time. As of the original publication date of this document, investors should assume that the Authors own shares of Stock and stand to potentially realize gains in the event that the market valuation of the Safety Quick Lighting & Fans Corp's common equity is higher than prior to the original publication date. These affiliates, officers, and individuals shall have no obligation to inform any investor about their historical, current, and future trading activities. In addition, the Authors may benefit from any change in the valuation of any other companies, securities, or commodities discussed in this document. Analysts who prepared this report are compensated based upon (among other factors) the overall profitability of the Authors' operations and their affiliates. The compensation structure for the Authors' analysts is generally a derivative of their effectiveness in generating and communicating new investment ideas and the performance of recommended strategies for the Authors. This could represent a potential conflict of interest in the statements and opinions in the Authors' documents. The information contained in this document may include, or incorporate by reference, forward-looking statements, which would include any statements that are not statements of historical fact. Any or all of the Authors' forward-looking assumptions, expectations, projections, intentions or beliefs about future events may turn out to be wrong. These forward-looking statements can be affected by inaccurate assumptions or by known or unknown risks, uncertainties and other factors, most of which are beyond the Authors' control. Investors should conduct independent due diligence, with assistance from professional financial, legal and tax experts, on all securities, companies, and commodities discussed in this document and develop a stand-alone judgment of the relevant markets prior to making any investment decision.
From FINRA:
Marijuana Stock Scams. Please read more from FINRA
http://www.finra.org/Investors/ProtectYourself/InvestorAlerts/FraudsAndScams/P325352.
1 Wikipedia
2 Alexandra Sifferlin, Time Magazine
3 socialmediaweek
Dutchess Investment Thesis- MassRoots, Inc.
Page 11
Disclosure: The author is long MSRT.
The author wrote this article themselves, and it expresses their own opinions. The author is not receiving compensation for it. The author has no business relationship with any company whose stock is mentioned in this article.