Many investors have never even heard of TIBCO Software (NASDAQ:TIBX). With a market cap of $3.95 billion, TIBCO is considered a mid cap company by most standards. However, compared to its competitors IBM (NYSE:IBM), Oracle (NYSE:ORCL), and to some extent, Hewlett Packard (NYSE:HPQ), TIBCO is small fry.
TIBCO makes and distributes software known as middleware. The middleware that TIBCO makes helps different databases "speak" the same language so that they can communicate. This middleware allows users of different types of software to interact with the data in real-time, which is a key selling point for TIBCO's product. As more companies add more databases, the need for these products to speak the same language only increases.
Although middleware is TIBCO's key driver of revenue right now, the company isn't content to just stay in the middle. Some key new products are Spotfire and tibbr. Spotfire is a data visualization software that ties into existing CRM databases and "visualizes" the data for its users. It is able to spot and report trends in vast amounts of data that would be far too complex for a human user to identify. Tibbr is the company's closed-end social network platform that can even replace corporate e-mail. Tibbr allows colleagues to send messages, host video conferences, and share documents all in a Facebook-like platform. According to TIBCO's fourth quarter report, license revenue from Spotfire was up more than 50% and has doubled in the past two years.
TIBCO reported excellent results for its fiscal fourth quarter, last month. Total quarterly revenue grew 20% year-over-year and full year revenue grew 22% to nearly $1 billion. Non-GAAP operating income grew 31% for the year and operating margins held relatively steady at 27%.
According to CEO Vivek Ranadive, 2011 will stand out as the year TIBCO went mainstream. TIBCO isn't seeing the slow-down in license revenue that was reported by Oracle a few weeks ago. In fact, the only thing holding TIBCO back is being able to meet demand for it's products. With the company approaching $1 billion in revenue, TIBCO has its eyes on reaching $2 billion. According to Mr. Ranadive they will have to increase headcount to do that. In other words, TIBCO is going to have to spend some money to grow in 2012. While they are watching their costs, TIBCO plans on reaching 275 salespeople by the end of this year from the current 234.
TIBCO's geographic breakdown of revenue is represented below:

Trading at more than 35 times earnings, TIBCO's shares aren't cheap. The stock trades at a much more palatable 18 times projected earnings. However, on a cash flow basis TIBCO appears to be much cheaper. The stock trades at about 17 times price-to-owner earnings. TIBCO has grown revenue at an annualized rate of 12.2% over the last five years, although growth has accelerated tremendously in just the last year. Earnings have grown at an annualized rate of 14.2% over the last five years.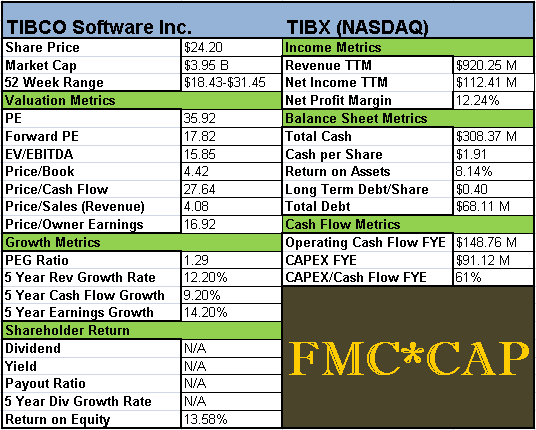 Although the shares aren't cheap, TIBCO is a growth company and therefore should be afforded a higher multiple. If growth slows appreciably, I will re-evaluate my position. The company could be a take-out candidate in the future. In fact, TIBCO rejected an offer by Hewlett Packard last April. Even if TIBCO isn't taken over, investors should be rewarded. TIBCO is taking on some huge competitors in IBM and Oracle. The company has experienced success in gaining market share so far. TIBCO's solutions offer a compelling value proposition in that customers do not have to implement completely new systems in order for them to work seamlessly. TIBCO also offers a compelling proposition for a place in investors portfolios. TIBCO may be small, but so was David when he took on Goliath.
Disclosure: I am long TIBX.
Disclaimer: Mr. Constantino is a proprietary investor and does not provide individual financial advice. The stocks mentioned in this article do not represent individual buy or sell recommendations and should not be viewed as such. Individual investors should consider speaking with a professional investment advisor before making any investment decisions.