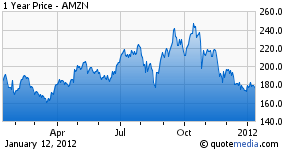 The coolest thing about the Death Star in the Star Wars movies was that you could destroy an entire planet with the flip of a switch, and at a moment's notice. Did Princess Leia give you the wrong location for the rebels' base? No problem - flip a switch and you just turned her home planet Alderaan into an impromptu Fourth of July fireworks celebration.
Amazon is just such a Death Star. All they need to do is flip a switch, and entire industries are vaporized. Bookstores? Flip a switch, and bye bye Borders Group and Barnes & Noble (NYSE:BKS). Flip another switch, and bye bye electronics stores like Best Buy (NYSE:BBY) and video game stores like GameStop (NYSE:GME). I have Amazon subscriptions that deliver everything from toothpaste to chocolate to office supplies every month. Bye bye Target (NYSE:TGT) and Wal-Mart (NYSE:WMT). Bye bye Office Depot (NYSE:ODP), Staples (NASDAQ:SPLS) and OfficeMax (NYSE:OMX).
With a market cap of $81 billion and trailing 12-month free cash flow of only $1.5 billion, Amazon is not a stock that a value investor can buy with a clean conscience. Even achieving world domination is no guarantee against a shrinking multiple (remember Microsoft?). And Amazon's capital expenditures have grown steadily in line with its cash flow from operations. All of Amazon's cash flows will eventually be reinvested for world domination, so you may have to wait until the End Times to receive a dividend payment. By then, you won't really need it, because Social Security will have kicked in.
Jeff Bezos is much smarter than anyone who has been in the Oval Office in the last 100 years, not to mention Congress. And Amazon has longer time horizons than the U.S. federal government. So if you are looking for a place to park your cash, Amazon's stock is probably better than Treasuries. As the Feds inflate us out of our debt, Amazon's nominal sales will go up, even if their margins remain low.
There is, however, an easier trade. Why not just go short the Alderaans of the world? This trade is still much closer to its beginning than its end. Borders and Barnes & Noble are pretty much finished, but there is still lots of short juice left in Netflix (NASDAQ:NFLX), Best Buy (BBY), GameStop (GME), Staples (SPLS), Target (TGT), Wal-Mart (WMT), PetMed Express (NASDAQ:PETS) and all of the other value traps that you hear about at value investing conferences.
In fact, why not short all of the grocery stores and bricks and mortar retailers while you are at it? Heck, you can even short Apple (NASDAQ:AAPL). Apple was nothing before and after Jobs, and poor Tim Cook is no match for Jeff Bezos. I can't think of any living CEO who is a match for Bezos. Once the Steve Jobs product pipeline has been exhausted in a few years, you can expect Apple to become just another big dumb company like Microsoft (NASDAQ:MSFT).
Buffett is famous for noting that newspapers would never have existed if cable, satellite and the Internet had come first. The same might be said for retail. If the medieval merchants of Venice had been able to shop on Amazon, you would never have needed any of those winding shopping streets along the canals or in the piazza. If you think that Amazon will never be able to sell a tiramisu (I never said a good one), then you obviously haven't visited its gourmet grocery section lately.
Of course, shorting can be a painful roller-coaster, so don't put yourself through it if you don't know what you're doing. But at least make sure that you are not chronically long these buggy whip companies when the Death Star rises above the horizon.
As I was putting the final touches on this article, I came across Jason Calacanis's recent witty article "The Cult of Amazon Prime." It's a great article, and I'm pleased to see that Jason and I share a common cult.
Disclosure: I have no positions in any stocks mentioned, and no plans to initiate any positions within the next 72 hours.