In a recent article, I discussed the merits of the multiple avenues for investing in senior secured loans. In fact, the number of CEFs investing in the bank loan market is more numerous than the listing in the first article was able to cover. This article is a continuation of the first, and details six additional CEFs.
As an investment vehicle, CEFs have a stable capital base given that a fixed number of shares exist. They may trade at either a premium or discount to the fund's net asset value. Buying a CEF at a discount to its NAV is desirable. One additional advantage of CEFs is that they can use leverage and access illiquid securities markets. The leveraged loan market lends is less liquid than the equity market. Leveraged loans are primarily accessible only to institutional investors. Another benefit of the CEF format is that these funds must generally distribute almost all of their income and realized capital gains. Most of the leveraged loan CEFs pays a significant yield.
Specifically considering the leveraged loan market, the secured loan market continues to pull towards the par levels seen before the crash of 2007-2008. Yet the loans still trade at a discount to the par price. The discount is modest compared with the crash prices. The chart depicts improving loan prices over the last two years. Depending on the economic picture, there is still room for some modest appreciation in the index level. If defaults on speculative grade assets stay low as Moody's predicts this would bode well for the loan market.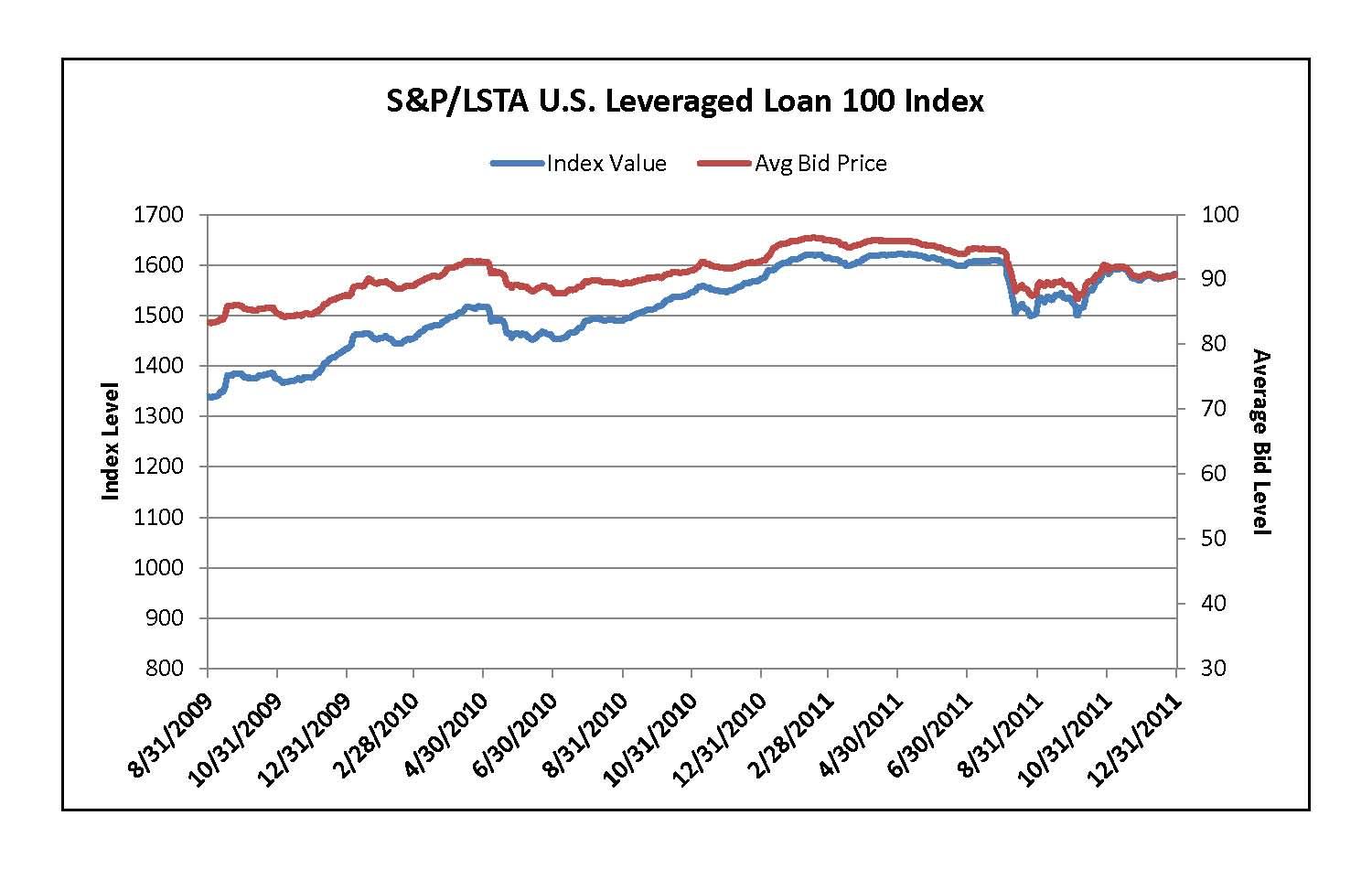 Since the loan market dynamics for the entire market are appealing, each of the CEFs might also perform well. As is apparent from the table below, Apollo Senior Floating Rate Fund (NYSE:AFT) is trading at a nice discount to its NAV and also has the highest yield of the grouping. It is a new fund allowing it to have invested during a much calmer period in the loan market. The fund is mainly invested in B rated bonds (approximately 69%). These bonds have maturities between 3 and 7 years. They also pay a floating rate of interest.
Curiously the discount to NAV of Apollo Senior Floating Rate Fund has been increasing each month. It started trading in March at a premium. Now the fund has a large discount and offers the highest yield of the group.
| | | | | | |
| --- | --- | --- | --- | --- | --- |
| Symbol | Name | Price | NAV | Yield | Mkt. Cap. |
| | Apollo Senior Floating Rate Fund | 16.96 | 17.91 | 7.4% | $255 MM |
| | LMP Corporate Loan Fund | 11.60 | 12.23 | 6.4% | $115 MM |
| | Blackstone / GSO Senior Floating Rate | 19.08 | 18.95 | 6.9% | $289 MM |
| | Blackrock Floating Rate Income | 13.67 | 13.72 | 6.8% | $323 MM |
| | Blackrock Floating Rate Income Strategy | 13.79 | 14.43 | 6.7% | $142 MM |
| | Invesco Van Kampen Senior Income | 4.46 | 4.78 | 6.5% | $180 MM |
Two of these CEFs have been newly formed, including Apollo Senior Floating Rate Fund and Blackstone/GSO Senior Floating Rate (NYSE:BSL). This makes a comparison of their historical track record difficult.
Disclosure: I have no positions in any stocks mentioned, and no plans to initiate any positions within the next 72 hours.