"The Spy Who Loved Me" was perhaps one of Roger Moore's best James Bond films. In this tenth film of the series, directed by Lewis Gilbert, secret agents James Bond and Anya Amasova foil an attempt by the reclusive Stromberg to destroy the world. What began as a rivalry between Bond and Amasova later grew into a love affair, and that affection was best illustrated in the theme song performed by Carly Simon, "Nobody Does It Better."
Nobody does it better

Makes me feel sad for the rest

Nobody does it half as good as you

Baby, you're the best
As James Bond and Agent Amasova developed a special attraction to each other, there was "some kind of magic inside" and similarly, in investing there is a unique feeling when you discover a REIT that makes me wonder, "How'd you learn to do the things you do?"
Finding the Magic REIT
There are 123 equity REITs that make up the FTSE NAREIT Index (here) and, due to conservative capitalization fundamentals, focused sector performance and improving economic conditions (with virtually no new supply), most REITs will continue to maintain an upward trajectory in 2012. In the retail sector there are signs that the frozen demand for retail space is thawing across the nation. In the fourth quarter, Reis (here) data showed that over three million square feet of neighborhood and community center space were leased, the largest increase in occupied stock since the sector's vacancies began rising in late 2007. Furthermore, asking and effective rents both rose by .1%, the first recorded increase in rents since early 2008. As explained by Victor Calanog, PhD, chief economist with Reis:
"There's a lot of ground that has been lost. Effective rents are now back to levels last observed more than five years ago, back in early 2006. But larger property types like malls are doing better too, with vacancies in the fourth quarter dipping by 20 basis points to 9.2%. Higher quality retail properties are riding the wave of stronger job creation in 2011, and though we can't rule out choppy waters ahead, 2012 may well be the year when we record the turnaround for retail properties as a whole."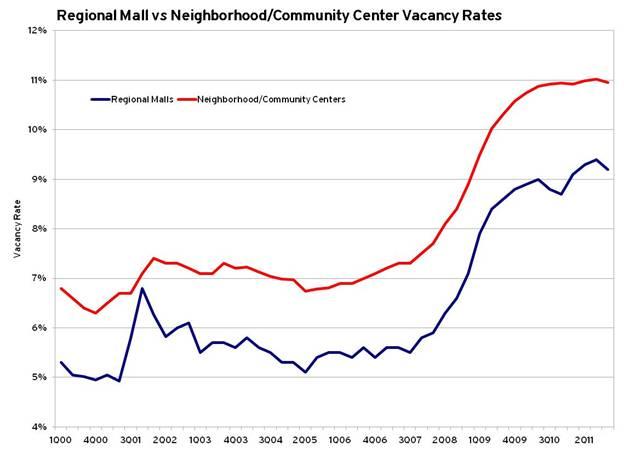 As Calanog stated above, it is no secret that the U.S. shopping center sector should see continued improvements. There are 17 REITs with a combined $31.45 billion making up the FTSE NAREIT shopping center sub-sector and most equity REITs have responded positively due to improved fundamentals and healthy balance sheets. Due to demand growth and driven by an improving economy with virtually no new supply, most shopping center REITs should continue to expand and build more momentum in 2012. As explained by Brad Case, PhD., senior vice president of Research and Industry Information at NAREIT:
"There are two factors likely to drive earnings growth for REITs going forward: One of them is the improvement in operating fundamentals; the other is the fact that REITs have a strong ability to acquire properties at good prices because of their access to capital markets."
Case also said he expects property acquisitions to be a major theme in 2012 as the loans taken out in 2007 by non-REIT investment managers mature, and those owners are unable to refinance and put the properties on the market. As Case explains, "In the broader economy, we have a whole array of signs (of improved fundamentals). We have seen steady growth in private sector employment, consumer retail spending and consumer confidence." And in this new year, as most REITs embark on a mission of continued improvement and strong income production, "Nobody Does It Better" than the REIT called Kimco (NYSE:KIM).
Attracted to Kimco
Founded over 50 years ago by Milton Cooper and Marty Kimmel, Kimco Realty Corp. (KIM) operates 940 shopping centers totaling 138 million square feet in 44 states, Canada, Mexico, Brazil, Chile and Puerto Rico.
Last November the nation's largest shopping center landlord celebrated its 20th anniversary as a public company. Since its founding in 1958, this durable retail REIT has evolved into a diverse risk-aligned operation with its largest geographic concentration in the U.S. (809 centers), Canada (62 centers and current unemployment of 7.3 percent) and Mexico (55 centers in the 12th largest global economy). With assets of around $9.6 billion, Kimco has an attractively-stable revenue base (Q3 11 revenues of $216 million) and a highly-diverse tenant makeup. The top three tenants based on revenue are Home Depot (NYSE:HD), TJ Maxx (NYSE:TJX) and Wal-Mart (NYSE:WMT). Kimco's healthy retail base enjoys above-average five-year occupancy rates of 94%. The current Canadian portfolio is at 97% occupancy. Kimco's diversely well-balanced tenant portfolio has only 14 tenants with exposure greater than 1% - as illustrated below: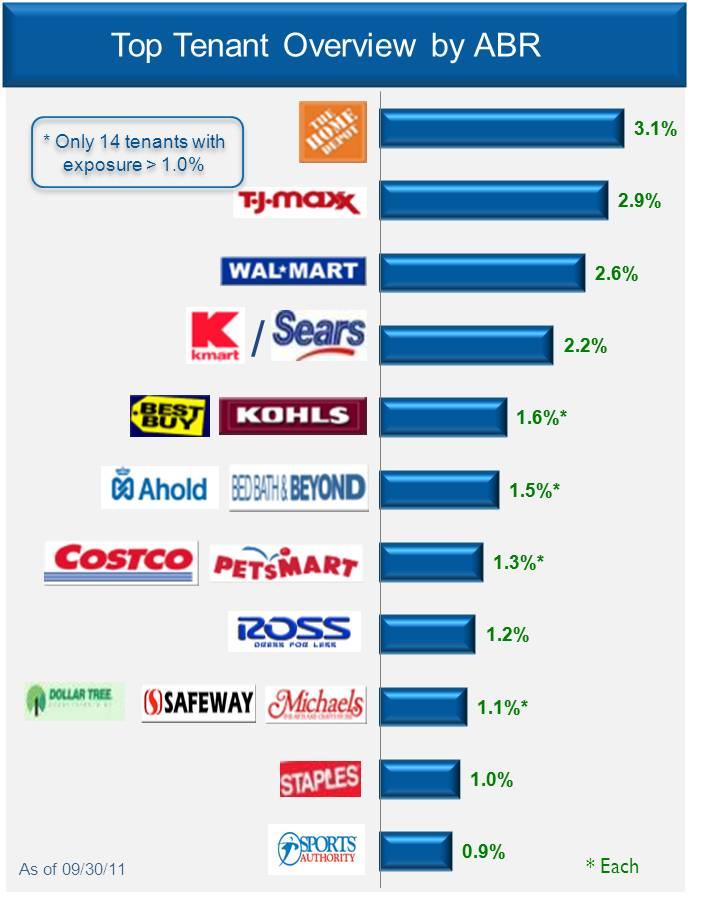 In addition to an extraordinary tenant base, Kimco also has a "world class" geographic profile, as the risk-aligned REIT has minimum exposure to any single market. Kimco's Top 20 MSAs and Puerto Rico account for 55% of global ABR and 63% of U.S. ABR. (The international portfolio accounts for 15% of ABR) - as illustrated below: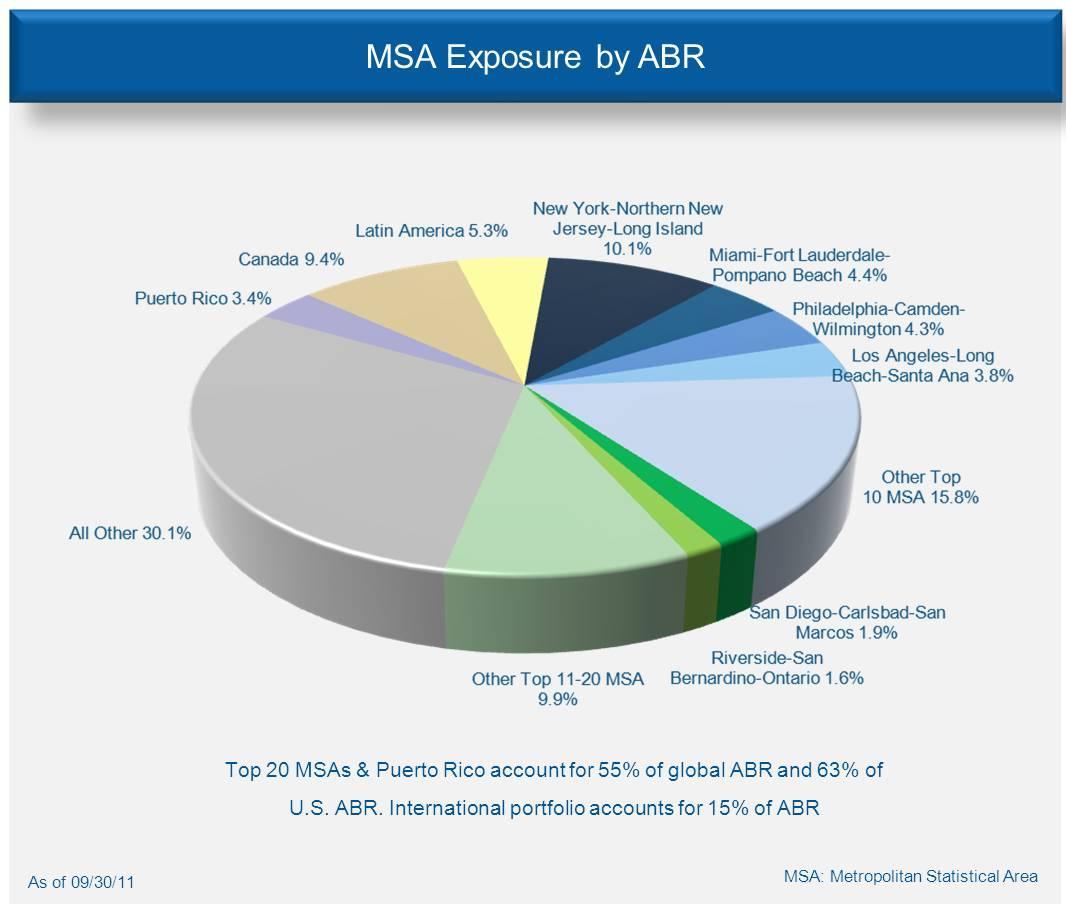 This broad tenant and geographic profile provides for a somewhat unique margin of safety as the resilient REIT seeks to reduce its operating and leasing risks through geographic diversification - avoiding dependence on any single property - and a large tenant base.
Nobody Does It Better
RBC recently revised its 2012 rating opinions, and Kimco was selected as the "top pick" out of all 75 REITs that are followed by RBC Capital Markets. This strong investment opinion was explained by Rich Moore, CFA and managing director with RBC Capital Markets:
"Kimco's well-defined external growth platform is the quality we believe will separate the best performers in 2012 from the rest of the pack. In our view, Kimco's external growth platform, including development on the international front, large acquisitions with a deep bench of institutional partners, and the repositioning of existing assets, backed by a deep stable of strong tenant relationships, is one of the best defined in the REIT space."
RBC cited several reasons for Kimco's upgrade including: (1) a growing and healthy portfolio; (2) dwindling non-core assets (reduced to $1.1 billion); (3) growth on the Mexico front (41-center portfolio should hit 90% lease-up in YE12); (4) growth in Chili and Peru (a huge opportunity in these under-served markets); (5) strong redevelopment pipeline ($300 million in potential over two years); (6) complementary strategic institutional partnerships (Kimco has the largest institutional platform in the retail space); (7) sound balance sheet (debt/NOI is currently 6.2x, fixed charges coverage 2.2x, and debt to total market cap is 46%); (8) Kimco underperformed for most large caps in 2011.
Similarly, Raymond James has also chosen Kimco as the top "shopping center REIT" in its stable of multi-tenant retail REITs. The firm rates Kimco has an outperform and the analysts at Raymond James believe that the strategy of renewing Kimco's core shopping center focus and its goal of reducing leverage over the long term are positive reinforcers. In addition, Raymond James believes that the stock's current price of $16.58 offers investors attractive value, while at the same time offering investors a well-covered 4.6% dividend yield. As explained by Raymond James' R.J. Milligan:
"Kimco is our top pick in the shopping center space. Management's strategy of renewing its focus on its core shopping center business (selling non-core assets, recycling capital into growth markets) and reducing leverage over the long term continues to produce positive results, and we believe the stock offers investors an attractive value."
As explained in Shopping Centers Today (here) by Kimco's Vice-Chairman, CEO and President Dave Henry (also current ICSC's chairman for the 2-11-2012 term),
"We're seeing solid signs of life in the shopping center business. After three years of running scared, many consumers appear to be in the mood to spend. Even with lingering uncertainty about the strength of the economy, after all, about 90% of Americans are still working."
As consumers have gotten stronger, so has Kimco. Recently the BBB+, S&P- rated REIT (only one of around a dozen REITs that enjoy a BBB+ or higher S&P rating) closed on a new $1.75 billion credit facility (expandable to $2.5 billion) with around $1.7 billion of capacity to seek out new deals. Because of Kimco's solid capitalization and focused balance sheet strength, the well-balanced retail REIT has strategically built an enduring model on sound high-quality investments. Here is a snapshot of Kimco's consolidated $11.1 billion market capitalization: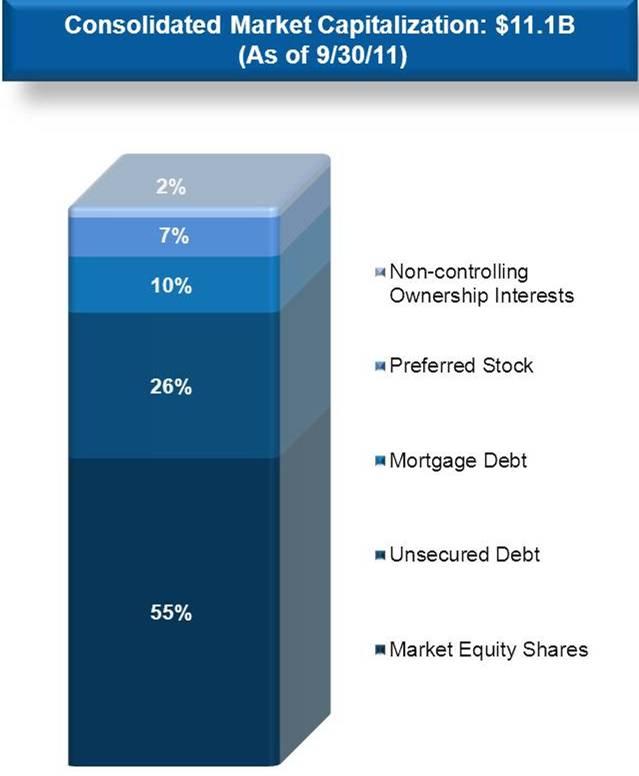 The "selective" acquisition fundamentals will provide the risk-aligned REIT ample gunpowder to capitalize on targeted core market (targeted 30 U.S. strategic trade areas and international markets referenced above) sites, in addition to executing strategic institutional joint ventures. These combined initiatives should pave the way for Kimco's strategically balanced diversification model and growing FFO (and dividend) performance.
Baby, You're The Best
Kimco is currently trading at $17.15 per share (The 52-week high was $20.31,) and the current price is not reflective of today's market valuation. Kimco's price target is $21 to $23 per share and the current dividend yield is 4.6%.
Clearly, Kimco is a leader and the decades of consistent returns are an exceptional indication of shareholder value. (Since Kimco's IPO the REIT returned around 13% annualized and that compares to 10.4% with the NAREIT index and 8.1% with the S&P 500 index.) For most investors, diversification is the simplest and cheapest way to widen their "margin of safety" and Kimco's successful track record of diversification is an extraordinary indicator of sound risk-control. Controlling risk in a well-balanced REIT portfolio is essential, and it is the REIT manager's job to intelligently bear risk for profit. And it is that skillful risk-control that is the mark of a superior REIT investor, and doing that well is what separates the best from the rest.
Disclosure: I have no positions in any stocks mentioned, and no plans to initiate any positions within the next 72 hours.