Introduction
Many of you have heard about the oil crash that has been going on for the best part of a year. During this time, the worldwide markets have seen the prices of oil drop from over $100 a barrel to slightly over $50 per barrel, experiencing a drop of roughly 50%.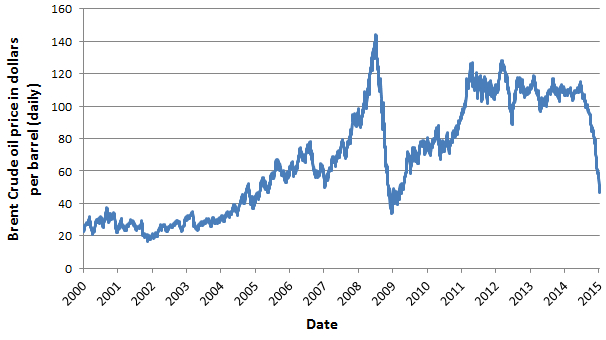 Source: LSE
This oil crash has been caused by an imbalance between supply and demand. Compared to the over 80 million barrels per day in yearly production, an oversupply of just a few million barrels caused this entire oil price drop of 50%.
American Production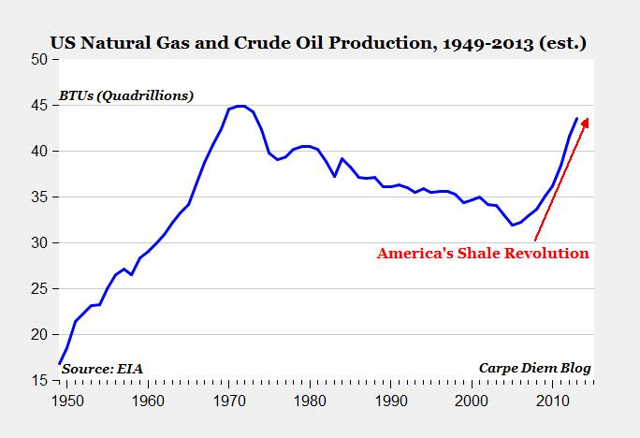 Source: AEI
As you can see here, the U.S. oil production has been on a downtrend for a long time. Since growing rapidly and reaching highs in the 1970s, U.S. natural gas and crude oil production has been trending downwards.
Recently, since the 2008 oil crash, U.S. production has spiked up rapidly in what is known as the American shale revolution. This spike up has led to millions more barrels in growth. This growth is what has caused the oil oversupply.
Saudi Arabia
It is not just excess production that caused this. Excess production has long been part of the cyclical oil cycle. However, in past oil crashes, it has traditionally been the role of OPEC at large and Saudi Arabia in part to limit production. Limiting this production has helped to balance oil prices.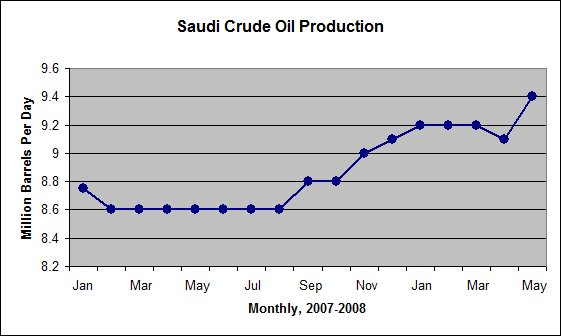 Source: Peak Watch
Looking here at Saudi Arabia's crude oil production during the last oil crash, we can clearly see how Saudi Arabia normally limits production to help relieve oil prices.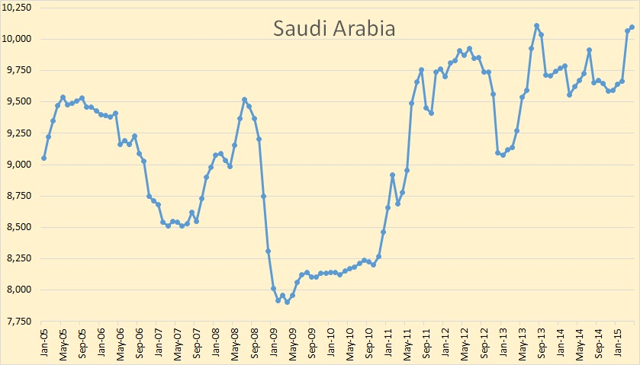 Source: Peak Oil Barrel
However, unlike the drop in Saudi Arabia production during the last oil crash, during this recent crash, Saudi Arabia production has not taken the slightest hit. In fact, Saudi Arabia has seen its production increase slightly since the start of the oil crash.
Shale Production
So far, we have seen how American and Saudi Arabian production have affected the oil crash. We will take a closer look at shale production to see how it has affected the oil price and why it will not last.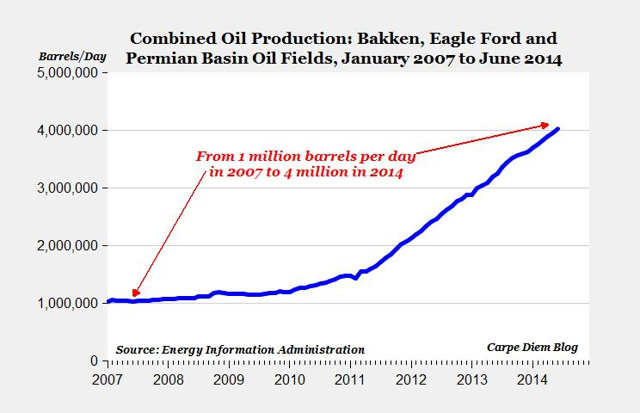 Source: AEI
Looking at the U.S. shale production, we can see how shale production has grown rapidly from 1 million barrels per day at the last oil crash to 4 million barrels per day during the current oil crash. This represents a 3 million barrels per day growth. If this growth did not exist, it's likely that the current oil crash would not have happened.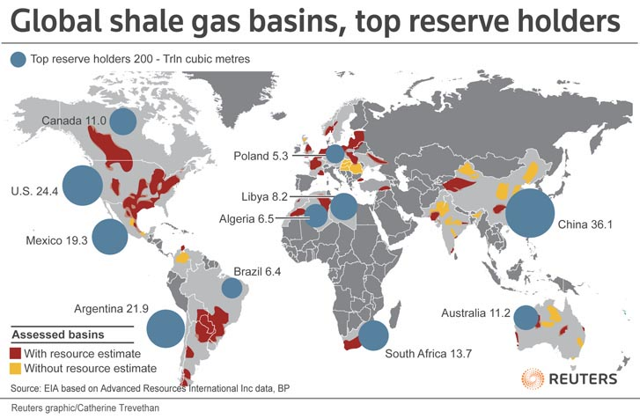 Source: Econ 274
This growth has caused much of the U.S. growth in production. In fact with the exception of China, the United States has larger shale gas basins than any other country in the world.
There are two important things to note here. First of all, the world reserves are significant. The U.S. has 24.4 trillion cubic meters of shale reserves. Since each cubic meter on average provides 6.32 barrels of oil, that means the U.S. shale reserves are at roughly 154 billion barrels per oil.
Taking the U.S. shale oil reserves over the total shale production, it means the U.S. has enough shale reserves to provide for its needs for 105 years. That is longer lasting than the reserves of many other countries.
Shale Well Production
Now that we know the shale production scope of the United States, it is time to look at shale well production. This specifically will explain why shale well production will not last during the crash.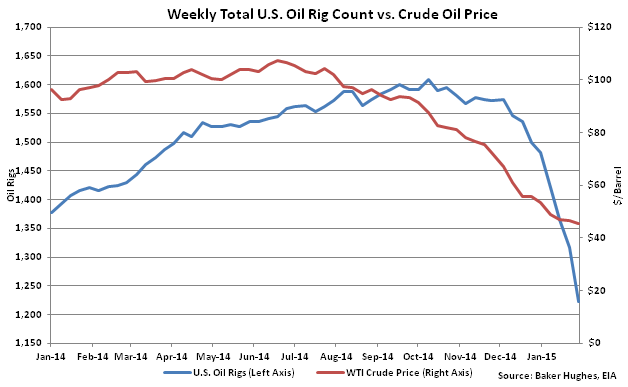 Source: Attenbabler
As can already be seen, after rising rapidly up until the oil crash, the U.S. rig count has dropped very rapidly since the start of the oil crash. In fact, after reaching a peak of over 1600 in September-October 2014, the rig count had dropped to slightly over 1200 by February 2015. The rapid decline in rig count means it's up to existing rigs to maintain production.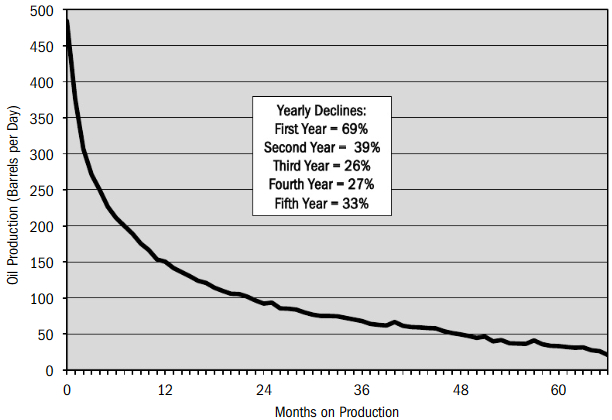 Source: World Watch
Shale wells have a very quick decline in production. In fact, in the first year alone, shale wells experience a 69% decline in production followed by 39% in the second year. That means in the first two years, shale wells experience a decline in production of over 81%.
Using the same statistics, if no new wells are drilled, and U.S. production is at 4 million barrels per day, in two years, production would drop down to 800,000 barrels per day, representing a significant decline in production.
In fact, this decline by itself would be enough to solve the oil crash.
Conclusion
This oil crash has been caused by a combination of two factors. It has been caused by increasing U.S. production and Saudi Arabia's refusal to cut production.
However, the majority of U.S. excess production comes from shale. Shale wells experience a rapid decline in production after their first few years running, if no new wells are being drilled.
As a result, over the next few years, should the price crash continue and the rig count declines continue, the excess American production will not last, which will help to remedy the oil crash.
Disclosure: The author has no positions in any stocks mentioned, and no plans to initiate any positions within the next 72 hours.
The author wrote this article themselves, and it expresses their own opinions. The author is not receiving compensation for it (other than from Seeking Alpha). The author has no business relationship with any company whose stock is mentioned in this article.