Normally when an upstream player reduces its capex budget, its production growth slows down or at least stays roughly the same due to cheaper well completion costs and well productivity improvements. For Devon Energy Corp. (NYSE:DVN), that isn't the case. Even as Devon Energy cut its previous 2015 capex budget by $250 million to ~$4 billion, it was still able to raise its overall production growth guidance to 5% - 10% on the back of its strong oil-weighted operations. Initially, Devon Energy expected to grow its oil production by 20% - 25% in 2015, which has since been increased to 25% - 35%. Its NGLs [natural gas liquids] and dry natural gas production is expected to decline by 1% and 5%, respectively, this year.
Part of the reason why Devon Energy is guiding that it can pump out more oil while spending less comes from its LOE [lease operating expense] per BOE [barrel of oil equivalent] coming in lower than expected, which is estimated to save Devon an additional $170 million in 2015 versus its previous guidance. In Q1 2015, Devon's LOE was 7% below the low end of its guidance even as its oil production grew by more than estimated. Oil output generally has a higher LOE than natural gas production.
Another factor that positively impacted its 2015 guidance comes from a string of very productive Eagle Ford wells Devon brought online down in DeWitt County.
30 days later and still going strong
Five of Devon Energy's wells targeting the Lower Eagle Ford interval produced stellar production results. Each well had an 30-day IP rate of over 3,000 BOE/d, most of which was oil. Below is a table highlighting those wells.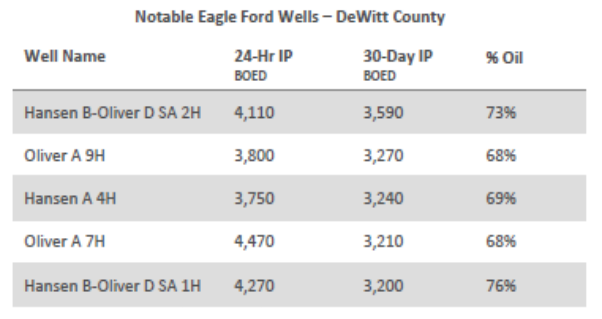 Source: Devon Energy Presentation
Overall, Devon Energy brought 79 wells to sales targeting the Lower Eagle Ford in Q1. Those wells had an average 30-day IP rate of ~2,100 BOE/d, roughly 70% of which was crude oil. This is good news for a couple of reasons. These strong production results help point towards Devon Energy sitting on some prime acreage in one of the best shale plays around, which could lead to even more impressive results in the future through additional optimization efforts. Also, these numbers help prove that Devon Energy's new drilling techniques are working out as planned. Through several initiatives [including better managing well pressure and using more sand in the completion process], Devon was able to boost its average 30-day IP rate in DeWitt County by over 80% to 2,070 BOE/d in Q1 2015 versus 1,120 BOE/d in March 2014.
Above the Lower Eagle Ford, Devon Energy could be sitting on top of some of the more productive areas of the Upper Eagle Ford [also referred to as the Marl play].
DeWitt County
In the first quarter of 2015, Devon brought its first operated Upper Eagle Ford well online in DeWitt County. The Pargmann 1H had a 30-day IP rate of 1,575 BOE/d, far better results than its previous three wells targeting the play in neighboring Lavaca County. Devon believes its production results could improve going forward as it now has a much better understanding of the Upper Eagle Ford in terms of both "geologic modeling and further completion design enhancements".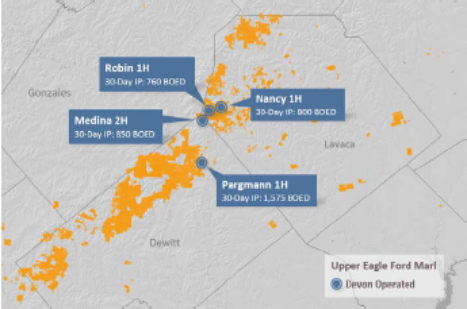 Source: Devon Energy Presentation
Devon has identified 450 potential drilling locations in the Upper Eagle Ford Marl horizon so far and there could be room for additional upside. Management plans on conducting three additional tests this year to continue appraising "this emerging opportunity". If Devon is able to replicate the success it had with the Pargmann 1H well, its drilling economics would probably justify pursuing a stacked development program which other Eagle Ford players like Marathon Oil (NYSE:MRO) are currently utilizing. This includes tapping into multiple Eagle Ford horizons on one pad, allowing shale-oriented upstream players like Devon to expand their growth runway without having to purchase additional acreage.
Final thoughts
Shareholders can rest a little easier at night now after Devon Energy Corporation's latest update. More oil-weighted output for less than expected is a bullish sign that Devon Energy is firing on all cylinders, as is its recent Eagle Ford production results. Going forward, investors should pay attention to how Devon Energy plans to proceed with the development of its Upper Eagle Ford position and what kind of drilling economics management thinks Devon will be able to generate by developing the emerging play.
Personally, I liked what I saw and this news reinforces my bullish sentiment towards Devon Energy. There are still pitfalls investors should be wary of, with the biggest being a sharp downward swing in oil prices taking out its growth prospects and dividend, but it seems the energy market is adjusting to the new normal in WTI and Brent pricing. Energy companies have slashed over $100 billion in spending this year compared to 2014 to better cope with the new environment, which will curtail supply growth and possibly provide upside in the future. Investors interested in reading more about Devon Energy should take a look at how its oil sands operations are doing.
Disclosure: The author has no positions in any stocks mentioned, and no plans to initiate any positions within the next 72 hours.
The author wrote this article themselves, and it expresses their own opinions. The author is not receiving compensation for it (other than from Seeking Alpha). The author has no business relationship with any company whose stock is mentioned in this article.