Snap back to reality, oh there goes gravity-

Eminem

In August of last year I called the top of the cyclical bull market. The S&P 500 (NYSEARCA:SPY) subsequently plunged nearly 200 points into its October lows. While the market isn't in the immediate danger it was then, I believe it's time to start preparing for a return of the bear.
On the daily chart of the SPY, you can clearly see the corrective channel that the market has carved out since the October 4 bottom. Notice the high volume during the panic lows on the left side of the chart giving way to lower volume and dwindling buying interest as the market climbs. This is a textbook correction, not the kind of action that takes a market to new highs.
(Click charts to expand)
Turning to the weekly chart, the 17-period EMA is seen crossing under the 43-period EMA in late August. The last time this happened was just prior to the 2008 crash. Applying Fibonacci retracement levels to the impressive run off the March 2009 lows gives us targets for the next wave down at 1021, 938 and 821 on the S&P 500 (best case scenario is a 20% decline from current levels).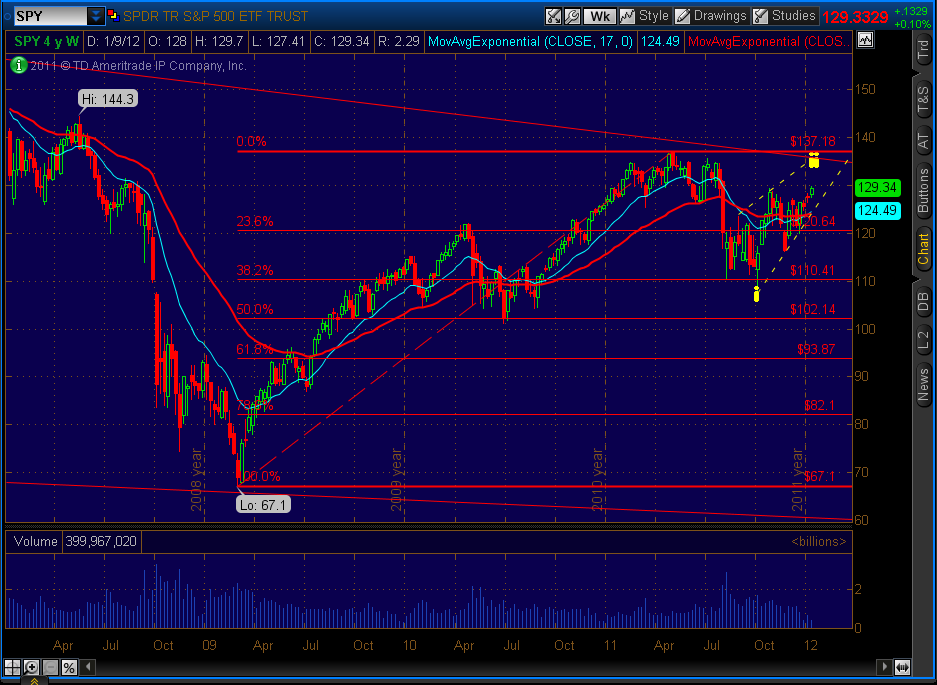 As a Forex trader, I've come to respect the idea that money flows trump fundamentals. In an age of deleveraging, equities, foreign currencies and bonds are all susceptible to profit taking as the need for liquidity grows. Technically, it's important to keep in mind that second degree Elliott waves delight in causing the most damage possible. They do this by convincing the staunchest of bears to flip their bias and get onboard the bull train before it leaves the station. By this time, the CNBC bobbleheads will be trumpeting a new bull market and everyone but the Mayans will be participating in the final push higher, possibly besting 1300 on the S&P before things really start to fall apart.
If you must buy equities, I continue to suggest a hedged approach favoring dividend growth names in the healthcare, consumer staples or utilities sectors. I like generics pharma company Teva (NYSE:TEVA), which is an even better value than when I first recommended it, General Mills (NYSE:GIS) and overlooked small cap Chesapeake Utilities Corp (NYSE:CPK), for its stable yield and higher growth rate than the rest of the utilities universe. Be careful out there!