American States Water Co. (NYSE:AWR) is the parent company of Golden State Water Co. (GSWC) and American States Utility Services, Inc. (ASUS) and its subsidiaries. It is the third largest water utility company in North America behind American Water Works (NYSE:AWK) and Aqua America (NYSE:WTR).
American States Water has its main focus on military contracts for long durations (usually 50 years) and looks at unregulated markets for growth opportunities. The combination makes for stability and the company has demonstrated it with the long history of dividend payments and dividend growth.
Corporate Profile (from Yahoo Finance)
American States Water Company, together with its subsidiaries, provides water and electric services to residential, industrial, and other customers in the United States. It operates through three segments: Water, Electric, and Contracted Services. The company purchases, produces, and distributes water in 75 communities in 10 counties in California; and distributes electricity to the City of Big Bear Lake and surrounding areas in San Bernardino County, California. As of February 25, 2015, it served approximately 258,000 water customers and 24,000 electric customers. The company also provides water and/or wastewater services, including the operation, maintenance, renewal, and replacement of the water and/or wastewater systems at various military installations. American States Water Company was founded in 1929 and is headquartered in San Dimas, California.
The Case for Investing in Water
The current drought conditions in California bring the attention to water, something most of us take for granted. Water is touted to be the next oil when it comes to investment opportunities - and without the ability to buy water rights, water utility companies are probably where investors will turn to get some exposure. Water currently is one of the cheapest resources (price per gallon is $0.01) available and as the scarcity increases, customers will be forced to pay more.
Investing in water can provide lucrative returns with the stability that comes with investing in utility stocks. Investing directly in water isn't possible since the market isn't developed enough here in North America. Water utility companies seem to be the way to go to gain any exposure to water and there are only a handful of companies in North America to trade the sector.
The major companies in the space include: American Water Works, Aqua America, American States Water , California Water Service (NYSE:CWT), SJW Corp. (NYSE:SJW), Connecticut Water Service (NASDAQ:CTWS), Middlesex Water (NASDAQ:MSEX), and York Water (NASDAQ:YORW).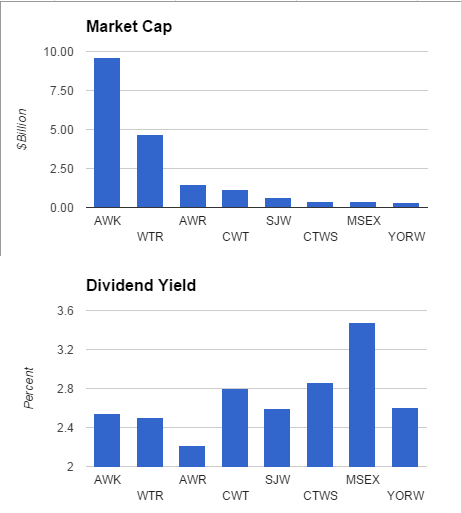 (Source: Created by author. Data from Google Finance)
A Closer Look at AWR
From the American States Water factsheet:
AWR is a low volatility water utility with a secure and growing dividend, operating in a constructive regulatory environment in California, along with a growing unregulated contracted services business serving military bases under 50-year contracts.
The company has a A+ debt rating from S&P.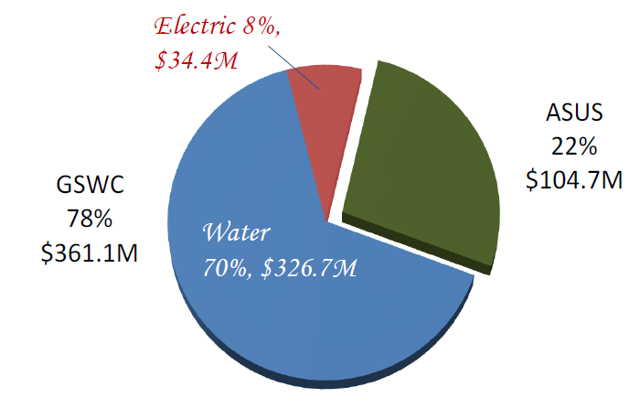 (Source: American States Water Investor Presentation)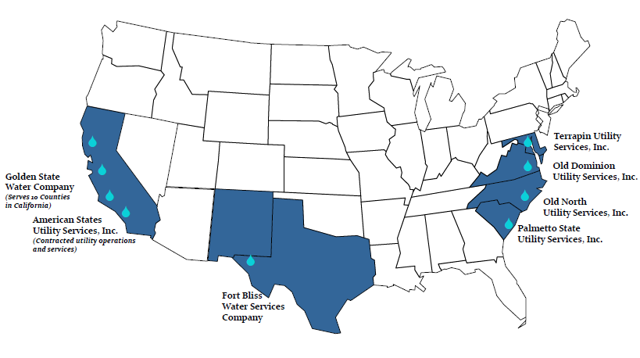 (Source: American States Water Investor Presentation)
Dividend Stock Analysis
Financials
Expected: A growing revenue, earnings per share and free cash flow year-over-year looking at a 10-year trend. A manageable amount of debt that can be serviced without affecting future operations.

(Source: Created by author. Data from Morningstar)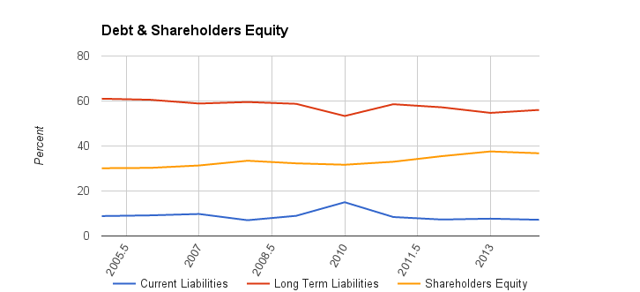 (Source: Created by author. Data from Morningstar)
Actual: American States Water has enjoyed growing revenue and earnings over the past few years. The earnings have grown at 12.2% over the past five years (data from Yahoo Finance). Return on Equity stands at 12.52%.
The company carries manageable debt with a debt/equity of 0.65. The company also holds enough cash at $1.98 per share (current ratio stands at 2.0).
Dividends and Payout Ratios
Expected: A growing dividend outpacing inflation rates, with a dividend rate not too high (which might signal an upcoming cut). Low EPS and FCF payout ratios to indicate that the dividends can be raised comfortably in the future.

(Source: Created by author. Data from Morningstar)
Actual: American States Water is a dividend champion, having raised its dividends for 60 consecutive years. The dividend growth rates for 1, 3, 5 and 10-yr periods are 9.2%, 14.7%, 10.4%, and 6.5%, respectively. The company boasts a Chowder Rule number of 12.7. Current payout ratio stands at a manageable 52.4%.
Outstanding Shares
Expected: Either constant or decreasing number of outstanding shares. An increase in share count might signal that the company is diluting its ownership and running into financial trouble.

(Source: Created by author. Data from Morningstar)
Actual: The shares have seen dilution over the years, but have remained stagnant over the last year, which is encouraging to watch. In March 2014, the company announced a buyback program of 1.25 million shares (3.2% of outstanding shares), which should see that share count decline slightly. The program was announced to be implemented between March 2014 and June 2016.
Book Value and Book Value Growth
Expected: Growing book value per share.

(Source: Created by author. Data from Morningstar)
Actual: The book value has seen an increase year-over-year, although the growth has slowed over the past year.
Valuation
To determine the valuation, I use the Graham Number, Average Price-to-Earnings, Average Yield, Average Price-to-Sales, Dividend Discount (Gordon Growth model) and Discounted Cash Flow. For details on the methodology, click here.
The Graham Number for AWR with a book value per share of $13.16 and ttm EPS of $1.6 is $21.77. Based on last closing price, the stock is currently 75% overvalued.
AWR's 5-year average P/E is 19.04 and the 10-year average P/E is 21.4. Based on the analyst earnings estimate of $1.6, we get a fair value of $30.46 (based on 5-year average) and $34.26 (based on 10-year average).
AWR's average yield over the past five years was 2.94% and past ten years was 2.84%. Based on the current annual payout of $0.85, that gives us a fair value of $28.91 and $29.93 over the 5- and 10-year period, respectively.
The average 5-year P/S is 2.14 and average 10-year P/S is 2.11. Revenue estimates for next year stand at $12.26 per share, giving a fair value of $26.24 and $25.87 based on 5- and 10-year averages, respectively.
The Gordon Growth Model is a quick way to calculate the fair value of a company using the current dividend, the expected dividend growth rate, and our required rate of return or discount rate. Using an expected rate of return of 10%, and a dividend growth rate of 9% (a modest estimate considering AWR's history of raising dividends), we get a fair value of $30.33.
The consensus from analysts is that earnings will rise at 5% per year over the next five years. If we take a more conservative number (two-thirds of the estimate) at 3.33%, and assume that AWR is growing its earnings by 4% thereafter, running the three-stage DCF analysis with a 10% discount rate (expected rate of return), we get a fair price of $26.94.
Conclusion
American States Water enjoys stability due to the business model of long-term military contracts. For growth, the company looks to the unregulated water market. In addition, the company is slightly diversified by the electric utilities segment. The company is a dividend champion that has raised dividends for 60 consecutive years, but the current hunt for yield in the low interest rate environment has sent the stock price to overvaluation levels. If we give equal weight to all valuation metrics discussed above, we get a fair value of $28.30, which means that the stock is currently 35% overvalued. A better entry point is recommended for investors looking to initiating an investment in AWR.
Full Disclosure: None. My full list of holdings is available here.
Disclosure: The author has no positions in any stocks mentioned, and no plans to initiate any positions within the next 72 hours.
The author wrote this article themselves, and it expresses their own opinions. The author is not receiving compensation for it (other than from Seeking Alpha). The author has no business relationship with any company whose stock is mentioned in this article.