The law of gravity has long confounded scientists. Ask Einstein. (Well, you get the picture.) Even he could not produce a Unified Field Theory that includes gravity. So, one is tempted to ask (no pun intended): Wazup with such biotechs as Celgene (NASDAQ:CELG), Dendreon (NASDAQ:DNDN), Medivation (NASDAQ:MDVN), Regeneron Pharmaceuticals (NASDAQ:REGN) and ViroPharma (VPHM)?
These and several other biotechs have been on a tear lately, and their prices, in some cases, are reaching into the stratosphere. So, as one who "missed the boat" on several of these issues and who has been wondering, as perhaps you have, when the laws of physics might reassert themselves, I thought it might be instructive look at the charts of these five stocks and see what the tea leaves are saying. (All charts are courtesy StockChart.com.)
Celgene was most recently addressed in Seeking Alpha this morning by my colleague, Bill Gunderson, in his piece: Biotech Stocks On A Tear: I like Celgene. Read Bill's article for his fundamental analysis. I only want to address the "technicals" here. What they are telling me is that while the stock is nearing overbought levels (where it could stay for quite some time), the MACD lines still have not turned negative. Thus, while the stock is vulnerable to near-term downdrafts, I don't see it taking a significant fall in the near term. That said, traders should be wary, here, of price action in the low 70s for signs of divergence ... that is, signs of the price stalling while the Relative Strength and the MACD turn negative, which would indicate distribution.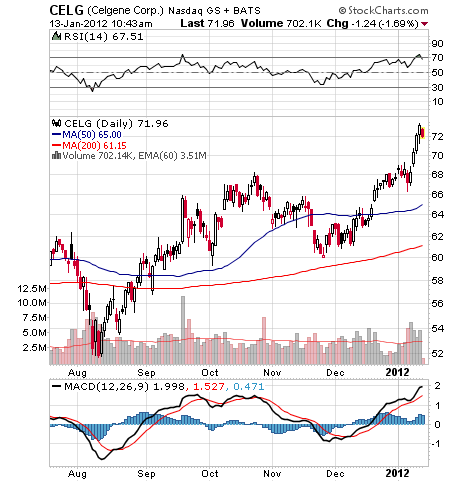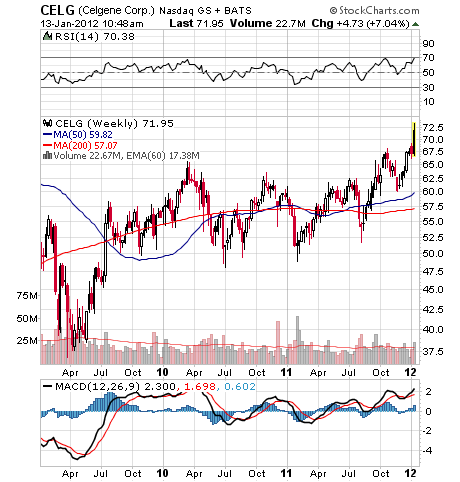 Dendreon, of course, is a stock about which I have written frequently (here and here and here). As seen below, the stock has virtually doubled in a week's time, the result of management having demonstrate that it finally has learned how to sell Provenge in the commercial (vice academic) market place. With current providers now numbering near 850, and more being added every day, the company should hit $40M/month in Provenge sales by 2Q12, at which point, on an annualized basis, it would be cash-flow positive ($500M/year).
The stock is overbought - again, issues can remain overbought for quite some time, just as they can remain oversold for long periods (witness DNDN below). But $14 does appear to be something of a resistance level, given that this is the area where it settled after the Great Fall of August, 2011. Importantly, both the daily and weekly MACD lines are positive. The recent gap up is, I believe, a breakaway gap, and it will not be filled. If the stock can "punch through" the $14 level on high volume, I think it stands a good chance to close the gap left behind last August and reach the low $20s. But, that's a big if. Many on the Street still are saying: "Show me the money!"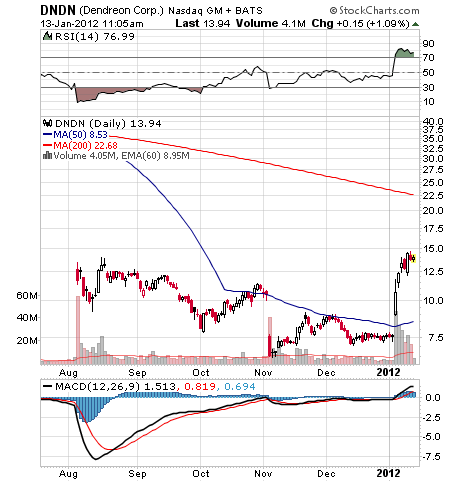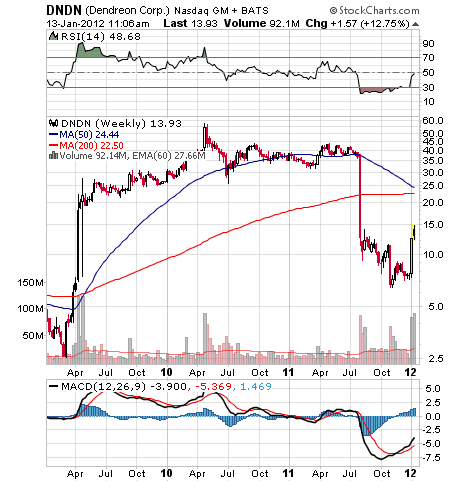 Medivation, of course, soared based on encouraging news related to its treatment for prostate cancer. According to the cited Burrill Report, "interim analysis of trial results found that the drug, called MDV-3100, helped men with advanced prostate cancer live a median of 18.4 months. That compares to men treated with a placebo who had a median survival rate of 13.6 months. The risk of dying of prostate cancer while being treated with MDV-3100, as compared to undergoing chemotherapy, was reduced by 37%. An independent data monitoring committee recommended that the trial be stopped early and the men who had received the placebo be offered MDV-3100."
As can be seen, the stock took off like a scared jackrabbit in early November, and hasn't looked back since. The daily chart shows it to be overbought, but the price is still working its way higher. Both MACD lines are positive. I'm not too concerned about the gap last November, believing it is a breakaway gap. The 50-day moving average (blue line), of course, is climbing rapidly, and traders should be cautious as it and the price converge.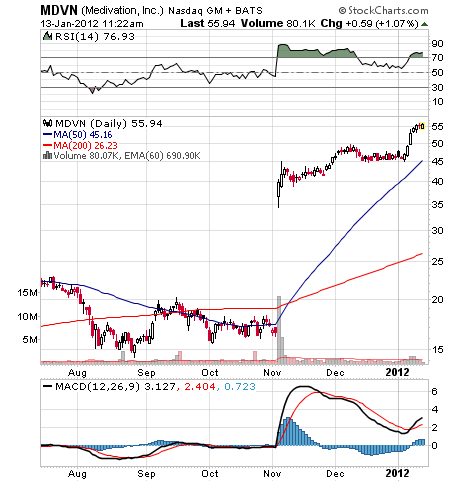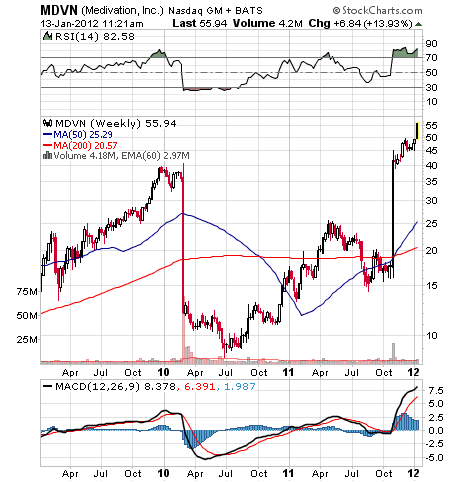 Regeneron, like the stocks discussed above, also has moved smartly to the upside since late last year as its drug, Eylea, gains market acceptance. My colleague Derek Lowe discussed the stock last November and the company recently presented at the JP Morgan Global Healthcare Conference. The technical patterns, here, have me a bit concerned. Clearly, the stock is overbought, but the gap up a week ago is worrisome.
If the stock can break the previous high at $80, it has the potential to run higher. But the failure to sustain the rally beyond that point on high volume should be an early warning that the Smart Money will begin distribution of their shares to weaker hands. Traders will want to be especially wary going forward. Nevertheless, the stock is positive in an otherwise lackluster to down market based on excellent news regarding Eylea sales this morning.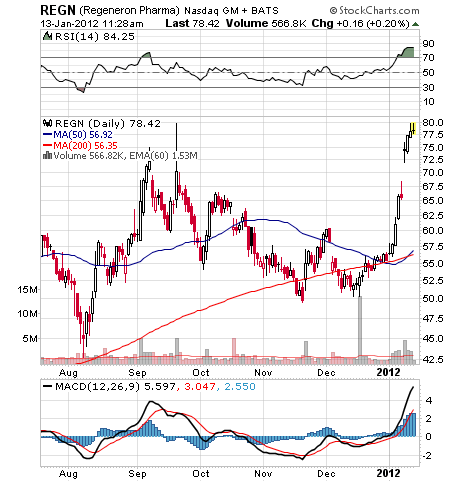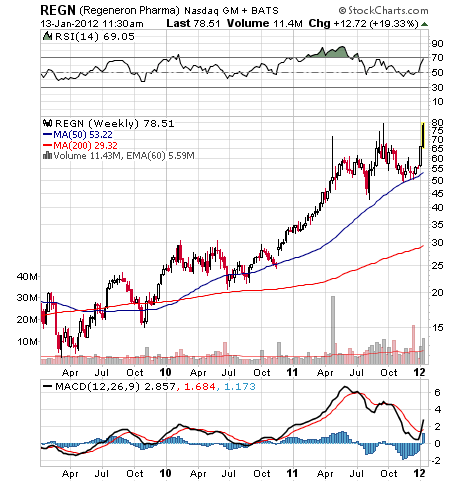 ViroPharma is a company I have followed for more than 15 years and one I have owned in the past. Based in Pennsylvania, they have an excellent management team that has long worked together, here and on the Old Continent, to bring products through both the U.S. and European regulatory agencies. The stock has climbed steadily since late March, 2011 and today, it's selling for more than $27 a share.
Now, it's overbought, and the price is "flat-topping" on a daily basis. Meanwhile, the relative strength and MACD are falling. This is a classic case of divergence, and the stock clearly is under distribution. I would expect the price to start dropping in the near term, with the first level of support near the 50-day moving average. If that level is broken, then support would be found around the 200-day moving average, at $20, which also happens to be the 50-week moving average support level.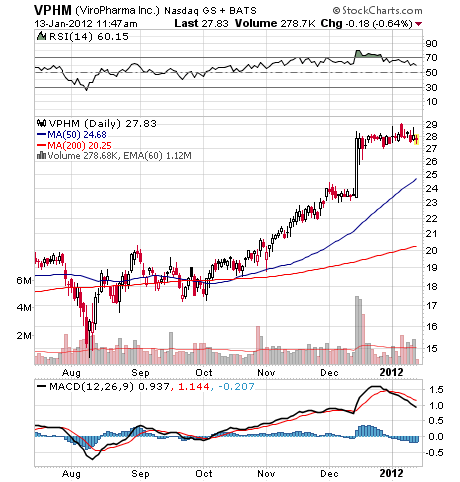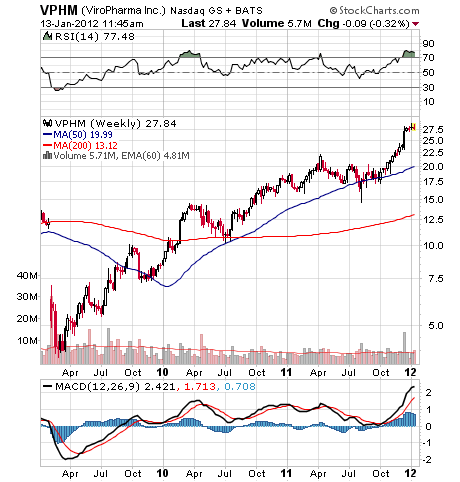 Disclosure: I am long DNDN.
Additional disclosure: I am long DNDN and will not alter my position within 72 hours of the time of publication of this article. I do not own any of the other companies discussed in this article. Nor do I intend to initiate positions in these companies within 72 hours of the time of publication of this article.