By Mark Bern, CPA CFA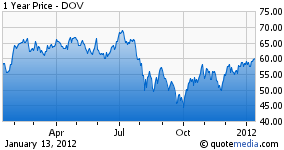 Dover (NYSE:DOV) is a diversified manufacturer of aerospace, electronic, industrial and petroleum products with a global footprint. The company derived 54% of sales from outside the U.S. The company has made some very strategic acquisitions and divestitures that should result in less cyclicality in sales. While its semiconductor business will remain very cyclical, stability in other segments should offset much of the volatility. Dover has some interesting products and technologies that benefit from expansions in the energy sector including oil, gas and solar. Sales are increasing also for its voice-activation technology as popularity of tablets and smart phones grow.
Since this article is meant to highlight "rising dividends" let me point out that Dover has increased its dividend every year for the last 56 years and has paid a dividend in every year since 1947, the year it was founded. Dividend increases over the past five years have averaged 9% while earnings have increased at an average annual rate of 15%. The payout ratio is still only 26%, very near the low end of historic levels. Management tends to allow the payout ratio to increase in difficult economic times while bringing it back down during better years. While much of the global economy is still recovering from the Great Recession, Dover earnings skipped a beat for only one year, in 2009, and then resumed the climb.
Long-term debt accounts for 31% of capital, a very manageable level, and cash flows are strong and consistently growing, providing excellent flexibility in the capital structure for investments and acquisitions when and where suitable. The profit margin is near its historic average at just below 10% and return on shareholders' equity is a respectable 16%, also near the company's historic average. This is a very stable, well-managed company, in my opinion.
The dividend is only 2.1% but I expect increases to keep pace with growth in earnings which should average 12% or better. I don't know about you, but I consider a 12% raise each year pretty darn good. Over the long term the return on an initial investment ends up beating that of companies with slightly higher current yields but much lower growth prospects.
In addition, I believe the company to be undervalued, not grossly so but enough to provide some added appreciation through the expansion of the price/earnings ratio (P/E). The P/E currently stands at 13.9 (trailing twelve month basis) while the historic average is closer to 17. It is my opinion this quality company deserves the premium valuation relative to the overall market due to its solid growth and excellent management.
Combining the earnings growth along with the dividend and potential for P/E expansion, I believe we could see an annual average total return near 15% over the next few years. In this environment of sluggish economic growth that should be a market-beating return.
Disclosure: I have no positions in any stocks mentioned, and no plans to initiate any positions within the next 72 hours.