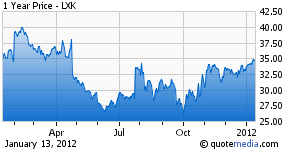 Lexmark (NYSE:LXK) is a company that has interested me for some time, as it has an ample holding of cash and securities and it also presents a large free cash flow yield of nearly 15% based on projected 2011 earnings. In short, it is exactly the sort of value stock that interests me, especially now that the company has started to return some of its large cash position to the shareholders in the form of share buybacks.
Lexmark is a producer of both inkjet and laser printers and cartridges, including multifunction fax/copy/scan/printers. Furthermore, the company is also moving into document management software with its acquisition of Perceptive Software in 2010. The firm offers the facility to collaborate on document management and to manage the content of documents from creation through disposition. Currently, document management accounts for a little over 2% of Lexmark's total sales, but year-over-year sales growth in this segment for the third quarter of 2011 was 15%, while sales from the printing segment have been basically flat. Also, 57% of Lexmark's revenue comes from outside of the United States as of fiscal year 2010.
Lexmark's market cap as of the January 12, 2012, close was $2.63 billion. Of this amount, Lexmark reported in its latest 10-Q $347 million in cash and $847 million in marketable securities. Lexmark's tangible current assets total $2.033 billion, and current liabilities total $1139.7, which implies that a significant amount of this excess cash is not necessary for Lexmark's operations and is ready to be returned to customers. The company has demonstrated this by buying back $125 million in stock as of the end of the third quarter 2011, and bought back an additional $125 million in October 2011. Following this purchase, the company has $241 million in its remaining repurchase authorization. However, Lexmark reported that $921 million in assets is held in overseas subsidiaries, so the firm may be unwilling to incur repatriation taxes.
In terms of free cash flow, in fiscal year 2010, sales were $4.2 billion, operating income net of restructuring charges was $447 million, depreciation in excess of capital expenditures for the year was $37 million, producing operating cash flow (not including changes in working capital) of $484 million. Interest expense that year was $42 million (I have declined to allow interest income to offset interest expense, as I am interested solely in Lexmark's income from operations), which leaves $442 million in pretax cash flow. Lexmark's tax rate over the last few years has averaged around 20%, which produces estimated free cash flow for 2010 of $354 million.
Lexmark Free Cash Flow 2007-2010 (millions)
2010
2009
2008
2007
Sales
4200
3880
4528
4974
Operating income
447
287
304
321
Excess/inadequate

depreciation

37
(28)
(13)
(12)
Operating cash flow
484
259
291
309
Interest expense
42
39
29
13
Pretax cash flow to equity
442
220
262
296
Est. free cash flow (20% rate)
354
176
210
237
* All figures adjusted as with the 2010 figures in the above paragraph: Interest income is not included, nonrecurring restructuring charges not included.
For the first three quarters of 2011, which is the latest data we have, sales were $3.114 billion, reported operating income was $350 million, excess depreciation was $48 million, producing operating cash flow of $398 million. Estimated interest expense was $30 million, producing $368 million in estimated pretax cash flow, or $294 million in free cash flow. Setting aside seasonal effects, this would be $392 million on an annual basis, which is a free cash flow yield of 14.9% even before the effects of future buybacks and/or the large amounts of excess cash are taken into account.
As we see from the figures, the improving economy plus the effects of Lexmark's restructuring have improved free cash flows, but even in the difficult 2008/2009 period cash flows held up pretty well. Based on the current market cap the free cash flow yield is quite attractive, and under the reasonable assumption that the company is going to return an additional amount of its excess cash holdings to shareholders in the form of buybacks, special dividends, etc., the situation becomes even more compelling. The company also offers a dividend yield of 2.85% at current prices. As a result, I can recommend Lexmark as a candidate for portfolio inclusion.
Sources used: 8-K dated Oct. 27, 2011, 3Q 2011 10-Q, 2010 10-K, 2009 10-K.
Disclosure: I have no positions in any stocks mentioned, and no plans to initiate any positions within the next 72 hours.