In a previous article we went over some options for direct investment into farmland, as well as a bit on the reasons for investing in agriculture. Since that time, I've received a couple of e-mails with a request to provide a bit more evidence for some of the points made in my piece.
One of the major reasons for our bullishness on agriculture is the availability of quality farmland. As the graph below from the UN Food and Agriculture Organization (FAO) clearly demonstrates, the amount of arable farmland has already shrunk and will continue to do so.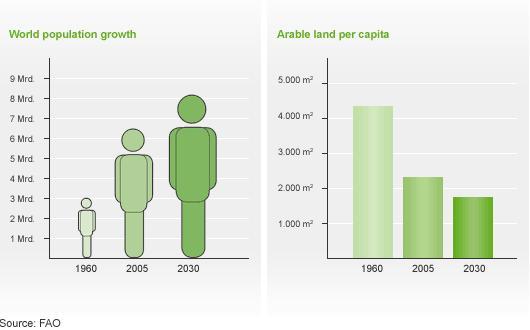 China has actually been a particular victim of this trend. To take a more specific example of this trend. China currently contains 20pc of the world's population, but only 7pc of its arable farmland. Unfortunately for the Chinese, China has already been losing arable farmland at an alarming rate. According to this article from the English language China Daily, the amount of arable farmland in China has fallen sharply:
"Acute shortages of reserve farmland and water resources are now the main restraints for the country to ensure its food security, Zhang Ping, minister of the National Development and Reform Commission, said on Thursday while making a report to the top legislature.

"The cultivable land in the country sharply decreased from 130.04 million hectares in 1996 to 121.72 million hectares in 2008 due to rapid urbanization and natural disasters, figures from the National Bureau of Statistics show.

"Also, the current per capita cultivated farmland is about 0.092 hectares, which is only about 40 percent of the global average. Less than 4.7 million hectares in the country can be considered reserve farmland, Zhang told the legislature."
According to a report from agricultural consultancy Colvin and Co., the Chinese government estimates they need to maintain 120 million hectares for crop production until 2020 in order to be self-sufficient in grain production. Bank of America estimates that China's arable land has already fallen below the 120 million hectare threshold and could decrease to 117 million hectares by 2015.
Already, China is becoming a net importer of food. According to a report from the US Grains Council, China will import some 1.7 million tons of corn this year, 5.8 million tons next year and as much as 15 million tons in 2014-2015.
The point here is not to overwhelm the reader with facts and figures about China, but to have investors think about the big picture. With US$3.1 trillion of reserves, when China wants or needs something, it goes out and buys it. Food and farmland are no exception. China has already been hungrily eyeing farmland purchases in a variety of countries and regions, including Australia, Argentina, Russia, Brazil, Ukraine and more.
How to play the Chinese agricultural trend besides owning farmland directly? From a broader perspective, the Market Vectors Agribusiness ETF (NYSEARCA:MOO) is certainly one option. For those looking to target areas of the world where China is investing in agriculture and farmland, one good option is Cresud in Argentina (CRESY). Cresud is one of the dominant agriculture companies in Argentina, involved in all areas of the agriculture chain. It also own several hundred thousand hectares of farmland directly. Since China and others will be increasingly looking to squeeze more food out of less farmland, agriculture input stocks such as Agrium (AGU) and Mosaic (NYSE:MOS) are both excellent ideas.
Finally, for those feeling adventurous, there is actually an index of Chinese agriculture stocks from Tickerspy. A number of these are thinly traded and not appropriate. However, China Green Agriculture, Inc. (NYSE:CGA) is traded on the NYSE. CGA is a dominant player in the fertilizer industry in China, and operates both through distributors and its own retail stores. It is 70pc off from its 52 week high, so it may currently offer an attractive entry point.
Disclosure: I have no positions in any stocks mentioned, and no plans to initiate any positions within the next 72 hours.
Additional disclosure: Do not own any stocks, but own some farmland in Africa