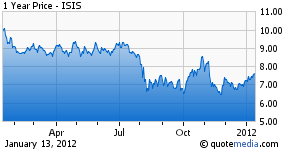 Banking on drug discoveries can be a risky, frustrating financial investment. Science, like life (let alone the life science of biology) doesn't always follow a business plan. With the sector doing relatively well at the start of 2012, more attention may be shifting toward options here and the potential of big payouts from beat down companies.
For an investor savvy in the sciences, it is sometimes difficult to lead with your money mind instead of your science heart. The window for drug discovery is closing. Pharmaceutical niches are becoming more and more specific. Being a leader on a novel platform could be huge in the coming years, medically speaking, as they are becoming few and far between. With much of big pharma reducing R&D budgets, smaller companies may be higher profile.
One of the "littler guys," Isis Pharmaceuticals (ISIS), has found unique science to springboard a whole new genre of drugs. Will an investment now see a payoff in the future?
If the Pipeline Can Equal Profit ...

The proteome may well be even more important to medicine than mapping the human genome. Isis Pharmaceuticals is arguably the industry leader in RNA Therapeutics. A novel method of dealing with multiple diseases through its antisense technology is the company's claim to fame. Isis has over 1,500 patents to date, which is quite impressive for a small company. It has a maturing drug pipeline: Currently there are 28 drugs in the pipeline and it expects to add 3-5 more yearly.
Isis has one of the more substantial and unique platforms. Cardiovascular drugs like its APOCIII inhibitor and its Factor XI inhibitor will be in phase II clinical trials this year. The company is also in the early stages of targeting obesity through epigenetic methods, an area which holds huge potential financially. It has a solid cancer pipeline, vying for the $22 billion annual U.S. revenue from drugs of its kind, though its approach differs from what is currently on the market.
The severe and rare disease franchise has some exciting science, orphan drug status, and a little goodwill directly targeting rare genetic diseases. For example, ISIS-TTRRx, pre-clinical drug, treats TTR amyloidosis, which causes abnormal TTR proteins to lodge in tissue. One current treatment for this disease is organ transplantation. Data just released from its pre-clinical studies showed an 80% reduction in TTR protein circulation in the blood of patients.
Its CEO is outspokenly confident in Isis' prospects. Should the market be as well?
Isis has recently received a $299 million partnership with Biogen Idec (NASDAQ:BIIB), with $29 million up front to start 2012. The company has an additional potential of $3.5 billion in milestone payments from partnerships with the likes of GlaxoSmithKlein (NYSE:GSK), Eli Lilly (NYSE:LLY), Novartis (NYSE:NVS) and Oncogenex (OGXI), which is of course contingent upon the science following through with the promise it holds.
Its satellite company, Excaliard, was acquired by Pfizer (NYSE:PFE) at the close of 2011, which granted $14 million to Isis. A market potential is Excaliard's EXC 001, a post-surgical anti-scarring therapy, has had three positive phase II clinical trials and should benefit from Pfizer's support in obtaining FDA approval. Commercially, this could be more lucrative due to the partnership as well as the large demographic this drug could target.
Kynamro (mipomersen), the Isis/Genzyme (SNY) partnership drug for familial hypercholesterolemia, is set for launch in the U.S. and Europe this year. The drug uniquely treats the genetic component of this disease, which often renders children susceptible to typically age-related cardiovascular risk factors. The drug also works in the 12% of standard high cholesterol patients who are statin intolerant, opening its market further. This drug may be arguably the most telling indicator of Isis' future. CEO Stanley Crooke has indicated he thinks the drug could do $1 billion in sales and the company seems to have a lot of eggs in this basket, so to speak. Side effects of treatment and recent interest in PCSK9 drugs have shed some uncertainty on how Kynamro will be received, however.
Isis is a relatively streamlined company with 350 employees. It is relatively efficient and prolific in research and development as far as pharmaceuticals are concern. Most analysts put the target price for the stock, which has fallen 24.4% across 52 weeks, anywhere from $9-$11. Currently sitting at $7.57 a share with a market cap of $755.95 million and the high cash burn of most pharmaceuticals makes it an interesting conundrum. If Kynamro can perform, Isis may get to see its pipeline potential come to fruition with those who have weathered the rollercoaster along for the ride. Otherwise, the company will have done a great job of making money for the big guys.
Disclosure: I have no positions in any stocks mentioned, and no plans to initiate any positions within the next 72 hours.