JPMorgan (NYSE:JPM), the largest bank in the U.S. by assets, reported fourth quarter results Friday that showed declining profits but solid loan growth, credit-quality improvement, and continued strength in its fortress balance sheet. We continue to hold positions in the Financial Select Sector SPDR ETF (NYSEARCA:XLF) and the SPDR S&P Bank ETF (NYSEARCA:KBE)] in our Best Ideas portfolio, but not any bank specifically as we seek to dodge firm-specific risk within the banking sector at this time. However, we think the U.S. banks will have a nice year during 2012 as unemployment (now 8.5%) and housing trends improve. The latter is supported by Lennar's (NYSE:LEN) recent performance (click here for our earnings note on the homebuilder).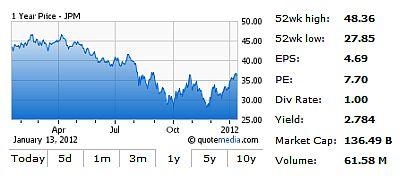 JPMorgan's fourth quarter net profit fell to $3.7 billion ($0.90 per share) from $4.8 billion ($1.12 per share) in the fourth quarter of last year. Though the bottom line was a bit disappointing (thanks to its investment banking division), results were in-line with consensus expectations. We also were pleased with a number of positive trends evident in the quarter. In its commercial banking division, the firm experienced its sixth consecutive quarter of loan growth, with middle-market lending advancing 17% from the same period a year ago (business banking loans and its credit card business also increased nicely). We think the credit card sales volume trend (sales volume jumped 10% in the period) is a positive for the credit-card payment processors Visa (NYSE:V) and Mastercard (NYSE:MA). We hold the former in the portfolio of our Best Ideas.
Importantly, trends in the credit quality of its loan portfolio continue to improve as well. Firm-wide, net charge-offs fell more than 40% while non-performing assets dropped more than 30%. The net charge-off rate in the company's credit card portfolio improved to 3.93% from 4.3% sequentially and over 7% in the prior-year quarter. We continue to be content with JPMorgan's capital position and believe the bank's balance sheet to be sufficient to navigate the current uncertain global macroeconomic climate. Its Basel III capital ratio, according to management, was 7.9% at the end of the fourth quarter, credit reserves represent 3.35% of total loans, and the firm remains liquid with deposit funding in the amount of $1.1 trillion, up over 20% from the same period last year.
The largest banks continue to deal with an uncertain global macro situation, the domestic housing and mortgage market, as well as the ongoing debt situation in Europe. However, JPMorgan's results Friday, while disappointing on the bottom line, showed some positive underlying trends that are difficult to ignore. We continue to look forward to better performance from the financials sector in 2012.
Disclosure: I have no positions in any stocks mentioned, and no plans to initiate any positions within the next 72 hours.
Additional disclosure: V, XLK, KBE are included in the Best Ideas portfolio.