The volatility index futures curve remains in significant contango heading into January expiration next Wednesday, and volatility ETF/ETN investors should continue to be wary of long positions in VXX, VIIX, TVIX, or VIXY in particular. Risk tolerant traders can continue to seek profits from the short side.
Week in Review
This week's very slight (+28 bp) increase in spot VIX disguises an otherwise very active week on the volatility markets, with a weekly range of more than 235 bps (low of 20.05 to high of 22.43).
However, more relevant to the longs in volatility-linked ETNs, such as VXX or TVIX, the January and February VIX contracts both fell slightly, contributing to -1.1% and -2.1% returns (see below table for a more comprehensive list of fund weekly performance).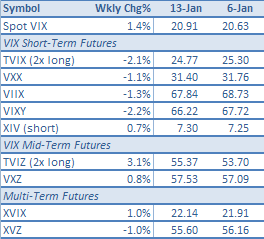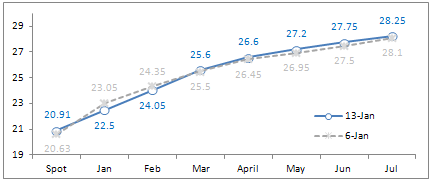 Trading Outlook
Going into the holiday shortened (and futures expiration) week, the curve still looks significantly steep, especially on the spot to front-month leg .
On settlement, the spot and the January future will converge at the open on Wednesday, January 18th. While it's possible that this implies a sharp rise in implied volatility over the next trading session, short term VIX ETN traders should be aware that the spot and future could also converge through a decline in the front end of the futures curve, creating a major drag on those holding a fund like VXX or TVIX.
Contango for the rest of the short and mid-term volatility curve remains steep enough as to create a very unfavorable setup for TVIX, VXX, VIIX, and VIXY, and a particularly favorable setup for XIV (daily inverse of the others listed).
See the below table for a more complete listing of volatility-linked funds and what effect the shape of the futures curve is having on each: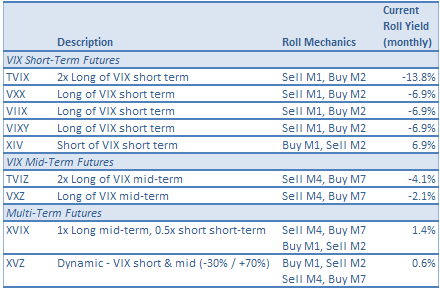 Disclosure: I am short VXX.