As of late Thursday 12 Jan, several contributors on SA had started to suggest that there was a risk in being underweight stocks at this time. This view is in line with the timing indicator presented in my last post, which is essentially unchanged this week.
I still have some concern that Market Turmoil (which is a measure of volatility and correlation) is slightly elevated, but nevertheless nowhere near the levels of August/September. It would not surprise to see turmoil pick up a bit next week on the back of the downgrading of most of the EU by S&P on Friday 13 Jan. If we wish to discuss trends, that has been THE trend of 2011.
To date, I have been focused on portfolio selection based on stocks which were not overly impacted by market turmoil since August 2011, on the basis that they might be insulated from any similar occurrences in the future.
In the past week, I started looking at stocks which were impacted by market turmoil, but which might have been on an upturn. Surprisingly, I found that Specialty Chemicals had a large number of such stocks, enough in fact, to generate a small portfolio of diverse (if not diversified) businesses of interest. Not only does this portfolio generate the characteristics of consistent alpha that I look for, they also have sound forward earnings projections and a some enthusiastic followers (which of itself is not important to me).
The Portfolio comprises:
| | | |
| --- | --- | --- |
| | FMC Corp | Specialty Chemicals |
| VAL | Valspar Corp | Specialty Chemicals |
| | Ashland Inc | Specialty Chemicals |
| | W.R.Grace and Co | Specialty Chemicals |
| | OMNOVA Solutions | Specialty Chemicals |
And the active return on the portfolio is: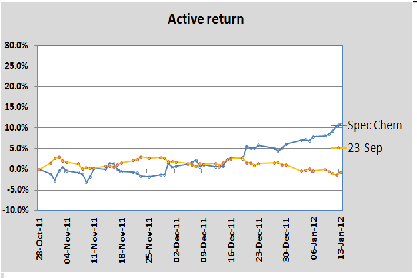 If the market is over the latest phase of turmoil, then this portfolio appears to have significant upside.
Disclosure: I have no positions in any stocks mentioned, and no plans to initiate any positions within the next 72 hours.