Germany is the largest economy in Europe and the fifth-largest in the world (purchasing power parity GDP - after US, China, India, Japan). However, it is the world's second largest exporter, second only to China. It has been the most resilient economy of the Euro-zone so far and has been helping weaker economies of Euro-zone by bailing them out. All is not well though, with the Euro sovereign debt crisis and signs of minor recession in the German economy. I think this continued market weakness will provide more opportunities to buy the stocks of strong German companies.
I tend to use simple models to short-list companies and evaluate investment opportunities. I do not need an income stream from my investment, but still give importance to dividend payments, and especially dividend growth. I believe that dividends are real cash and cannot be accounting gimmicks. It may be possible to fake dividends for a year or two, but I doubt that a company can cook up books and show a rising stream of dividend payments year after year without increasing their underlying businesses. In this article, I discuss a few German companies listed on US exchanges that are good investment opportunities, especially if prices were to come down by 10-15%, since that would increase the yield-on-cost, provide downside risk protection and give a chance for possible capital appreciation leading to superior total returns.
German companies do withhold tax on dividend pays at the rate of 25% + a solidarity tax (total tax of approx 27%). An individual investor can file for tax credit on Form 1040 if the shares are held in a regular brokerage account. This withheld tax would be lost if the shares were held in a tax deferred account like IRA, Roth IRA, 401(k), etc. Thus, British or Canadian stocks are better suited for tax advantaged accounts since they do not withhold taxes for such accounts.
Company

Ticker

Book Value

Debt to Equity

% Div Growth

1 Year

% Div Growth

3 Year

% Div Growth

5 Year

% TTM Yield

Allianz

12.52

0.17

9.76%

-6.47%

17.61%

6.65%

BASF

31.85

0.51

29.41%

4.10%

17.08%

4.17%

Bayer

29.75

0.4

7.14%

3.57%

9.57%

3.04%

BMW

(BAMXY)

16.59

n/a

n/a

7.04%

15.23%

2.48%

Daimler

44.31

1.1

n/a

-2.57%

4.28%

5.32%

Deutsche Boerse

2.18

n/a

0.00%

n/a

n/a

5.53%

Deutsche Lufthansa

22.61

0.69

n/a

-21.70%

3.71%

7.37%

Deutsche Telekom

11.42

1.06

-10.26%

-3.54%

-0.56%

8.67%

E.On

27.19

0.8

0.00%

3.07%

10.51%

9.99%

Linde

n/a

n/a

22.22%

8.97%

9.46%

1.98%

Munich Re

14.96

n/a

8.70%

4.35%

15.05%

7.4%

Rwe

30.36

n/a

0.00%

3.57%

14.87%

13.75%

Siemens

(SI)

46.82

0.46

68.75%

19.06%

14.87%

3.86%
Allianz SE (OTCQX:AZSEY)
Allianz is a global financial services giant headquartered in Munich. It has a minority stake in Commerzbank though its primary business is insurance. Allianz is probably more exposed to the current Euro-crisis and may be a bit more risky than other manufacturing German giants discussed below. I am watching them given a generous yield of 6.6% right now and a past history of dividend growth. There was a bad year in 2009, but I wouldn't hold this against them.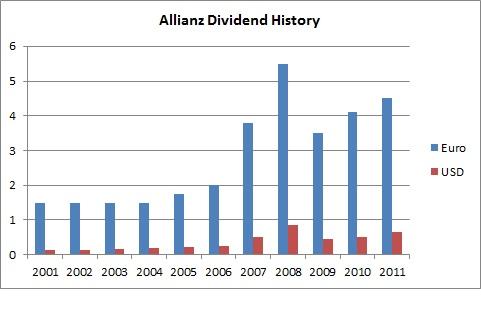 BASF SE (OTCQX:BASFY)
BASF is one of the largest chemical companies in the world. It has grown over the last few decades rapidly by acquiring various smaller chemical companies around the world. It now provides chemicals, glues, solvents, agricultural as well as various construction related chemicals. It had been increasing dividends quite consistently over the last few years, but had a down year in 2010. I don't hold it against them, given the global downturn.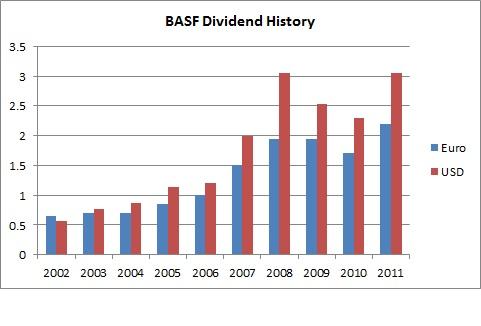 Bayer AG (OTCPK:BAYRY)
Bayer is a chemical and pharma giant that owns the aspirin trademark. Bayer has a huge crop science and animal health businesses in addition to the chemical and pharmaceuticals. Bayer has been consistently increasing the dividends over the eight years, and pays a decent 3% yield right now. Bayer is gaining momentum in emerging markets. Healthcare, Crop Science and Material Science divisions have recently seen double digit growth. Bayer has reduced debt over the last few quarters, and I feel that if Euro remains weak, then the company may book some foreign exchange benefits as well. The pharma pipeline appears strong, with few molecules in late stage trials. I consider Bayer as a play on the global economy, given their wide global reach and presence in all chemical-related segments.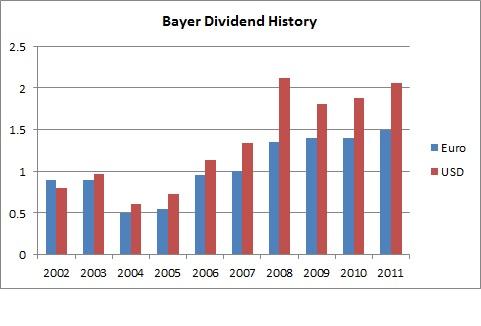 Deutsche Telekom (OTCQX:DTEGY)
Deutsche Telekom was formed in 1996 when the state-owned monopoly Deutsche Bundespost Telekom was privatized. It is based in Bonn, and provides landline, mobile, IPTV and Internet services. It has operations in most of continental Europe, US (via T-Mobile), Canada, Slovakia, Hungary, Croatia, Macedonia and Czech Republic. The company is likely to receive a significant payment from AT&T, and a share of their spectrum after AT&T planned bid to acquire T-Mobile did not go through. The current dividend yield looks quite safe, though it has declined in the last 5 years. I would consider buying the company only on significant dips or if the management discusses an increase in dividend, especially on account of any AT&T payments.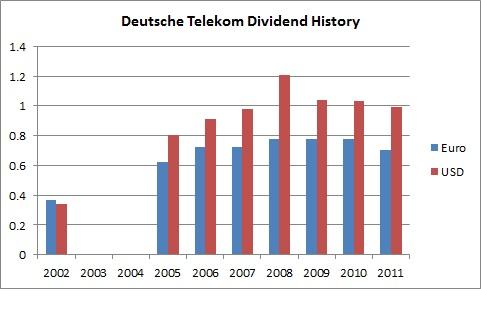 E.On (OTCPK:EONGY)
E.On is an integrated electricity and gas company headquartered in Dusseldorf, Germany. It was formed in 2000 with the merger of two energy companies - VEBE and VIAG. It has since grown rapidly by acquiring various assets of utility companies in Sweden, United Kingdom, United States as well as a stake in the Russian natural gas company, Gazprom. Like most utilities, the dividend amount has not grown in the last few years. E.On. is also looking to expand into Brazil, Turkey and India, and recently acquired a minority stake in a Brazilian utility.
There is a risk of future dividend cut, since the German government has decided to close all of the country's nuclear power plants by 2022. However, I feel that the current market price already discounts this bad news, and the yield is reasonably high. Additionally, I am hopeful that E.On will be able to mitigate the effects of closing down nuclear power stations in the next 10 years.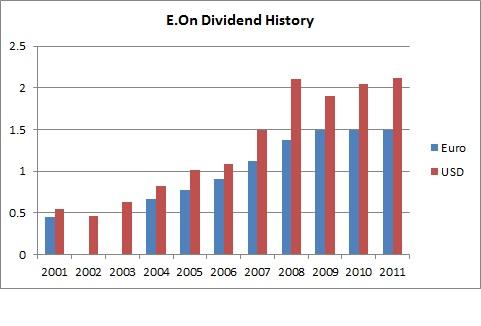 Linde AG (OTCPK:LNEGY)
Linde is the largest industrial gas company in the world (Air Liquide, Praxair, Air Products and Air Gas are the others). There are few, if any, small players in the industrial gasses business, and the entire market is largely shared amongst these powerhouses. Linde has well established brands of Linde, BOC, MOX, Afrox and PanGas, It has a great dividend paying record over the last 10 years with no reductions. The 3-year growth is 9% and 5-year growth is 9.5%. The only downside is low current yield at 2%. I will definitely buy if the yield ever becomes more than 3%.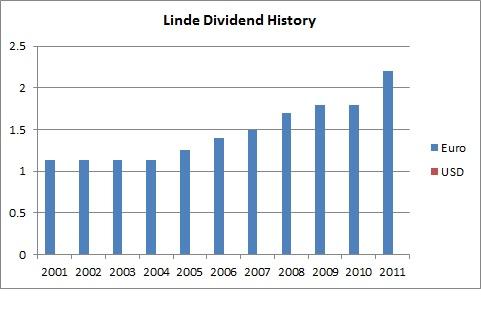 Munich Re AG (OTCPK:MURGY)
Munich Re is a reinsurance company based in Munich. Warren Buffet is the largest single shareholder of the company. The global premiums written have continued to increase over the last few years, and the operating results have been satisfactory. There may be significant impact to the company's bottom line this year, due to various natural catastrophes in 2011. The current market price may have actually accounted for this, and the yield is 13.6% right now, though there is a fear for a cut in the dividend, even though the company has a spotless history of increasing or maintaining dividends over the last decade.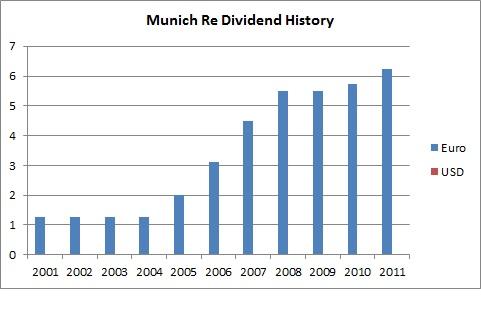 RWE AG (OTCPK:RWEOY)
RWE is a electric and natural gas utility based in Essen. It is second largest electricity producer in Germany, but does produce a significant portion from nuclear plants that are slated to be closed by 2022. This caused significant downward pressure on the stock price, and the current yield is 13.75%. It does generate almost three quarters of its profits from Germany, so it could suffer if Germany manufacturing shows sign of slowdown. RWE is also involved in coal mines, exploration and production facilities.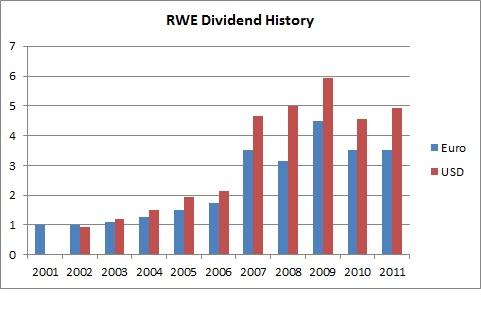 Siemens AG (SI)
Siemens is a multinational electronics and electrical engineering giant headquartered in Munich. It operates in Energy, Healthcare, Infrastructure, Finacial services and IT solutions. It is best thought of as the GE of Germany. Siemens was accused in a bribery and price fixing case in 2007, but has since then resolved the issues by paying various fines. It is now making a push to grow significantly in the US. Siemens has shown a great commitment to increasing dividends, and I find its current dividend yield in the sweet spot of 2.5-4.5%. Siemens is well positioned to take advantage of increase in infrastructure spending around the world.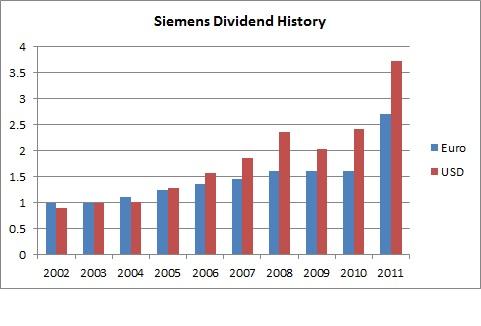 Other stocks for further due diligence
I looked at the following stocks briefly and found that they could be good investment opportunities depending on continued improvements in business or if the market mood sours on European sovereign debt crisis and possible Greek default.
Deutsche Lufthansa (OTCQX:DLAKY) - One of the stronger airline companies in the world, but it ended up paying no dividend in 2004 and 2010. Right now, the yield is attractive at 7%, and the 5-year growth is 3.7%.
Bayerische Motoren Werke (BAMXY.PK) - BMW is now world's biggest luxury automobile maker. It owns the Mini and Rolls-Royce brands as well. The current yield is only 2.5%, and the dividend was reduced in 2009, though fully restored last year.
Daimler AG (OTCPK:DDAIY) - Daimler used to be bigger than BMW till recently. It produces vehicles under the Mercedes-Benz, Maybach (now being discontinued), Smart and Freightliner brands. The current yield is decent at 5%, but there was none paid in 2010, and the 2009 yield was cut substantially.
Deutsche Boerse (OTCPK:DBOEY) - I started investigating them, but didn't find much information. The planned merger with NYSE didn't go through. The current yield is 5.5%, but there is not a sufficient yield history.
There are a few more strong global companies listed on the US exchanges but I find their current dividend yield less than attractive. I have the following in my watchlist - Deutsche Bank, Deutsche Post, Henkel, Volkswage, SAP, Merck KGaA, Infineon, K+S, Metro. I will try to provide updates if I see any of them entering the attractive zone.
Disclosure: I am long SI, OTCPK:BAYRY, OTCQX:BASFY, OTCPK:EONGY.