One opportunity I believe is imminent, and thus have been positioning myself for over the past couple weeks, is a bullish breakout in the Canadian dollar. As a forex trader I trade the exchange rate directly, though stock market traders can utilize the Canadian dollar ETF (NYSEARCA:FXC) to play this.
There are three primary reasons I believe the Canadian dollar has much room to appreciate:
1. The company is very rich in mineral resources and has a culture and governance that fosters the mineral industry. As I believe many minerals, not just gold and silver but also cooper, uranium, and lanthanides (aka rare earths), are in a bull market with years to go, this sets the stage for capital rushing into Canada to invest in these countries.
2. Related to Canada's mineral wealth and its culture that fosters earth studies is its abundance of energy; Canada is one of the few robust economies in the world that is an energy exporter. Given the geopolitical tensions the world now faces, an energy crunch is something I find to be quite plausible. This also has the potential to protect Canada's economy to a certain degree, as well as causing capital seeking safety to rush into Canada's energy businesses.
3. Of course the US dollar is the flip side of this trade, and its woes have been well-documented, if sometimes forgotten: the US is still running twin deficits -- budget and trade -- which is a recipe for sustained devaluation. I do not believe the US imperial agenda is helping, and I do think currency devaluation is the end result of imperialism, with the Roman empire being a prime example and historical precedent.
4. Last, but certainly not least, is the technical situation. See the chart below, a monthly chart of the US dollar/Canadian dollar exchange rate.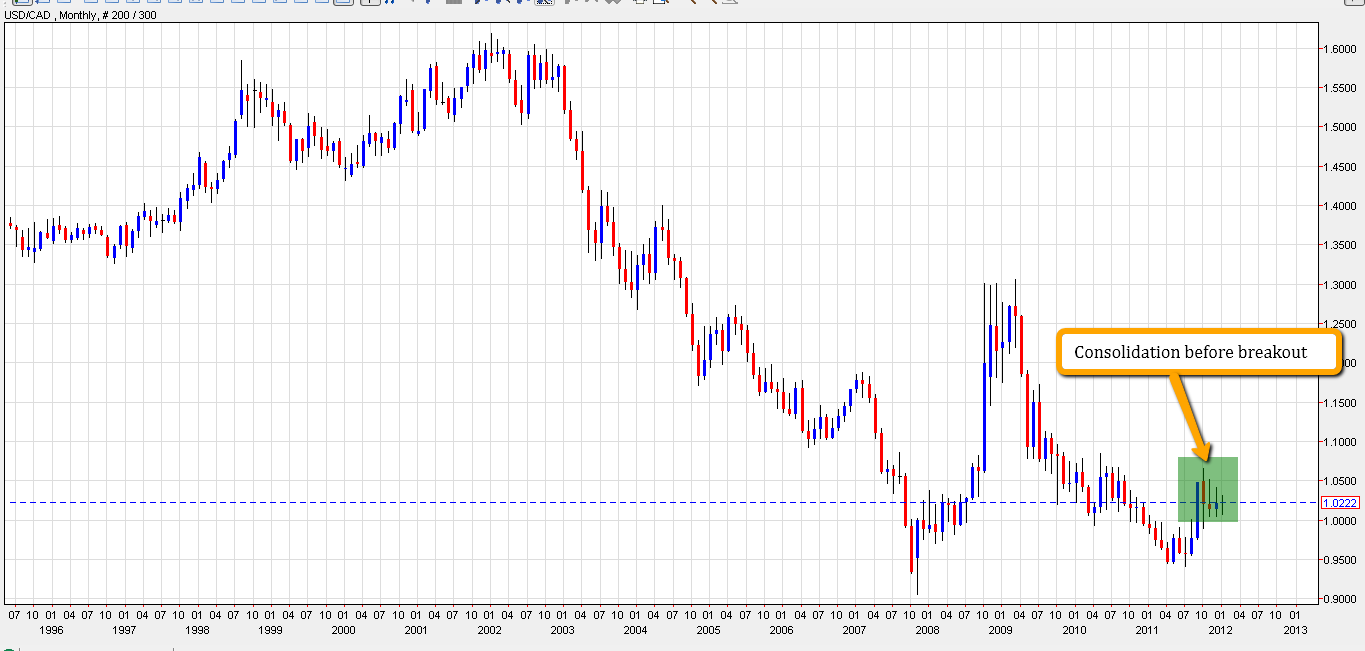 We're seeing some serious consolidation on the monthly chart; this portends a breakout and increase in volatility. Given the aforementioned macroeconomic and geopolitical factors, I believe the 10 year trend in a decline the US dollar/Canadian dollar exchange rate is not yet over, and still has room to go.
Disclosure: I have no positions in any stocks mentioned, and no plans to initiate any positions within the next 72 hours.