Over the past year, shares of American Express (NYSE:AXP) are up 5.4%. While a strong performance, American Express has lagged well behind its largest competitors Visa (NYSE:V) and Mastercard (NYSE:MA). Over the past year, shares of Visa are up 27% and shares of Mastercard are up 108%. The chart below shows AmEx (orange), Visa (blue), and Mastercard (green)
Click to enlarge: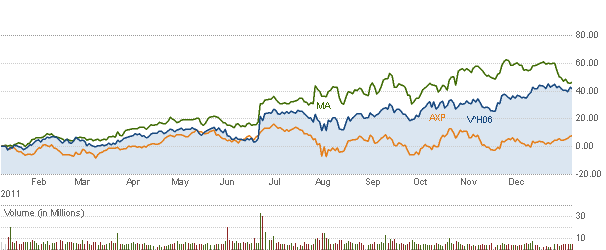 (cnbc)
Why Visa & Mastercard have outperformed
Visa & Mastercard have shifted focus away from credit cards and onto debit cards. The debit card business has been where much of the growth has come for these companies.
Statistics According to creditcard.com:
Visa has issued 397 million debit cards

Mastercard has issued 123 million debit cards

This compares to AmEx, which does not have a debit card business.
Creditcard.com reports that AmEx has roughly 50 million credit cards in circulation. This compares to 269 million for Visa and 171 million for Mastercard.
Another reason why Visa & Mastercard have outperformed AmEx is credit risk. Visa & Mastercard make all of their money on transaction fees. The "credit risk" on Visa and Mastercard cards is taken by banks such as Bank Of America (NYSE:BAC), Citigroup (NYSE:C), and JP Morgan Chase (NYSE:JPM). Contrastingly, AmEx provides credit for its cardholders. This gives AmEx a chance to make money on interest, but it also makes it possible for AmEx to lose money if customers cannot pay. The economies weakness has made it more difficult for AmEx to make money from the "credit" part of the business.
Why Buy AmEx? Valuation
Forward PE Ratio

Mastercard: 15.65

Visa: 14.81

AmEx: 11.9

AmEx is trading at a significant discount to both Visa & Mastercard.
Dividend
Mastercard: 0.18%

Visa: 0.87%

AmEx: 1.45%

AmEx has a higher dividend yield than Visa or Mastercard.
Brand
AmEx was again awarded the JD Power award for credit card satisfaction in 2011.

AmEx has a stronger brand than Visa & Mastercard because it offers its customers special offers such as airline club access for platinum card holders.
Strong Start to 2012
AmEx (orange) is up 2% so far in 2012. Visa is down 2% and Mastercard is down 8%. This price action indicates that a rotation is starting to occur. Money managers are moving out of last year's high flyers Visa & Mastercard and into the cheaper less extended AmEx. This is a trend that should continue as AmEx is cheap when compared to Visa & Mastercard.
Click to enlarge: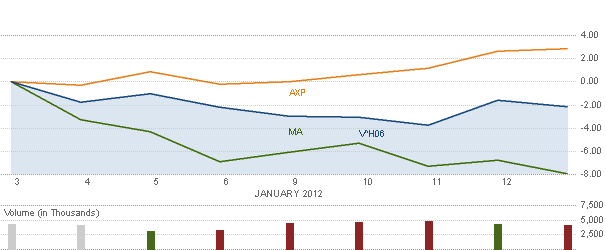 (cnbc)
Conclusion
If you are looking to buy a credit card stock you should consider AmEx ahead of Visa or Mastercard. Visa & Mastercard are overextended while AmEx remains undervalued.
Disclosure: I have no positions in any stocks mentioned, and no plans to initiate any positions within the next 72 hours.