Warren Buffett is considered one of the best long-term investors out there. His company, Berkshire Hathaway (NYSE:BRK.B), is a holding company that holds several large positions in well-known American companies. Additionally, most of his publicly traded investments have above-average dividends and a history of growing them over time.
Here is a recent performance chart of Berkshire Hathaway's B-class shares (click all images to enlarge).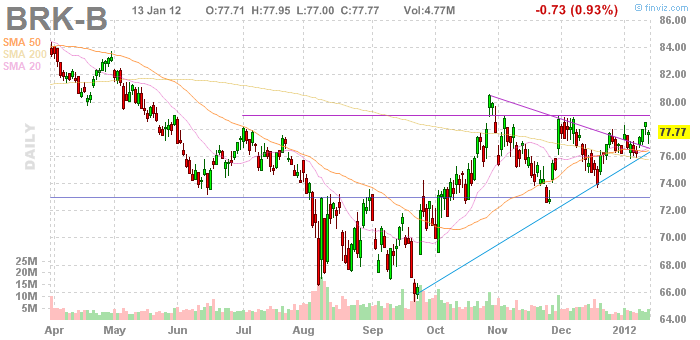 Below are Warren Buffett's largest equity investments according Berkshire Hathaway's last 13F quarterly filing. I have only included positions valued at over $1 billion, listed in size order: Coca-Cola (NYSE:KO), International Business Machines (NYSE:IBM), Wells Fargo (NYSE:WFC), American Express (NYSE:AXP), Procter & Gamble (NYSE:PG), Kraft Foods (KFT), Johnson & Johnson (NYSE:JNJ), Wal-Mart Stores (NYSE:WMT), ConocoPhillips (NYSE:COP) and US Bancorp (NYSE:USB).
Below, I have provided the present yield as well as their 1-month & 3-month performance rates, and their performance rates so far within 2012.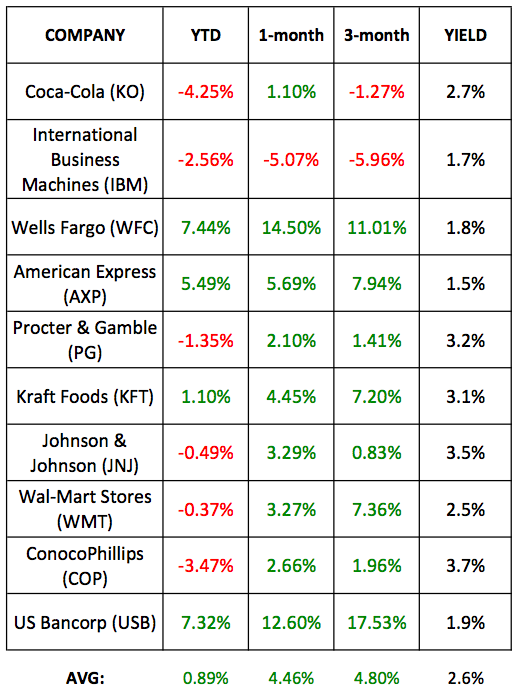 Most of these stocks were strong during the fourth quarter of 2011.Though all of 2011, though, IBM was up over 25 percent and was the strongest performing listed equity, followed by Kraft. Buffett acquired the majority of his IBM position in the second half of 2011, and trimmed his Kraft position through the year. IBM is now Berkshire's second largest holding, behind Coca-Cola. IBM and Coke are the only listed equities to be down over the last three months.
So far in 2012, the best performing equities have been his two main banks, Wells Fargo and US Bancorp, as well as American Express, another financial. Berkshire also has other significant financial exposure though the multiple insurers that it wholly owns.
Several of these equities are also very close to new 52-week highs. Half are less than five percent down from their 52-week high and eight are less than ten percent below it. Several of these stocks appear capable of making new 52-week highs if their earnings are particularly strong, or if the broader market remains positive. Nonetheless, it appears just as probable, if not more-so, that a correction period is overdue to hit several of these names as well as the broader market.
Many individuals may also appreciate that these companies are generally familiar. This familiarity also makes it easier to understand the businesses, and allows for accessibility to information on the companies. Additionally, these companies tend to grow their dividends, which is something most income-oriented investors usually like.
Disclosure: This article is intended to be informative and should not be construed as personalized advice as it does not take into account your specific situation or objectives.
Disclosure: I am long KFT.