After Saudi Arabia and Venezuela, Canada has the most proven reserves of oil in the world. This is helping to power the Canadian economy as oil and tar sands projects harvest oil in the most U.S.-friendly oil producing country in the world. So how can an investor tap this market, especially as tensions in unfriendly oil producing countries appear to be mounting?
There is one ETF, the Guggenheim Canadian Energy and Income ETF (NYSEARCA:ENY) that concentrates on this promising sector. It owns a basket of around 35 companies within the energy space in Canada. In fact, ENY actually allocates between the two types of energy companies based off the trending price - bull or bear - of crude oil. Here's the quick explanation.

ENY is designed to take advantage of the equity price appreciation potential of oil sands stocks when oil prices are moving upward and then harvest the fat yield of high yielding Canadian energy securities when oil prices are flat to down. (Many of these high yielding stocks are former royalty trusts) As oil prices have been moving upward of late, ENY has been in bull phase but still has generated a nice dividend distribution. Here's the data on the distributions: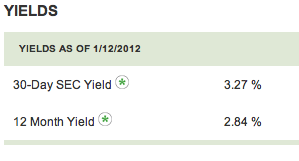 Comparing ENY to the Energy SPDR (NYSEARCA:XLE) will place ENY's distributions in perspective. XLE's current distribution is just 1.5%.
ENY has achieved a nice performance run of late. Its dividend cushion combined with the perceived safety factor of investing in a friendly oil producing country appears to have resonated investors. Certainly should tensions in Iran escalate, ENY would benefit. Here's the performance chart comparing ENY to XLE over the last month as the Iran issue has escalated.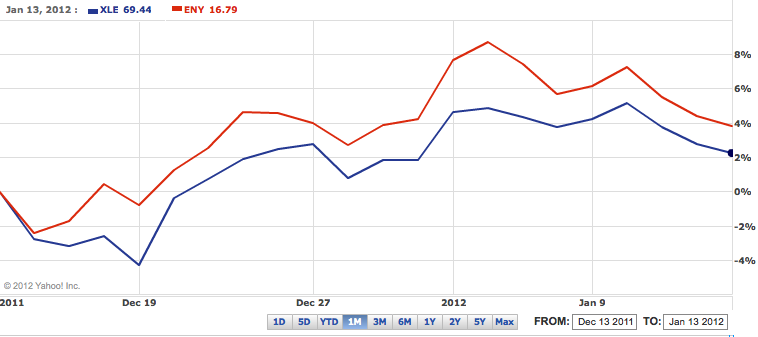 ENY has doubled up on XLE over the last month in performance but that is a reversal over longer term trends, likely due to the fear factor. Here's the one year performance of ENY versus XLE.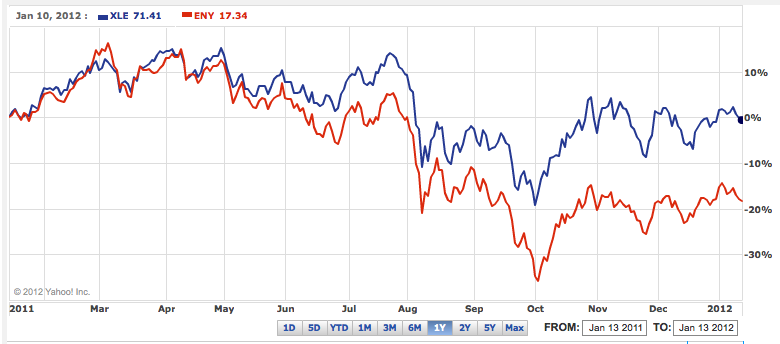 ENY is a timely ETF focused entirely on Canadian energy stocks. It has lagged XLE over time but appears to be positioned as an effective hedge should tensions continue in the Middle East and more Canadian oil flows into the United States.
Disclosure: I have no positions in any stocks mentioned, and no plans to initiate any positions within the next 72 hours. This article is not meant to provide investment advice or offer securities to the public.